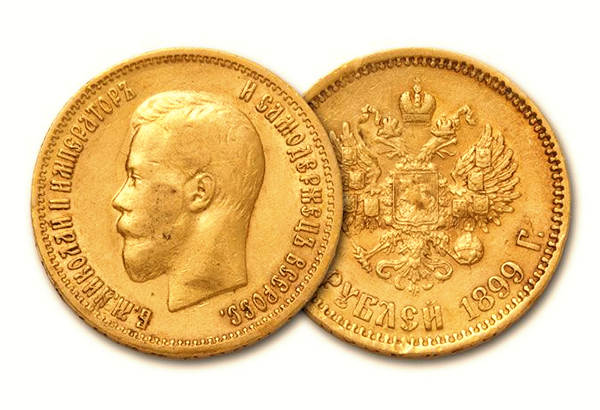 Spanning over two different continents, Russia is the largest country in the world and one of India's strongest allies. According to India's Ministry of External Affairs, Indo-Russian relations have been extremely strong through the ages. The ties between our countries have developed cooperation on several frontiers including trade, science, technology and space. In fact, Russia helped India launch its first ever satellite, Aryabhatt, into space in 1975. Both Russia and India also share an appetite for gold; the Russian Government has the 6th largest gold reserves in the world, while India accounts for a third of the global gold demand.
Much like India, Russia also produces its own gold bullion. The Russian "George the Victorious" coin is the nation's official gold coin. The coin is named after Saint George the Victorious, a famous Roman soldier and military officer vaunted in European legend and revered by Christians.
St. George who was born in circa 275-281 CE, and grew up to serve as a soldier in the Roman army. He later became a renowned Christian martyr, after he was beheaded on April 23, 303 on account of disobeying his emperor by refusing to renounce his Christian faith. St. George's steadfast resolve was respected and honored by Christians at the time. With time, the memory of George's sacrifice matured into a beacon of faith and bravery, and in the 490s, was immortalized by pope Gelasius - who canonized George as a saint.
The Central Bank of the Russian Federation introduced the St. George the Victorious 50 Ruble gold bullion coin to the public on February 1, 2006. The first year of the program saw minting reach 150,000 pieces, and production steadily increased to as high as 1.5 million pieces in 2009.
The design of the George the Victorious features a two-headed eagle, on the obverse side. A renowned Russian illustrator and revolutionary, Ivan Bilibin, designed the two-headed eagles in 1917. Bilibin's eagle is essentially the same as the double-headed eagle that served as the imperial symbol of Russia. The only difference from the imperial symbol is the absence of crowns on the two eagle heads. Around the eagle are a number of inscriptions that act as salient features of the coin. These features include an inscription of the Bank of Russia, a circle of dots, the face value of the coin (50 Rubles), as well as the year of mintage, and the purity of the gold.
The reverse side of the George the Victorious features a full-field image of St. George on horseback slaying a dragon. The St. George and the dragon motif are based on popular imagery that has its origins in the middle ages. The dragon is featured in several stories about St. George, and is the antagonist in several "good versus evil" plots.