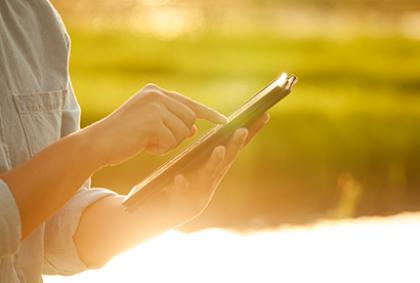 Digital gold
Digital gold is a convenient and cost-effective form of online gold that can be bought via bank apps or websites and mobile wallets.
How does digital gold work?
Every purchase of digital gold is made at current day's price of gold, the value of which gets added to your digital gold balance. You can buy gold by weight in grams or by an amount in rupees. The minimum limit is usually 1 gram and 1 rupee, respectively. Digital gold is available on mobile e-wallets such as PhonePe, Paytm, SafeGold, Google Pay, MobiKwik and more and on online banking apps and websites. These apps and websites provide a platform for leading refineries and metal trading companies such as SafeGold, MMTC PAMP, Augmont etc. to list and sell gold digitally. Once you invest in digital gold, the equivalent amount of physical gold is securely stored under your name in a vault. When you want to take delivery or exchange your gold, it is removed from this vault and delivered to your doorstep in whichever form you choose. There needs to be a minimum amount of digital gold in your account for this to be possible, and this amount varies across platforms. Digital gold can also be used as collateral for an instant online loan.
Key advantages of investing in digital gold
Flexible investment amounts: There is no purchase restriction with digital gold. Most platforms let you make a purchase of as low as Rupee 1 or as less as 1 gram.
Quality assurance: You are assured of a purity of 24 karat with fineness starting from 99.5%, along with the authenticity of legally procured gold by the providers.
Transparent, real-time pricing: The price of digital gold is linked to real-time market prices. The apps offering digital gold display the per gram price of 24 karat gold, inclusive of duty and exclusive of GST.
Exchange as coins, bars and cash: Digital gold can be exchanged as coins and bars that are delivered to your doorstep in tamper-proof packaging. You can also get the cash equivalent of the market price of your digital gold credited to your bank account.
Exchange as jewellery: Digital gold can also be exchanged as jewellery of the same value from the list of partner jewellers of the service provider.
Safe storage: The responsibility of insuring your digital gold and keeping it safe lies with the seller, who ensures it is stored in a highly secure vault. This eliminates any risk of loss or theft.
Easy to track: Every transaction you make is tracked in your account history for you to access whenever you need it.
Safety of transactions: All the parties involved in digital gold transactions are registered companies and closely regulated.
Buying digital gold
Complete your KYC formalities before the transaction. Enter proof of identity, proof of address and bank details into the chosen app or website.
The prevailing gold price and the names of the vendors are mentioned on every app/e-wallet and frequently updated. You can verify the correct price on the price page of MyGoldGuide or other leading newspapers and websites..
Most mobile wallets have daily and monthly transaction limits. Check the same before the transaction.
If your transaction amount exceeds Rs 2 lakh, need to submit your PAN details.
Exchanging digital gold
If you choose to exchange your gold with cash, the accumulated digital gold amount can be sold back on the same platform at current gold rate and the money will be transferred to your registered bank account within a stipulated time as defined by the service provider.
You will need to maintain the minimum quantity of gold in your account that the app requires. This amount may vary from app to app.
Provide a delivery location basis which the delivery fee will be calculated. Apart from your registered address, the delivery may also be available at specific approved jewellers and distributor branches.
All jewellery pieces may not be available for exchange with digital gold. Make sure to check what is covered by partner jewellers before you buy/exchange your gold.