Gold jewellery designers and their inspirations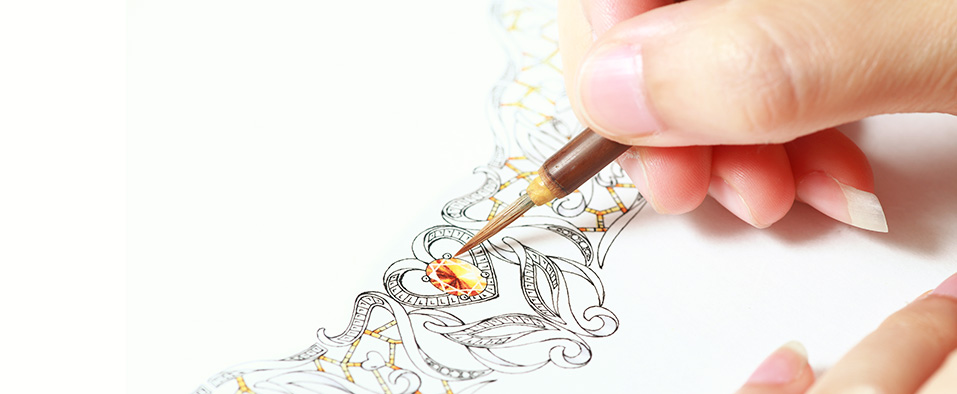 There is no art without inspiration. And for the truly artistic, there is no dearth of inspiration. We spoke to five jewellery designers about their signature collections and the inspiration behind them. Read on to unravel their stories.
Beautiful prayers
'Wear your prayer' by Pallavi Foley

Source: Pallavi Foley

When one of Pallavi Foley's closest friends was going through a tough time, she desperately looked for ways to comfort her. Instinctively, she was reminded of the stories and meanings behind prayers like the Gayatri mantra or the Mahamrityunjaya mantra that her beloved grandfather used to share with her during their exhilarating morning walks. She knew right then that there was nothing more valuable and empowering that she could share with her friend. So, she decided to create a piece of jewellery that would allow her friend to always be surrounded by the power of prayer.

Her creation resonated with many others, and it's no wonder why. India is a deeply spiritual country and people from different faiths and religions wear talismans or charms. The widely held belief is that prayers can be healing, alleviate bad luck, and bring good fortune. Foley was inspired to design a collection of 19 prayers from different religions that can endow its wearer with inner peace and strength. Proud to be called "the girl who made wearing prayers cool", Foley's ingenuity is evident in the deceptively intricate jaali work. Crafted with brilliant 18k yellow gold, the necklaces appear to be bijou jewellery at first. But, on closer inspection, you realise that the exquisite jaali work is actually formed by the words of the prayers.

CTA: Check out other such imaginative jewellery by internationally acclaimed jewellery designer Pallavi Foley here.

Hoop overhaul
'Hip Hoops' by Indra Jadwani

Hoops is a fashion trend that has stood the test of time. Stylish women through the years, from Bollywood icon Sharmila Tagore to fashion icons Rihanna and Bella Hadid, have made gold hoops a fashion staple. But award-winning jewellery designer Indra Jadwani couldn't help but notice that though hoops were so popular, they never seemed to evolve in design. "You could never really find anything besides glossy or matte finish hoops, sometimes in varying sizes, but more or less the same," said Jadwani. Like a true artist, Jadwani decided to be the change she wanted to see. Her Hip Hoops collection, launched in 2019, featured a collection of 50 unique hoop designs created in scintillating 18k yellow gold. "Gold has always been my most preferred base for jewellery", and particularly for this collection, Jadwani used great techniques like filigree and Bindhi work to create a variety of intricate hoop designs that give the illusion of bedazzlement but are still lightweight and elegant.

CTA: Go here to check out other such ornate yet extremely lightweight gold jewellery designed by Jadwani.

Mad over marine
'Perfezione' by Khushboo Punjabi

In the aquatic realm, there lie whole ecosystems of fascinating flora and fauna that many of us will never get to experience. Famed jewellery designer Khushboo Punjabi, who wishes she had the chance to become a marine biologist, wants us to journey with her to the depths of the ocean. Completely enamoured by the beauty and variety of marine life, Punjabi created an extensive collection of spectacular jewellery pieces in 18k yellow gold that will make you feel close to the sea. Gold, being the most pliable metal, allowed Punjabi to mould the wonders of sea-life – from corals, seaweed, and spirogyra to great white sharks – in great detail. Punjabi mainly played with textures and colours, recreating entire sceneries from down below with embellished gems and different techniques of goldwork. She believes that there are countless colours, textures, shapes and forms underwater that can endlessly inspire her to create masterpieces and "there is no other metal on which textures stand out as they do on gold".

CTA: Have a look at other majestic pieces from Punjabi's marine collection, Perfezione.

Totally wired
'Moments' by Sonali Sheth

It's a normal day. You are going about your routine the way you always do. You reach for a cup of coffee, open a book to read... and a memory hits you like a hurricane! That's the power of recollection. It pulls you back in time to a moment that meant a lot to you, and every time you revisit it, it feels like you never left. And it is this constant reliving of moments that award-winning jewellery designer Sonali Sheth brought alive in her ethereal gold jewellery collection, Moments. The winding gold wire, created with 18k yellow gold, beautifully depicts the everlasting nature of these moments. In her signature style, gold is the hero in each of the pieces of this collection and is completed by dainty crystals of diamonds.

CTA: If you too believe bold is gold, go see more such experimental pieces by Sheth here.

The animal spirits
'The Royals' by Meghna Bag Dass
Thank you for your feedback. We'd love to hear from you how we can improve more. Please login to give a detailed feedback.