9 Unconventional gold ring designs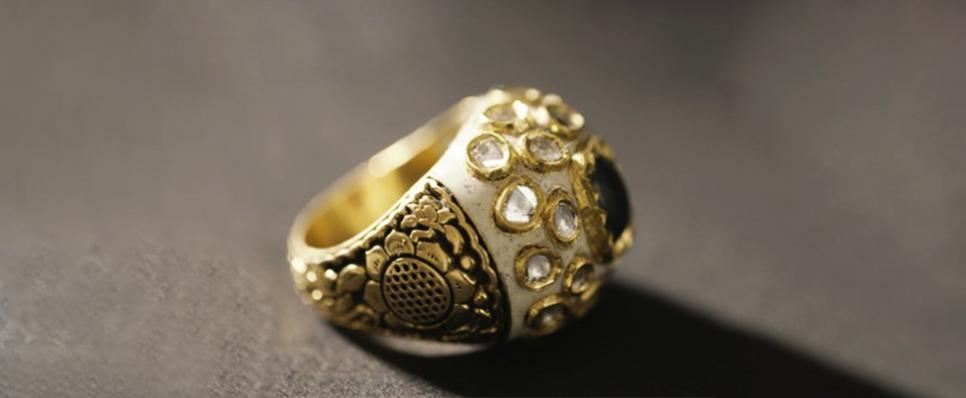 Gold rings are an essential part of every women's jewellery box, and no special occasion is complete without one. But are you looking for more offbeat, unconventional ring designs that add a bit of bling to your everyday wear? Here are some pieces that are less traditional and more 'you' to add to your collection.
Knuckle rings

Quirky by construction, these rings hinge between your finger's middle joint and your fingernail. Also called 'tea rings', they were a popular accessory among the elite during the Renaissance era. The style is making a comeback among contemporary trendsetters and can carry an entire outfit with no help.

Coloured enamelled rings

The stunning colours of handcrafted Meenakari rings make this jewellery style playful and pretty. No matter what outfit you pick for the day, add a pop of colour with these signature rings.

Shown here is a one-of-a-kind turquoise blue enamelled Meenakari ring set in 22-karat hallmarked gold that adds so much character and colour to an otherwise understated outfit.

Explore another variation of beautifully coloured enamelled rings with this handcrafted Kundan Jadau ring - a bold and exquisite, one-of-a-kind, reversible ornament set in gold. With Kundan Jadau work on the front and Meenakari work on its rear, this is a stunning statement piece that can perfectly pair with any pastel or brightly coloured attire alike in your wardrobe.

Jewellery Credits: (DC Karel sons (Jaipur))

Jewellery Credits: (DC Karel sons (Jaipur))

Crisscross rings

Gold isn't just yellow but pink, white and green too. A great way to mix and match is to stack differently hued rings in a combination you like.

Here is a pair of Versace-inspired yellow and white gold crisscross rings that are lighter and more youthful than you would expect!

Flat top rings

A twist on the classic Gold Band, flat top rings are edgy and chic. Their geometric ends add a modern and minimalistic feel- a great investment in gold you know you will get a lot of use from!

Statement ring

Why is it that statement neckpieces are a lot more popular than statement rings? It's time for you to think outside your jewellery box and go bold! Take your outfit to the next level by pairing it with a traditional and regal gold ring that tells a story.

Jewellery credits: (Gehna Jewellers, Mumbai)

Jewellery credits: (Gehna Jewellers, Mumbai)

Set against a bottle green dress, this 'jharokha' (or 'window') Kundan Jadau ring features Mughal-inspired carvings and is set in 22-karat hallmarked old. The antique finish of the ring is what makes it so mesmerising and memorable.

Wrap rings

Rings that give the impression of two ends coiling around your finger, trying to reach each other, are called wrap rings. Gold wrap rings can be extremely fun and spirited. In adjustable rings, each end can come with a motif or gemstone. They can also be layered on top of each other to look pulled and twisted rather than clean and stacked.

Lightweight rings

These gold rings are airy and flexible. Here is a show-stopping yellow gold, floral cocktail ring outlined with tiny white pearls. This deceptively lightweight gold filigree ring looks easy and breezy, but steals focus because of its intricate design. Contrast it with the dark hues of corporate clothing and breathe some life into your work look.

Nature-inspired rings

One of the major trends of jewellery in 2020, nature-inspired rings go way beyond the florals you might imagine. Nature-inspired jewellery comes in the shape of leaves, branches, and of course, animals. When set in gold, even these most playful of rings can create a powerful jewellery moment!

Zodiac rings

If you are a believer in the Zodiac, you probably know your gemstone already. But have you seen just how beautiful almost every gemstone looks when set in gold? Especially when you consider the fact that gold itself comes in white, yellow, red, pink and green. After all, your zodiac sign never changes, it's a part of who you are, so make a statement.
Rings are just step one of acing the accessorising game. Here's your quick guide to acing fashion in the new decade: Gold look-book: A day out in style