China's gold coins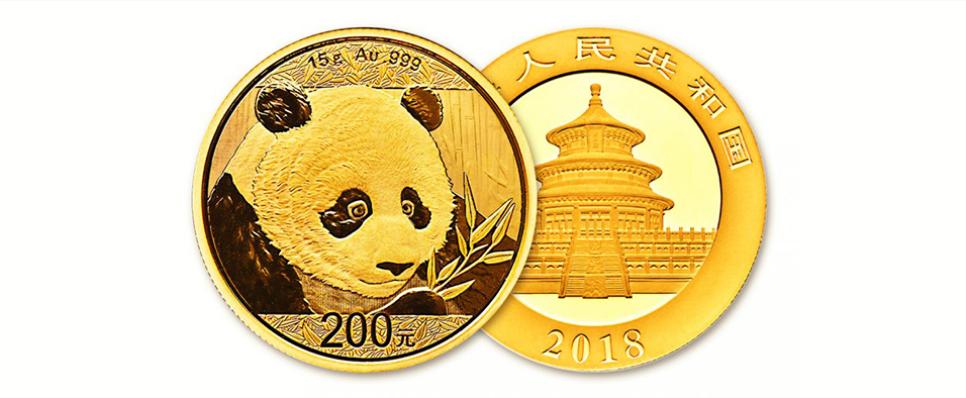 The People's Republic of China introduced their gold bullion coins in 1982. Produced by the official mint of the Chinese Government, the Chinese bullion is referred to as the Gold Panda, and comes in five sizes ranging from 1/20th of a troy ounce to 1 troy ounce, and boasts a .999 fineness in it's 24k gold.
On one side - the obverse - the Chinese gold bullion showcases the depiction of the Temple of Heaven, which is an imperial complex of religious buildings situated in the southeastern part of central Beijing. Surrounding the Temple of Heaven, towards the edge of the coin face, are Chinese characters that read "Zhonghua Renmin Gongheguo" meaning People's Republic of China. On the other side – the reverse of the coin is a portrait of pandas, one of China's national animals. The portraits of the giant pandas change year on year, except in 2001 and 2002 when the Chinese government repeated the design. However, collectors and citizens spoke up on behalf of the annual changes, and the Chinese government returned to it's original policy in 2003, and continued changing the Panda portraits year on year since then.
According to JM Bullion, in 2016, China adopted – for the first time - the metric system to design and produce its gold coins, which changed the weight of the coins from troy ounces to grams. The updated Gold Panda is now available in 5 different sizes (30gm, 15gm, 8gm, 3gm, 1gm) and can be used as legal tender within the People's Republic of China. The coins have face values of 500 Yuan for the 30gm coins and 20 Yuan for the 1gm coins. The Chinese Government also produces 5 oz. and 12 oz. coins as proof versions. However, these sizes are not produced every year and are considered a collectors item.