Gold's relevance in Multi-Asset Allocation Funds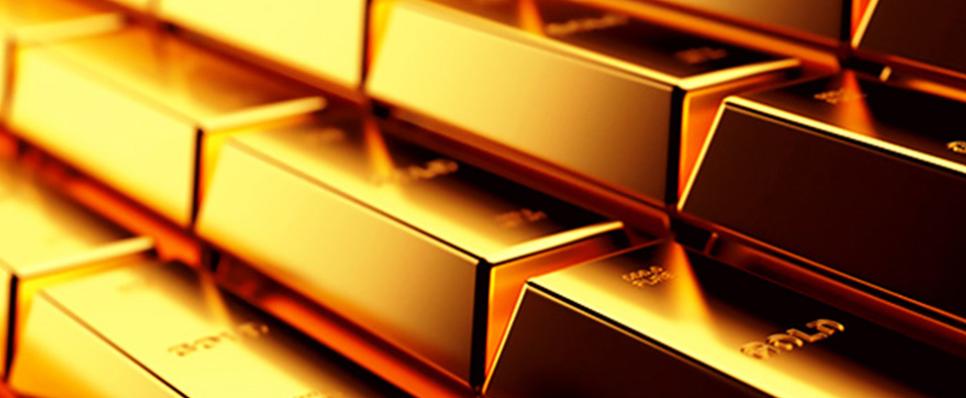 Multi-asset allocation funds (MAAF) are hybrid funds that seek to help manage risks better. They are a ideal feasible option for investors looking at a diversified portfolio that can include gold. MAAF allows for a minimum of three asset classes, including equity, debt, REITs, commodities, and gold. MAAFs have inherent features that seek to help hedge investment portfolio risks. These features are diversification that disperses risk over different asset classes, a readymade portfolio that offers versatility at minimal costs and automatic rebalancing which maintains predetermined asset levels.
Related: What makes gold the most useful commodity for investment?
Gold can strengthen MAAF portfo lio in the following ways:
Historical long-term returns
Since 1971, when the Bretton Woods agreement collapsed, gold prices in India have increased by an average of 14.1% every year. This steady, uninhibited increase in the price of gold can be attributed to its diverse sources of demand. It is used as an investment, a reserve asset, an embellishment, and a critical component in technological products. An investment in gold can be made through physical gold, gold-backed ETFs, or other gold-related investments like derivatives and sovereign gold bonds. These various sources of demand have enabled gold to provide stable returns during peaks and dips in the economy. The long-term price of gold historically has been driven primarily by income growth resulting in an increased demand for gold as a consumer product. The minimal supply for gold has grown at a rate of 1.6% per year for the past 20 years.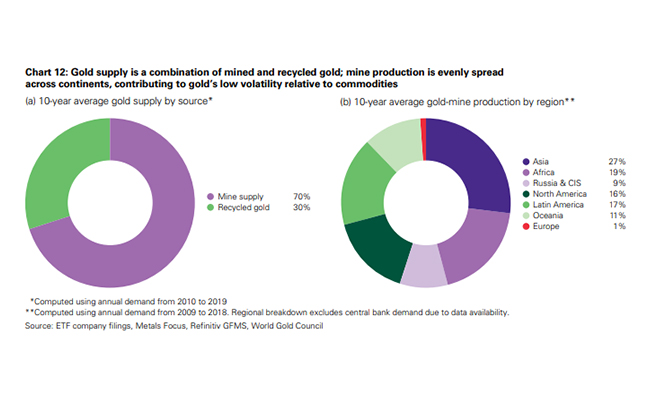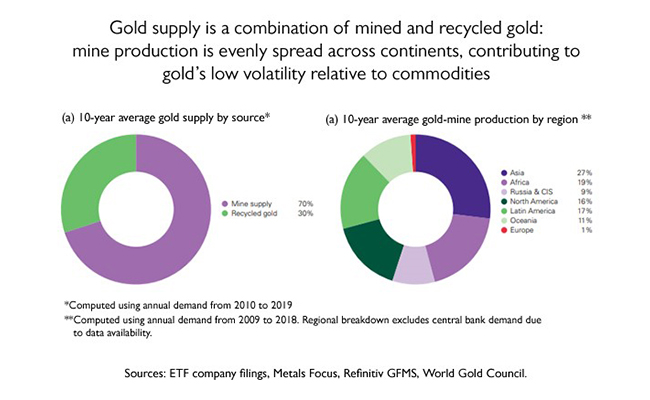 Can act as an effective diversifier and a safe haven
Gold is recognised as a store of value. As it is a physical commodity, gold cannot be printed in unlimited quantities like money. Gold's scarce supply can allow it to maintain its value over time, making it a safe haven in times of financial stress. Gold can act as a form of protection during economic adversities.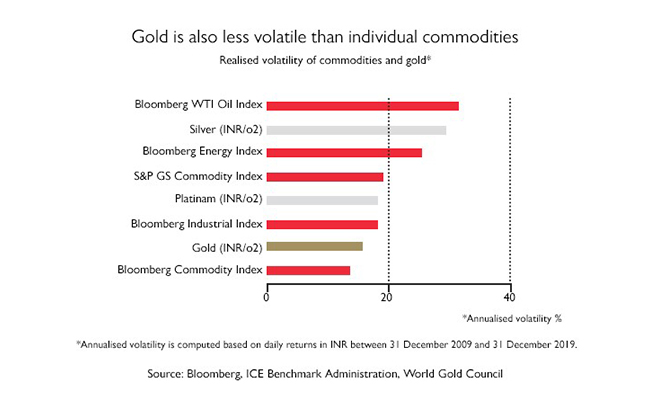 For instance, since 1981 , gold's average annual return of 10% has outpaced the Consumer Price Index during times of inflation. During the 2008-2009 financial crisis, when the value of stocks and other risk assets were corroding at an unprecedented pace, gold was able to maintain its value. SENSEX during the financial crisis fell 56% from December 2007 to February 2009, while gold prices rose by 48% in the same period .
Related: How did the 2008 financial crisis impact gold?
Highly liquid
The gold market possesses this amazing binary; gold is limited in supply, yet the market historically has been highly liquid. Gold liquidity has not dried up in times of financial distress, as is the case with other assets, such as Indian government bonds, Indian stocks and currencies. The introduction of gold-backed ETFs offers the additional way to invest in gold with India-listed funds trading at an average of INR 18 million per day.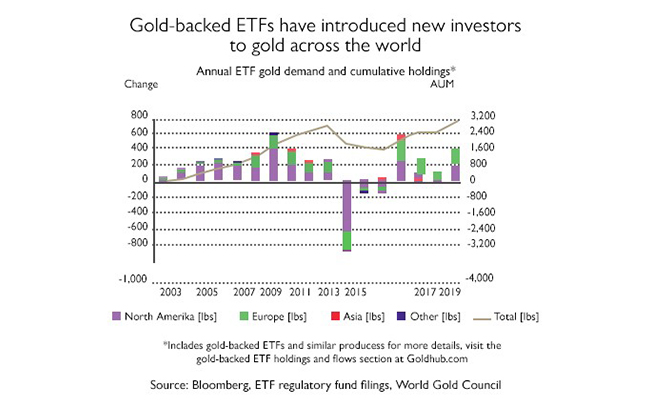 Current allocation of gold in the MAAF landscape in India
As per market regulator SEBI's categorisation, there are 7 MAAF with Assets Under Management totalling INR 132.3 billion at the end of 2019 . Out of this, 5 MAAF's include a sizeable allocation of gold:
| | | |
| --- | --- | --- |
| Funds | Assets Under Management in INR billions | Gold Allocation % |
| SBI Multi-Asset Fund | 2.5 | 17.7% |
| HDFC Multi-Asset Fund | 2.1 | 16% |
| ICICI Prudential Multi-Asset Fund | 119 | 11.3% |
| Axis Triple Advantage Fund | 3 | 13.6% |
| Quantam Multi-Asset Fund | 0.2 | 15.8% |
Important information and disclaimers © 2020 World Gold Council. All rights reserved. World Gold Council and the Circle device are trademarks of the World Gold Council or its affiliates. All references to LBMA Gold Price are used with the permission of ICE Benchmark Administration Limited and have been provided for informational purposes only. ICE Benchmark Administration Limited accepts no liability or responsibility for the accuracy of the prices or the underlying product to which the prices may be referenced. Other content is the intellectual property of the respective third party and all rights are reserved to them. Reproduction or redistribution of any of this information is expressly prohibited without the prior written consent of World Gold Council or the appropriate copyright owners, except as specifically provided below. Information and statistics are copyright © and/or other intellectual property of the World Gold Council or its affiliates (collectively, "WGC") or third-party providers identified herein. All rights of the respective owners are reserved. The use of the statistics in this information is permitted for the purposes of review and commentary (including media commentary) in line with fair industry practice, subject to the following two pre-conditions: (i) only limited extracts of data or analysis be used; and (ii) any and all use of these statistics is accompanied by a citation to World Gold Council and, where appropriate, to Metals Focus, Refinitiv GFMS or other identified copyright owners as their source. World Gold Council is affiliated with Metals Focus. WGC does not guarantee the accuracy or completeness of any information nor accepts responsibility for any losses or damages arising directly or indirectly from the use of this information. This information is for educational purposes only and by receiving this information, you agree with its intended purpose. Nothing contained herein is intended to constitute a recommendation, investment advice, or offer for the purchase or sale of gold, any gold-related products or services or any other products, services, securities or financial instruments (collectively, "Services"). This information does not take into account any investment objectives, financial situation or particular needs of any particular person. Diversification does not guarantee any investment returns and does not eliminate the risk of loss. The resulting performance of various investment outcomes that can be generated through allocation to gold are hypothetical in nature, may not reflect actual investment results and are not guarantees of future results. WGC does not guarantee or warranty any calculations and models used in any hypothetical portfolios or any outcomes resulting from any such use. Investors should discuss their individual circumstances with their appropriate investment professionals before making any decision regarding any Services or investments. This information may contain forward-looking statements, such as statements which use the words "believes", "expects", "may", or "suggests", or similar terminology, which are based on current expectations and are subject to change. Forward-looking statements involve a number of risks and uncertainties. There can be no assurance that any forward-looking statements will be achieved. WGC assumes no responsibility for updating any forward-looking statements. This disclaimer has been provided at the end of the report.