Kundan artisans: Generations of handcrafting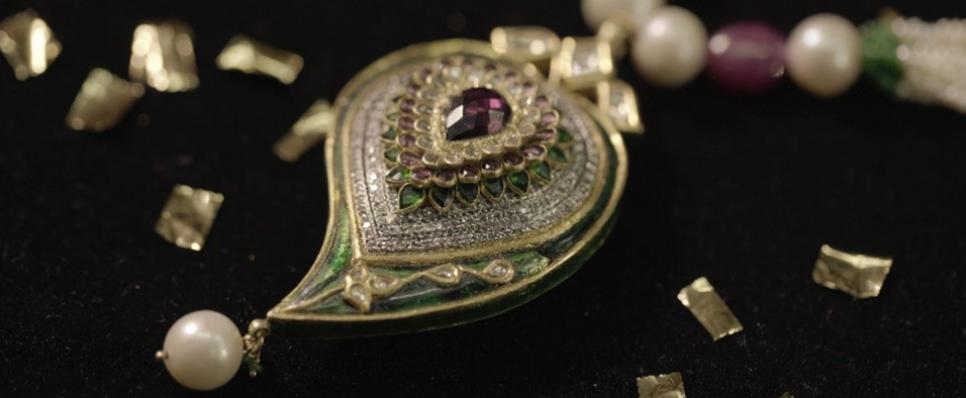 A way of life- is what the art of handcrafting Kundan and Meenakari jewellery is for the families that have been practising it for generations. It is engrained in the daily routine of their children. Soft and nimble fingers accommodate easily to the tips and tricks of shaping gold. Young boys make time to spend several hours in their family workshops, first honing their skill on inexpensive metals and eventually promoting to work on gold. This tradition lives on in many artisan families of Bikaner and Jaipur where handcrafting gold jewellery is a legacy, being passed on from one generation to the other.
Bequeathing skills through generations
In the snaky lanes of Johri Bazaar in Jaipur, Dinesh Soni sits in his Kundan Meena workshop, surrounded by the clinking of tools used by the many artisans in the small rooms of a 150-year-old building. Much like his brothers, he spent the early years of his life in this workshop, practising the skills of handcrafting jewellery. Afterall, few generations ago, his family was the royal jeweller for the king of Bikaner.
Dinesh's workshop is an established one in Jaipur, combining experience with expertise. Several apprentice artisans sit in his workshop learning from the masters. The master-apprentice tradition is instrumental in carrying forward the wide range of skills involved in handcrafting Kundan and Meenakari jewellery. An ornament has to pass through 10–15 different stages before it acquires its final finish. Interestingly, at each stage the level of skill required may be acquired only after a rigorous apprenticeship of 5–8 years under a qualified mentor.
Handcrafted wonder: Knowing the metal
Dinesh's face beams with pride when he reveals that he can single-handedly make a Kundan Meena ornament from start to finish because he has honed all the necessary skills over the years. Indeed, handcrafting gold jewellery is a story that is incomplete without exploring the techniques and skills that are passed on from one generation to the other in the families of the flag-bearers of this art form.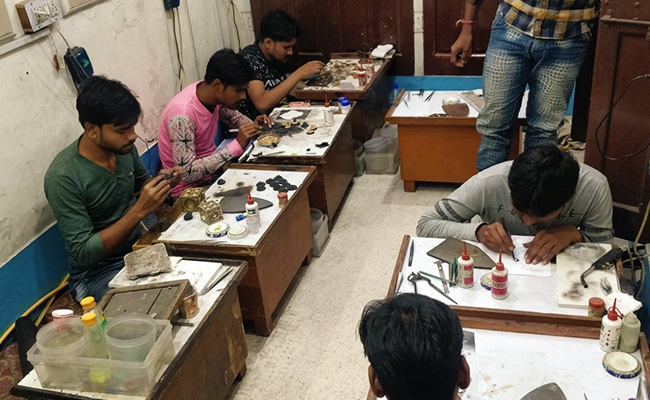 Workshop of Dinesh Soni in Johri Bazaar, Jaipur. It is located in a 150-year-old building that is also Dinesh's ancestral home.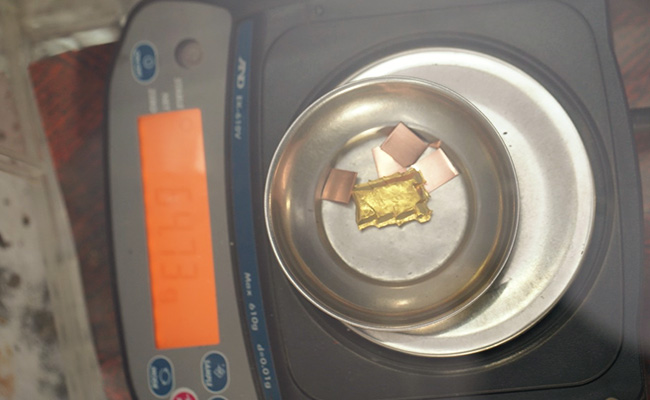 A weighing machine on Dinesh's desk where he measures 24 karat gold with copper or another metal to make 22-karat gold. The gold frame for Kundan Meenakari jewellery is made of 22-karat gold, which is made by heating pure gold with the right amount of metal like silver or copper. Dinesh's experience in crafting Kundan and Meena jewellery makes him an expert at calculating this ratio. 22-karat gold is flattened into thin strips, ready for shaping.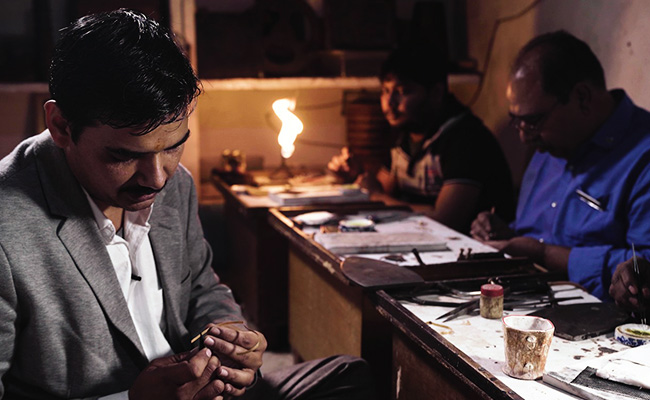 Dinesh Soni moulding the 22-karat gold strip into the desired shape of the jewellery with his hands. It took him years of practice to master this craft on copper. Behind him sit the other artisans practising the dedicated skill of shaping, designing, and soldering gold jewellery. He brims with pride when he says he can do all their jobs by himself.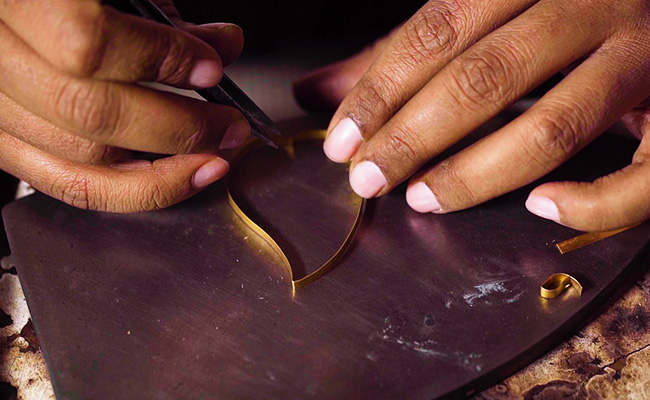 Dinesh shaping the gold strip with his hand into a heart shape. This is one of the most common traditional designs for pendants in handcrafted Kundan and Meena jewellery.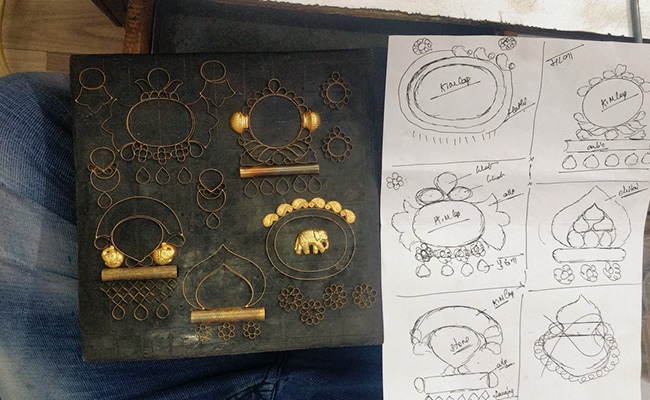 Artisan at Dinesh's workshop shaping gold as per customised designs. Handcrafting enables the possibility of several custom designs, so no two pieces are alike. Dinesh's workshop creates several customised designs for customers, along with traditional ones. A dedicated artisan at Dinesh's workshop shapes the jewellery as per the design.
The diverse range of designs and artefacts that Dinesh's workshop has been making over the generations is an articulate statement of the expanse of human imagination and creativity. Even in contemporary times, machines haven't been able to replace much of the traditional process. Machines simply can't compete with the human mind when it comes to conceiving countless variations and customisations.
Dinesh's workshop has seen these designs evolving for years. New motifs, new symbols, and designs challenge the artisans, and they adapt to it and enrich the art further. Jaipur has over the years emerged as a hub of this centuries-old legacy of Rajasthan and has made a mark for precision and craftsmanship.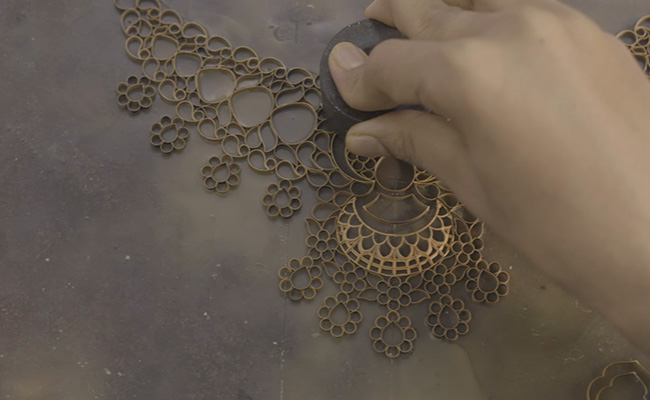 Even for the bigger necklaces, every detail of the gold frame is shaped exactly as per the design and pressed together on a frame. At this stage, the frame is ready to be soldered together after being covered in plaster of Paris.
Dinesh's workshop has about 20 people working on different stages of the creation of Kundan and Meena jewellery. As he takes his routine rounds of the workshop, checking the orders for the day, often pausing at a desk to supervise the work, his observation and eye for detail stand out as he commands one of the new apprentices to turn down the heat on the gold frame he's soldering. This is a skill acquired over the years that he spent working with gold.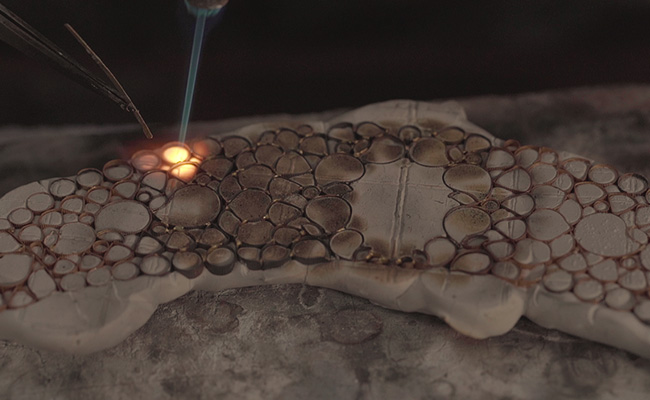 Gold frame of a necklace covered in plaster of Paris being soldered together. Every little strip of gold has to be carefully examined and soldered with the adjacent piece. The heat needs to be just right so it doesn't tamper with the design.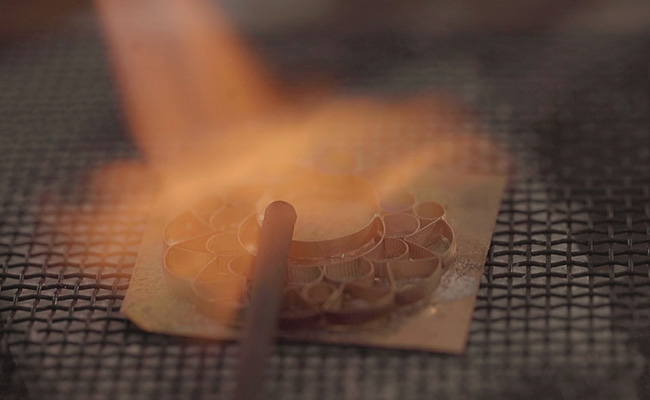 Once several strips have been soldered together, a broader strip of gold shaped as per the design is soldered on one side of the frame to make the framework ready for engraving.
Dinesh claims that he shares a deep relationship with gold. Holding it gives him a sense of its weight, the colour gives him a sense of its purity, and the texture tells him when its ready to melt. Dinesh believes that gold converses with him in its changing forms as he creates the jewellery. He pulls out a vibrant Meenakari pendant form his desk to show the next steps of engraving and Meenakari. Adorned with traditional motifs of flowers and leaves, the pendant shines in its glory. The mesmerizing gold accentuates the contrasting colours of Meenakari, giving it an eternal brilliance that cannot be found in any other metal.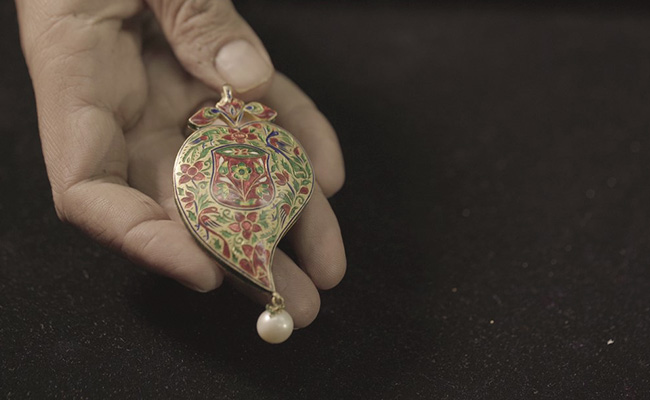 An engraved Meenakari pendant in Dinesh's hand. An experienced artisan can engrave hundreds of different designs on similar shapes. Instinct coupled with experience provides the right judgement of design and embellishment on Kundan and Meena jewellery.
Dinesh's brother Suresh has mastered the art of Kundan Jadai. He supervises the artisans on the first floor of the same building where the jewellery comes for Kundan Jadai after Meenakari. His sharp and precise vision does not lose sight of the pendant even as he talks to the artisans around him.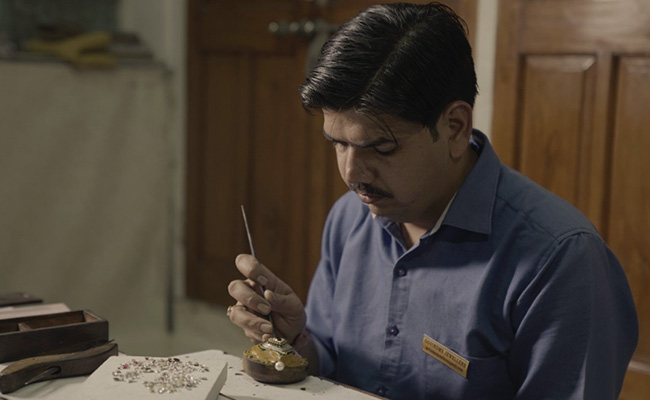 Suresh Soni embedding Kundan around the ruby and polki – the raw and uncut form of diamond in a gold pendant. With pride in his voice, he explains how no Kundan jewellery in the world is machine-made to date. This is not a craft that machines can perform, as the shape of each polki is different. Its the dexterity of the hands and the concentration of the mind that accommodates to the various shapes.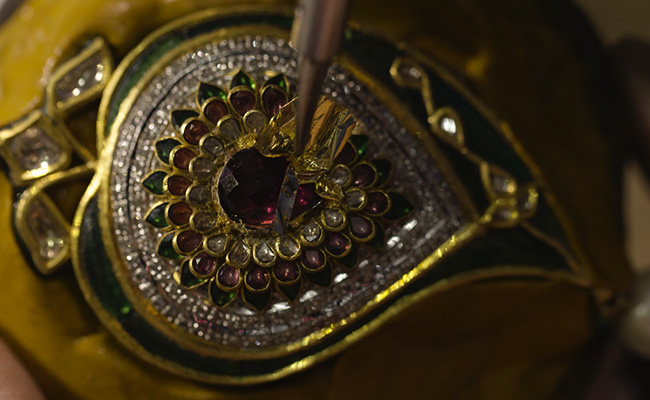 Over the years, Suresh has acquired the precision needed to work on gold. From picking the right stone and judging the precise amount of Kundan or 24-karat gold foil to be put around it, to anticipating the right temperature, angle, and pressure on the needle being used to embed it, each step requires acute precision – without which the precious stone would break or the gold go to waste.
Ensuring the sustenance of India's coveted jewellery art forms
Dinesh's humble workshop hides hundreds of Kundan and Meenakari ornaments that are no less than priceless artefacts. Displaying some of the most exclusive ornaments in his collection, he happily shares how people's inclination for their culture has kept a special space for these heritage forms of jewellery. However, buyers often miss the value of this handcrafted jewellery.
Its an art that has flourished over centuries because it has the support of its patrons. Its value lies in the many years that have gone into perfecting the art by the artisans, it's in their imagination that can concoct a thousand designs without a glitch and in the legacy of families devoted to this craft for generations who have preserved the techniques that pleased the royalty.
Perhaps Dinesh's son would want to carry forward this family lineage of handcrafting jewellery. But to do so, the patronage and support this craft has always got from its buyers has to remain intact.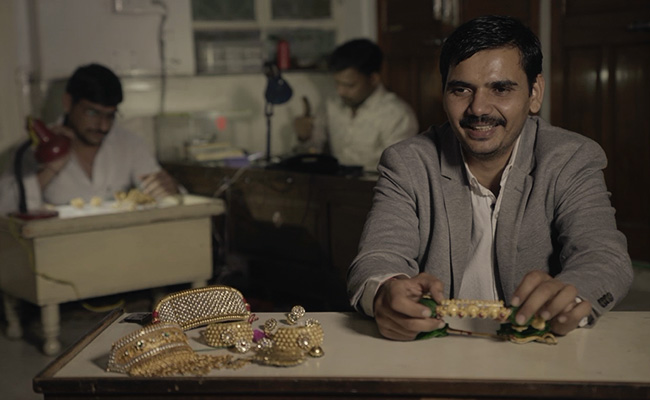 Dinesh at his desk displaying some exclusive traditional Rajasthani gold jewellery.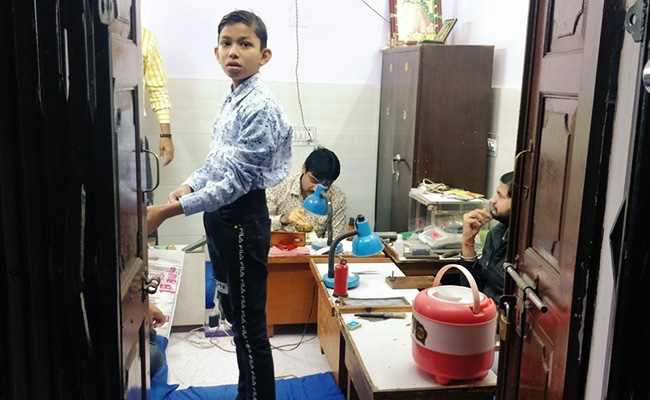 Dinesh's son finds it fascinating to take rounds of the workshop on his days off from school. Amidst numerous career options and possibilities, its only him who can decide whether the legacy of this heritage art form in his family will live to greet a more evolved tomorrow.