Ornaments for animals – a unique tradition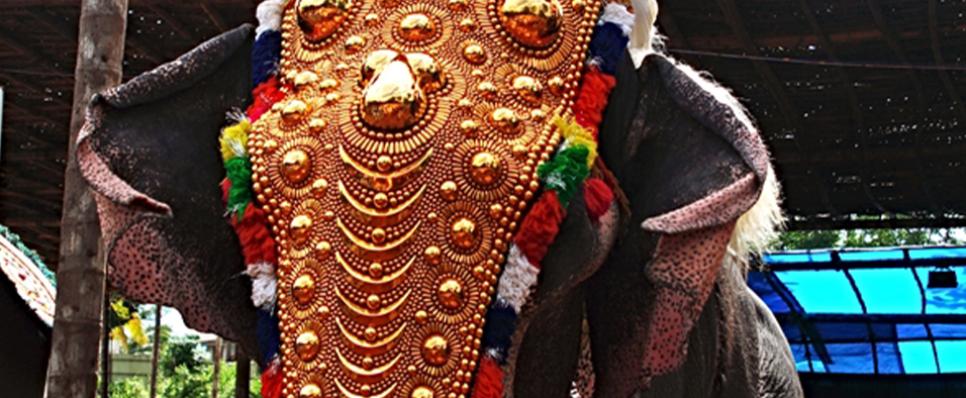 India celebrates every festival and event on a grand scale performing rituals which are believed to be auspicious and sacred, to please the almighty. Among these rituals, there is a unique tradition of decorating cattle and animals with gold ornaments. This is rather an interesting tradition which, in a way is a perfect example for the society to serve the animals that serve them round the year.
In this article, we bring you some interesting facts related to these rituals and traditions:
The most famous Hindu temples of Kerala celebrate their festivals and other events by decorating elephants with gold ornaments. The artisans from the god's own country creates gold caparisons, small umbrellas and necklaces for the elephants. In one splendid festival, over 150 elephants are used for procession which are decorated with these gold ornaments.
The tradition of marriage in North and West India is incomplete without the use of horses. It is a custom in which families spend a lot of money on the decoration of the horse. The horse is adorned with gold ornaments; the wealthier the family the more opulent and extravagant the ornamentation. The forehead is usually decorated, and sometimes the horse's knees are also covered with gold ornaments.
The Pushkar Camel Fair of Rajasthan includes the spectacular sight of the decorated camels. Some camels in this festival, are adorned with golden anklets and other gold-plated or coloured adornments. This fair is one of the main draws for tourists visiting royal Rajasthan.
In Maharashtra, on the day of Govardhan festival, the devotees adorn cows with ornaments and worship them. At some places, cows are adorned with gold ornaments, mainly by rich farmers.
The farmers of Chhattisgarh and Maharashtra celebrate a popular bull-worshipping festival known as Pola. On this day, bulls are first washed and then decorated with shawls and ornaments. Like the Govardhan festival, the rich farmers and other wealthy devotees adorn the cattle with gold ornaments.
India's different rituals call for different offerings to praise and please the gods and goddesses. The adornment of animals such as cows, elephants, camels and horses symbolise devotional beliefs in nature. These rituals stem from the piousness and auspiciousness associated with gold.