Sacred gold jewellery that can be seen only once in a year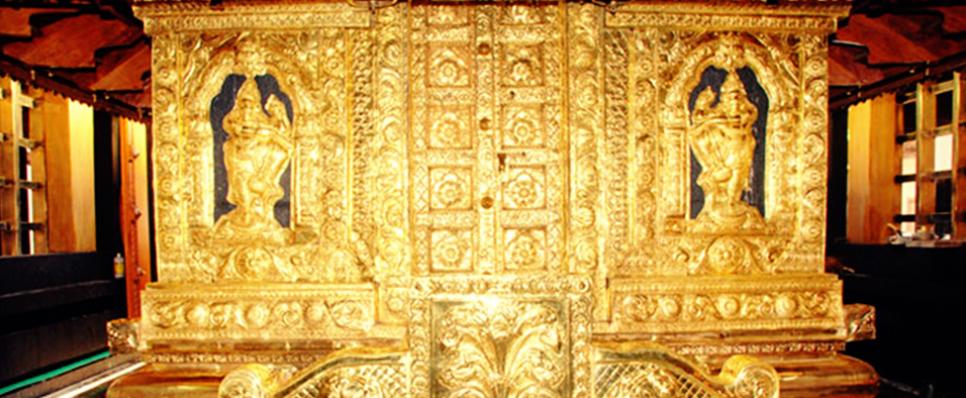 Since mythological era, gold has been in an influential and symbolic position in the lives of Indians. The gold ornaments of Gods and Goddesses have been treasured over centuries in various temples across India. One of the most distinguished and admired treasures is the sacred jewellery of Lord Ayyappan called Thiruvabharanam and popularly known as Sabarimala temple, it is a Hindu pilgrimage centre located in Kerala.
The King of Pandalam adopted the human sojourn of Lord Ayyappan as his son and named him Manikantan. He ordered his most highly skilled craftsman to design and create intricate jewellery for the deity. Thiruvabharanam is his sacred jewellery box, presently housed in the Srambickal Palace inside the Pandalam Palace premises.
Thiruvabharanam contains many gold ornaments, including the golden face mask of Lord Ayyappan that brings the mystical beliefs to life. Other items include the miniature of the tiger, which isthe vahana (mount / vehicle) of deity, as well as a gold elephant which is another vahana of Lord Ayyappan and. Sarapoli Mala (necklace), Velakku Mala (necklace), Mani Mala (necklace), Erukkum Poomala (necklace) and Navaratna ring are other sacred ornaments of the deity.
The Thiruvabharanam's three-day procession commences around January 12th of every year. In this procession, the representatives appointed by the royal family carry the sacred ornaments of the deity in holy caskets through the 83km hilly range which passes through forests and rivers. The third day of the procession is Makhra Jyoti when Thiruvabharanam reaches Sabarimala temple. When the Sreekovil (sanctum sanatorium) opens for darshan (vision), the devotees pray to the celestial magnificence of Lord Ayyappan adorned with Thiruvabharanam. Thus, the jewellery of the deity is available for darshan only once in a year.
In addition to these majestic ornaments, Lord Ayyappan's temple of Sabarimala showcases collected gold and valuable donations made to the adored divinity. The temple's copper-plated roof is covered with four finials of gold at its apex. The temple boasts of Pathinettu thripadikal (18 sacred steps) which is the golden stairway to the temple, earlier made of Panchaloha (traditional five-metal alloys of sacred significance). These steps can be ascended only by devotees carrying "Irumudikkettu", a bundle bag of holy items. The strict adherence to such ancient rituals have helped temple preserve its auspiciousness.