Stunning variety in Kundan Jadau jewellery from Rajasthan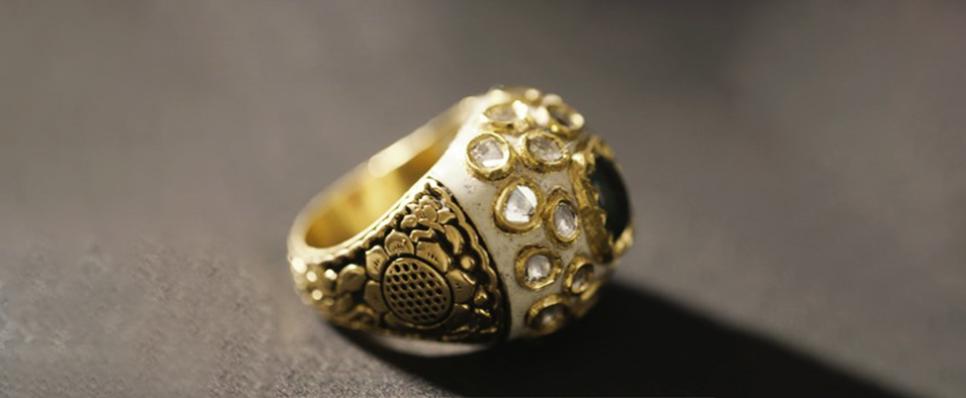 It appears in fashion magazines and on red carpets alike, adorning fashionable celebrities, looking regal, classy and inimitable. Yes, Kundan Jadau jewellery from the heart of Rajasthan does make for some exquisite ornaments, each of which is one-of-a-kind and absolutely stunning.
Kundan Jadau jewellery - a world within the world of jewellery
Kundan Jadau jewellery is a handcrafted form of gold jewellery that is only found in India. Each ornament is unique and is a product of the years of experience and innate creativity of the artisan or 'karigar' who works on it. Kundan Jadau jewellery features a diverse range of designs that are a product of the karigar's imagination!
Kundan Jadau jewellery- the making of a marvel
To appreciate the skill needed to make an ethereal piece of Kundan Jadau jewellery, there are two terms with which you must be familiar.
Jadau jewellery is made through the process of Jadai, which is a making technique that involves embedding or inlaying stones into 22-karat gold frames. These gold frames are set on a base of plaster of paris and filled with lac.
Kundan refers to the pressing of soft and malleable 24-karat gold foil into the crevices between these stones or gems. Kundan work adds a distinctive and gorgeous gold outline to each of the stones and gems that makes it shine bright and bold.
Kundan Jadau jewellery – styles and patterns
There are two types of work you will often see in Kundan Jadau pieces.
Kundan Polki
When slivers of uncut and uncalibrated diamonds are inlaid in yellow gold, Kundan Polki jewellery is created. These unfinished diamonds add a striking lustre to the gold ornaments and are often placed on a silver base to accentuate the crystal-like shine.
Polki is often accompanied with other precious stones such as rubies, emeralds and sapphires to create a variety of designs. Often, you will find Kundan Polki ornaments, especially the neckpieces, laced with colourful beads or pearls.
Kundan Meena
Meenakari as an artform showcases the enamelling of brilliant, bright colours on a base of gold. These colours range from red, ivory white and parrot green to turquoise, pink and cerulean blue. Kundan Meena ornaments combine the majestic gold look of Kundan Jadau jewellery with the colourful celebration of Meena.
The Kundan work on such ornaments is incredibly intricate and detailed. It adds a beautiful, gold outlining to the many designs and motifs that are unique to Meenakari jewellery.
Kundan Jadau jewellery- variation, variation, variation
Kundan Jadau jewellery is a cornucopia of shapes and styles, designs and patterns, colours and textures, and it's this variety that makes it so sought after.
Kundan Jadau ornaments can feature arrangements like:
1. Polki, precious and semi-precious gems and stones along with the vibrant Meenakari enamelling on the same side.
2. Polki, precious and semi-precious gems and stones on one side, while Meenakari enamelling adorns the other side.
3. A combination of Polki work and Meena on either side.
Kundan Jadau- a handcrafted wonder
As an artform, Kundan Jadau jewellery is second to none. India is the only place where these handcrafted marvels are created from scratch. Each ornament of jewellery undergoes 15-20 processes to transform into a work of art that celebrates the coordinated and tireless efforts and creativity of multiple talented artisans. The result of this hard work is a sight to behold!