The story of the golden thread – Zardozi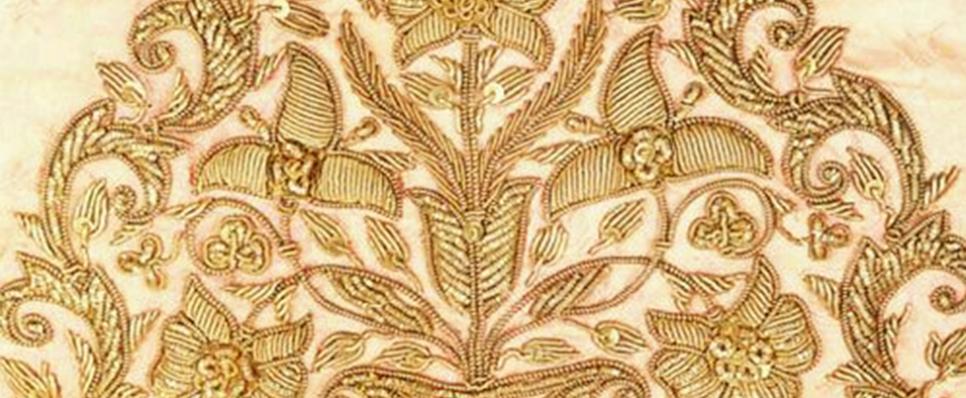 Indians celebrate festivals and ceremonies on a grand-scale; new attire and accessories including gold jewellery are bought for almost every occasion. Outfits are often designed with golden thread embroidery with Zari (Golden-Lace) on the edges.
One renowned type of gold embroidery is Zardozi; originating in Persia, the Persian word "zar" means gold and "dozi" means embroidery - this rich artwork made its way into the Indian land during the Mughal era. This embroidery is mentioned in the Indian texts from the time of Rig Veda, and was apparently used on the tent walls of Mughals as well as on the royal attires of Indian Maharajas.
In the later years, the city of Nawabs, Lucknow became the hub for this kind of embroidery owing to the high demand from the Nawabs. In 2013, the "Lucknow Zardozi" became a brand recognised by the Geographical Indication (GI), a Geographical Indication Registry. At present, several micro enterprises specializing in Lucknow Zardozi are renowned all over India as well as in Pakistan and Iran.
The intricate needlework uses golden thread which is made from an alloy of gold. Ingots are melted and pressed through perforated steel sheets to construct a delicate wire which is further flattened by hammering. The wires are then twisted around the silk to form thicker, spring-like Zardozi thread. Other golden embellishments such as sequins and beads are often added to the piece for additional impact.
Although modern machines and techniques have taken over the traditional methods, the family clans from Lucknow are preserving the skills needed to create this traditional kind of embroidering by passing them to new generations.
Given the extensive demand from India as well as abroad, the Zardozi work is crafted on a wide range of garments and accessories such as dresses, coats, purses, belts, stoles, shoes, etc. Bollywood actresses can often be seen wearing beautiful Zardozi designs at events around the world.