The British gold coins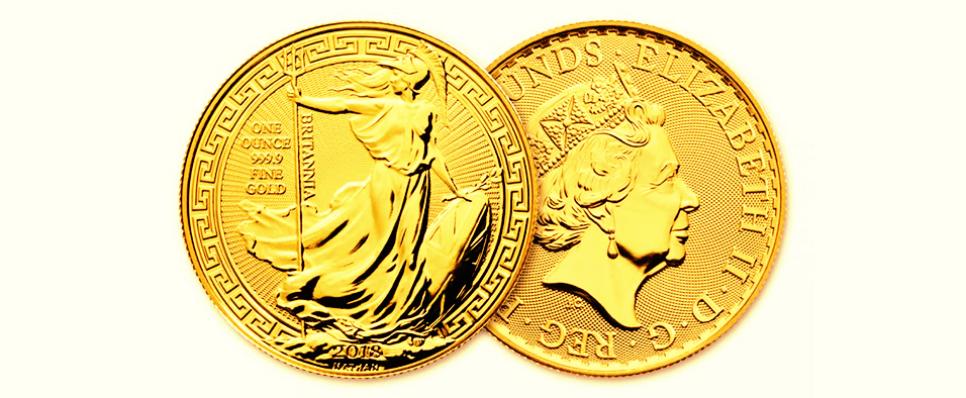 India's relationship with the United Kingdom shares a history going back centuries, and is now aspiring to achieve a shared future. According to Rob Lynes, director of the British Council in India, diplomatic relations between the countries have never been stronger. India hosts the United Kingdom's largest diplomatic network in the world, and the UK is the 3rd largest foreign investor in the country.
The collective nations of the United Kingdom and India are also among the few countries in the world to produce high quality gold bullion. The Royal Mint of the United Kingdom produces some of the purest gold coins. The Britannia is a 1 troy ounce (31.1035 gram) coin made of 24k gold that is .9999 fine. This is amongst the purest gold in the world, and only Canada's Maple Leaf gold coin is purer with a fineness of .99999.
Britannia is the personification of Britain, and usually depicted as a helmeted woman with shield and trident. The official Royal Mint of the United Kingdom reports that sculptor Philip Nathan, the designer of the first Britannia bullion in 1987, envisaged her (Britannia) as a classic and evolving icon. In the classic design – on the reverse of the coin - she stands firm against a powerful gale that whips around her shield, Corinthian helmet and olive branch. The 2017 design of the Britannia also features a speckled radial sunburst at her back. The obverse side of the coin is designed by Jody Clark, and showcases a portrait of Queen Elizabeth II. Clark is an English engraver who was employed by the British Mint to design the fifth and latest portrait of the Queen. Along with the Britannia, the Royal Mint also produces two other coins: the Sovereign, and the Lunar Series. Both these coins showcase the same portrait of the Queen, designed by Jody Clark, on the obverse of the coin.
The Sovereign is the oldest of the three coins and has now been minted for 200 years. The reverse of this flagship coin, much like Russia's gold bullion coin, showcases Saint George the Victorious, a famous Roman soldier and military officer vaunted in European legend and revered by Christians. The Lunar series, on the other hand, is a recent tradition. These coins were first produced in 2014, and have been dedicated to the Chinese calendar. A new lunar coin is released every Chinese New Year and showcases an animal of the Chinese Zodiac on the reverse of the coin.