Buying Gold on Akshaya Tritiya 2022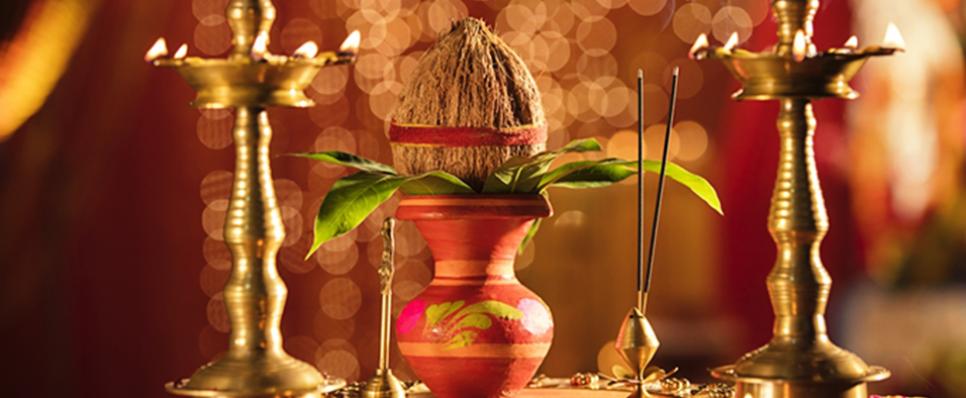 The golden day of Akshaya Tritiya will be celebrated on 3 May 2022. It is considered an auspicious occasion by Hindus and Jains. Akshaya Tritiya is believed to be the best time for new beginnings of all sorts – such as starting a business, getting married, or making an investment.
On this day, people invest in gold, which is seen as a lucky move. It is believed that what is begun on this day will continue to expand endlessly with fewer barriers to progress.
Read on to know about some beliefs and traditions that explain why purchasing gold on Akshaya Tritiya is believed to bring good luck.
A day to seek Lord Kubera's blessings
Kubera, the son of Vishrava, ruled Lanka once upon a time. Ravana, Kubera's stepbrother, seized the city and all of his wealth and exiled him from the 'golden' city of Lanka. Later, Kubera maintained a pious life and conducted penances, earning the blessings of Brahma and Shiva. 
Viswakarma, the architect of the gods, built Kubera a magnificent city called Alakapuri near Mount Kailash. According to the Mahabharata, Kubera was bestowed with sovereignty over the wealth of the heavens on the day of Akshaya Tritiya. On this day, he was appointed as controller of the north direction.
So, worshipping Lord Kubera, the god of wealth, on Akshaya Tritiya is believed to bring prosperity to the home. Buying gold on this day is considered a great thing to do because Lord Kubera received a large amount of gold on this day.
The Pandavas and their Akshaya Patra
The significance of Akshaya Tritiya is also described in an anecdote from the Mahabharata. Lord Krishna once paid a visit to the Pandavas, who were in exile in the wilderness. Draupadi felt helpless while Krishna was in their lowly home because she could not provide a suitable feast for their divine guest. 
Lord Krishna took a little leaf clinging to the dish in which they had cooked food, declaring that their love had sated his appetite. Lord Krishna granted the Pandavas the blessing of Akshaya Patra from the Sun God. Throughout their banishment, this vessel of plenty provided them with an infinite supply of food. Since what is begun on this day is said to expand indefinitely, many acquire gold on Akshaya Tritiya, hoping their riches will multiply.
Just a few days before Akshaya Tritiya, the festival of Vishu will be celebrated on 15 April 2022 according to the Malayalam calendar. Vishu is also considered an auspicious occasion for important purchases.
If you are looking to invest in gold on Akshaya Tritiya, or planning to buy something special for a loved one, here are some options to consider:
Gold jewellery purchase scheme:
Pay a fixed amount every month – even as little as Rs. 1000
Redeem your earnings in the form of 18 karat or 22 karat gold
Opt for a tenure of 6, 12, or 18 months to plan for special occasions
Gold Accumulation Plan (GAP):
Invest regularly – as little as Rs. 1000 per month
The gold is of 24 karat and 995 fineness
Gold can be bought from mobile wallets and NBFCs
Gold coins:
Negligible making charges
Holds religious, cultural, and aesthetic value
Can be exchanged for cash or jewellery
Gold Exchange Traded Funds (ETFs):
Listed and traded on the BSE and NSE
Allows gold purchases in electronic form – starting from as little as 1 gram
Your gold ETFs are backed by 99.5% pure gold
Attracts no wealth tax, security transaction tax, or sales tax
Gold funds:
These are mutual funds that invest directly in gold in India and abroad
Great savings on storage costs as gold is in electronic form
Can be bought for even Rs. 100 per month and redeemed for as little as Rs. 1000
While the traditional way of buying gold in the form of jewellery, coins, bars, etc. holds a different charm, these new-age gold investment options are hassle-free and convenient and enables purchasing gold from the comfort of your home.