Everyday gold chains for the modern woman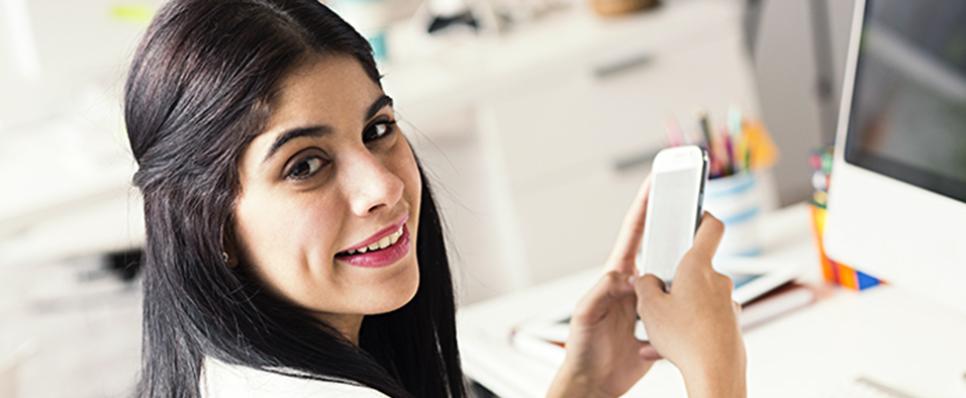 Gold necklaces are a quintessential part of every woman's jewellery collection. No matter what age you are or what kind of lifestyle you lead, there's surely a unique way for you to adorn gold. Knowing how each gold chain is different from the other, and what kinds of outfits and occasions each is perfect for, can greatly elevate your style quotient. Here are some types of gold chains available today:
Anchor/ mariner chain
Anchor chain consists of uniformly sized oval links that are attached alternatively in horizontal and vertical orientation with a vertical bar running across them. The design takes inspiration from the chain that attaches the anchor to the boat. This is one of the strongest types of chain patterns. Flat anchor chains and round anchor chains are available for you to choose from.
Perfect for:
Semi formal event, worn with western wear.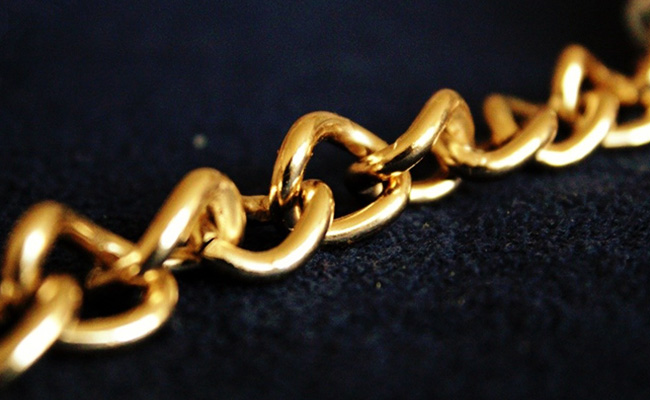 Rolo chain
Also known as Belcher chains, these chains consist of flat or oval links connected to each other. These links are smaller in length but have a thicker circumference, and alternate in size. Rolo chain necklaces are good to go for every day wear and add a minimal and sophisticated charm to your look.
Perfect for:
Everyday corporate look, be it with western or Indian formals.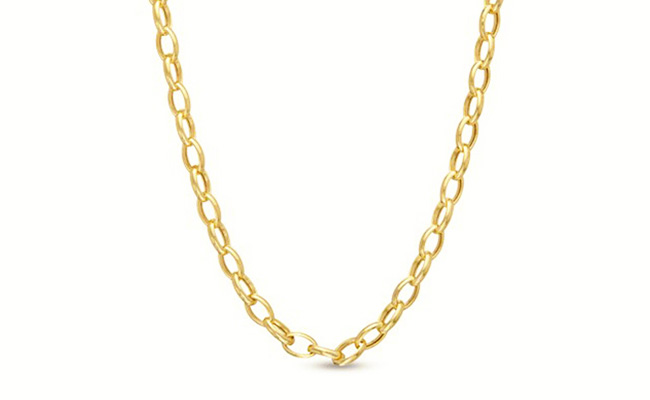 Heringbone chain
This type of chain is formed from V-shaped links to lay entirely flat on a surface. The flat and fluid look is created because the V-shaped links alternate with each row, thus creating a herringbone pattern. This type of chain rests well against crisp formal shirts. A chain in rose gold or white gold can look extremely chic and modern.
Perfect for:
An important corporate event or conference. Adds a touch of traditional sophistication to a modern outfit.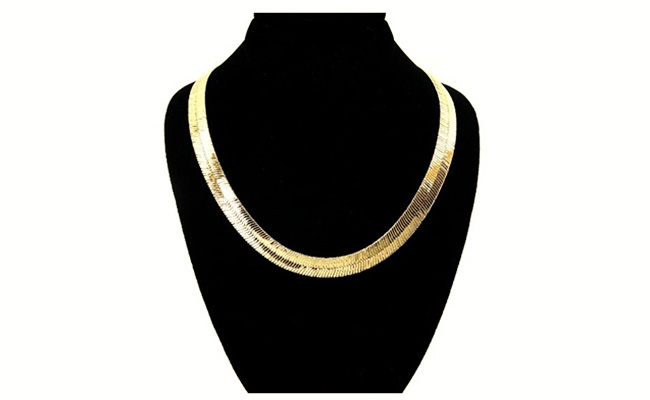 Figaro chain
Figaro chains form a pattern of shorter and longer flat links. After every three to four shorter links, a longer one appears. Originating in Italy, this design is quite popular among modern trends of gold jewellery. They look lovely when adorned with a pendant or a charm. You can include them in your everyday jewellery as they look subtle and stylish.
Perfect for:
Casual look, be it for an outing with friends, or a work lunch. Can be matched with ethnic fusion, or indo-western outfits.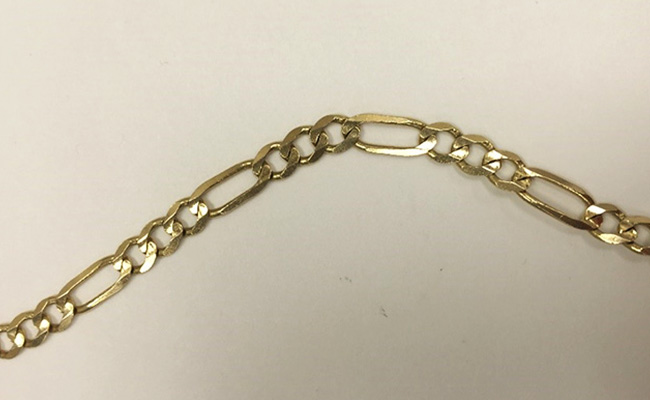 Wheat chain
This type of chain has an appearance of a wheat stalk. A beautiful design that goes well with all modern outfits. It consists of twisted oval links woven together in a spectacular pattern! It is quite a durable chain that works well with heavier pendants. Wearing the chain alone is an elegant option too.
Perfect for:
A formal event that requires a bit of dress-up, be it a corporate dinner with upper management or dinner with the in-laws.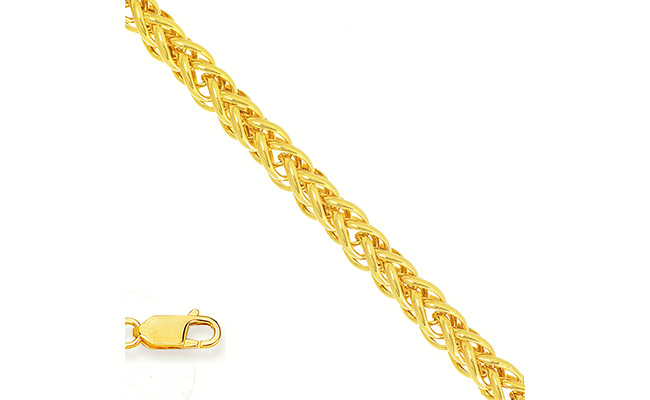 Disappearing chain
These are the most popular style of chains because of how delicate and supple they are. They are perfect to pair with a pendant, and bring out the contours of your neck very elegantly. Add a pendant with a motif or a floral design to top off the look in style.
Perfect for:
A formal event that requires a bit of dress-up, be it a corporate dinner with upper management or dinner with the in-laws.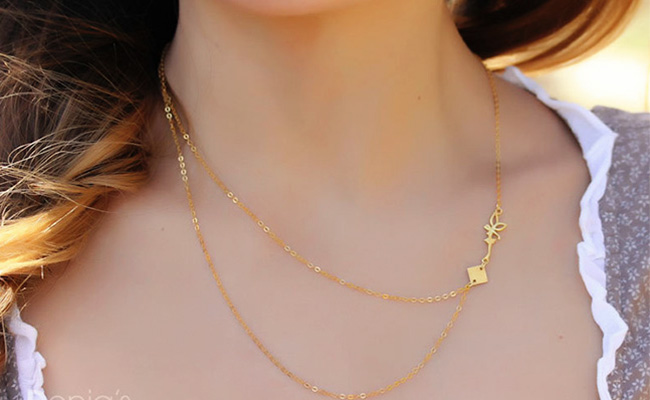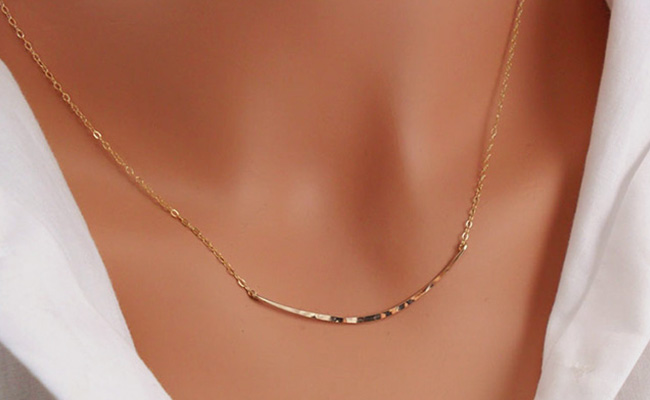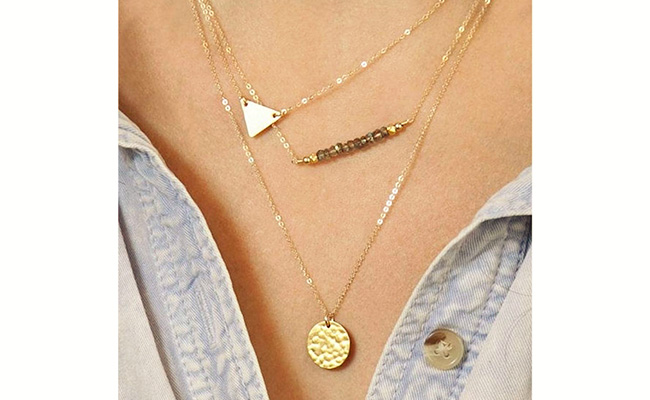 Snake chain
A flexible chain that has rings fitted closely together. It looks like the skin of the snake and is quite light and delicate. Another great choice for pendant necklaces. Also a perfect option for those who prefer minimalistic jewellery. These can also be woven around the wrist as a stylish accessory, and attached to a ponytail or braid with some hair clips to make your hairstyle come alive.
Perfect for:
Every day office wear. Can become your very own style statement as it can be paired with other types of jewellery, and worn with any type of outfits, for multiple days of the week.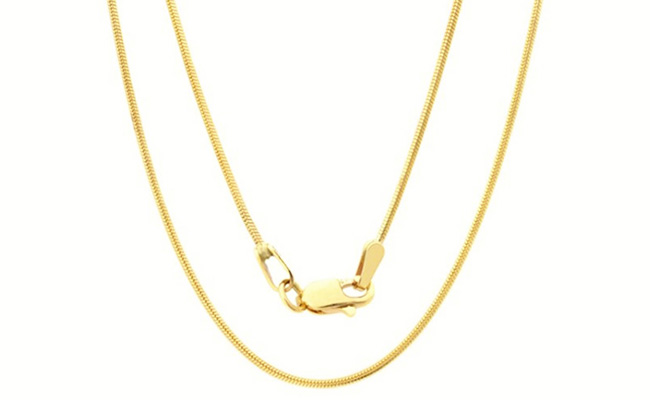 Which gold necklace will you choose to accentuate your look today?