Gold – the shringar of gods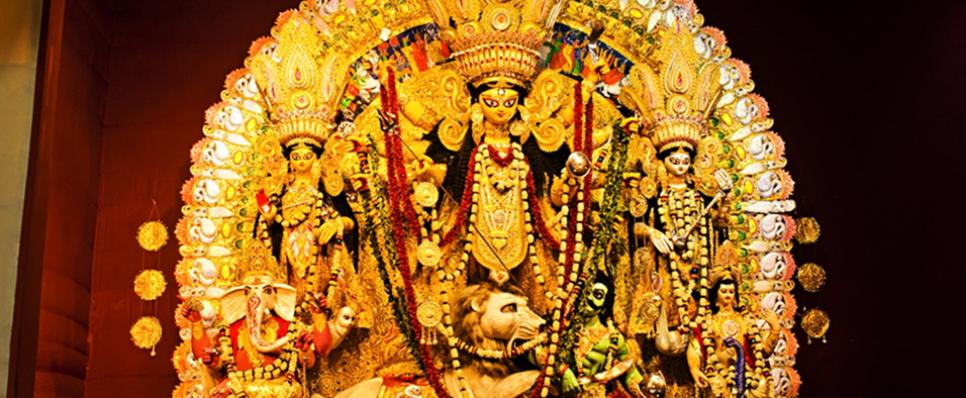 In most cultures in Indian, or rather Asian, communities, there is an "Ishta Devta" of every family who is worshipped and passed on through their descendants. In order to worship these Gods and Goddesses, most of the cultures keep their idol at home or in the business establishment for praying and seeking their blessings.
These deities are often adorned with gold ornaments which are cleaned on daily basis during the pooja. There are various mythical and sacred beliefs behind this ritual:
A gesture of praising the God and showering love, Hindus especially tend to adorn their Gods and Goddesses with gold ornaments.
It is commonly believed that the more you adorn the Gods, the happier they will be with your piousness.
Even the worshipper feels a sense of adoring their God, when they embellish them with precious ornaments.
If we get into the etymology, Shringar, in Sanskrit, means 'love' and is often considered as a sign of beauty. For the same reasons, when we embellish our idols, it signifies our love for the divine Gods.
If you look around, most of the Gods and Goddesses in Hindu culture are decked with gold ornaments. This is because since ancient times, the yellow metal has been considered the most precious metal. Thus, when it comes to the devotional sentiments towards God, the devotees do not compromise on the quality of metal that they embellish the idols with.
The ornaments go beyond decorating and cajoling our dear gods. These ornaments made of gold have their own significance according to the ancient beliefs of the Hindu culture. Below are some of the beliefs around the importance of these adornments:
Maang Teeka: Mythology suggests that Maang Teeka is a representative of the third eye and is believed to empower spiritual energies.
Nose ring: The nose ring is believed to symbolize power and bravery, which is why Maa Shakti is always seen wearing a big nose ring.
Mukut: Mukut, or the crown, signifies 'rule' or 'creator'. Thus, our Gods and Goddesses, being the creators of this beautiful world, are dignified with the Mukut.
Haar or Necklace: 'Haar', according to Hindu tradition, is a symbol or representative of 'respect or 'victory. Haar is commonly used as respect symbol, even in modern India. For the same reason, the Almighty is graced with the Haar, to pay our respect to them.
These reasons define the Shringar of Gods and Goddesses that have been extensively followed in almost all Hindu households, across generations. The devotees commonly adorn their idols with gold, however, if the financial capability restricts, flowers are the next best way show your love and respect for the almighty.