Gold earrings for your jewellery box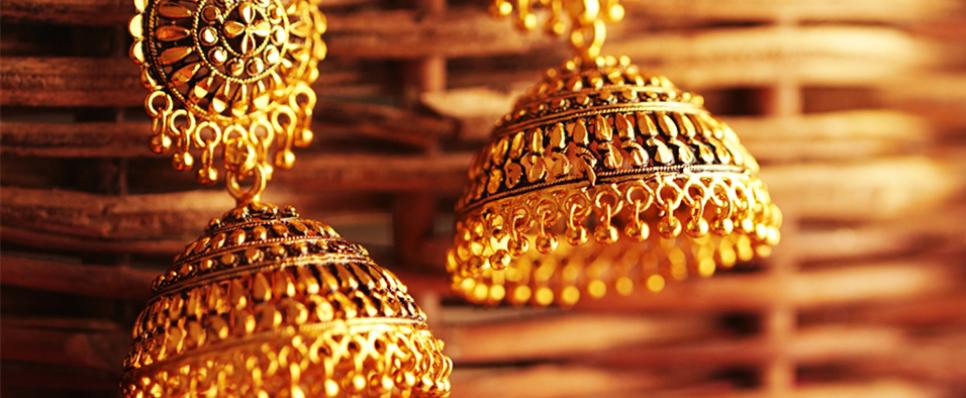 Owning a box full of glittering gold jewellery is the stuff dreams are made of – necklaces, bangles, hair combs, waist-belts – they each enhance an outfit in their own way and bring the wearer a touch of glamour and luxury.
Earrings, in particular, are a vital ingredient for every jewellery box, and can be as discreet or as dramatic as the wearer desires.
Below are some examples of beautiful gold earring styles to complement every kind of look:
For the love of jhumkas
A traditional look, this is one of the oldest styles of earrings. The conical-shaped ornaments are worn with traditional attire such as Kurta, Saree or Lehenga.
Face type:
Jumkas are ideal for a round as well as an oval face.
Dazzle with traditional latkans also known as danglers earrings
As the name suggests, these are long earrings that are available in a wide range of designs and patterns. The Latkans go well with sarees; no necklace required, as these earrings are enough to make a style statement on their own.
Face type:
Danglers complement round as well as long faces.
Charismatic gold chandelier drop earrings
Similar to danglers, these are long earrings that start from a small stud and are broader towards the end. These earrings are for special occasions to add glamour.
Face type:
Chandeliers are great for an oval face.
Beautiful gold hoop earrings
Hoops are a modern twist on traditional gold Balis. The best part is that hoops compliment Indian as well as Western attires. The smaller version of Hoops are known as 'Huggies', earrings which barely wrap around the earlobes. This makes them ideal for daily use.
Face type:
Hoops and huggies are apt for a long face.
Splendid gold stud earrings
Classic and elegant for daily use, gold Studs are on top of the list for every busy girl / woman. Men also wear gold Studs either in one or both ears. They go well with all types of outfits and give a glimmering confidence to the wearer.
Face type:
Studs are apt for all face types, however, look best on a round face.
Charming gold chains
This is a traditional form of gold earrings which is combined with gold chains that are hooked or pinned in the hair. These earrings compliment traditional attire with a loose hairstyle.
Face type:
Chain earrings are perfect for the oval face; they give an elongated look.
Edgy ear-cuffs
The traditional gold ear-cuffs are adored by young Indians who love to experiment with fashion and stand out from the crowd. Some ear-cuffs cover the entire ear and look great on their own.
Face type:
This will enhance the traditional look of a round face.
These gold earrings are a prominent part of the Indian jewellery and a "must own" for every woman.