Golden Mughal jewellery interest it reawakened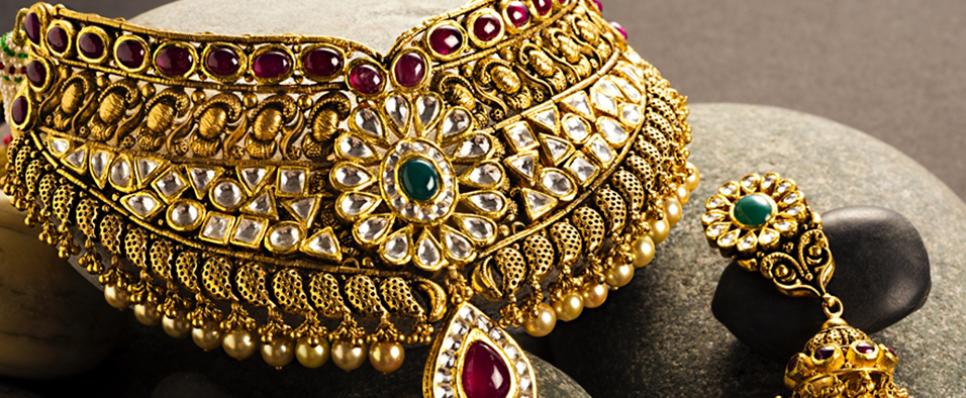 In 2008, Ashutosh Gowariker's historical saga Jodhaa Akbar was released. The movie received commercial and critical success, its lead actors Hrithik Roshan and Aishwarya Rai were praised, the set decoration adored and the costume department applauded. In fact, on the latter, it seems a fashion trend emerged. People were looking to adorn the magnificent gold and precious stones jewellery worn by the leading pair. And why wouldn't they?
Five glorious centuries ago, the Mughal Dynasty rules over India. The royalty were aficionados of architecture, arts, food, clothing and gold jewellery with gem stones. The prominence of such professions, lead to creativity and a unique twang which is easily identifiable as Mughal jewellery.
It's no wonder then, jewellery-making flourished in India, during the Mughal rule. Aside from emperors and empresses, even courtesans and high-ranking dignitaries adorned jewellery with massive stones and beads. After all, wearing expensive jewellery marked one's position. Leading houses at the time hired jewellers privately to create magnificent pieces.
Mughal jewellery is a blend of Indian intricacy and Middle Eastern elegance. What really differentiates Mughal jewellery is the heavy stonework and elaborate enameling. Large precious and semi-precious gemstones were incorporated into the gold jewellery, while birds, flowers and paisley were the most common designs used. Other unique forms of Mughal craftsmanship include filigree and thewa.
After the fall of the Mughal Empire, most of its valuable jewellery was either sold or destroyed. Subsequently, such opulence was declined and some of the Mughal jewellery pieces were displayed in museums. And so for a long period of time, Mughal jewellery and its intricacies were forgotten.
Today, Mughal themed jewellery is again gaining popularity among women. Brides commonly adorn Mughal jewellery at their weddings to present them with a royal look. And the trend is picking up momentum, even with higher prices, there seem to be enthusiastic buyers.
Even as the current Mughal jewellery found in various jewellery stores has a modern feel, its emphasis on stonework and enamelling still remains true. May be that is its strongest legacy.