Golden treasures of Padmanabhaswamy temple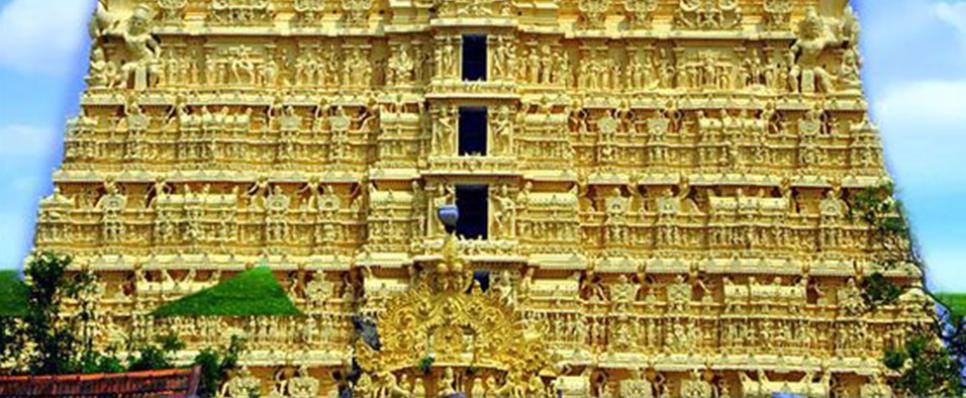 While some sail the seven seas in search of ancient treasures, India has its own little treasure coves hidden across the land, often out of reach.
Legend holds that, for many years, beautiful treasures were hidden beneath the ancient Sri Padmanabhaswamy temple, in Thiruvananthapuram. Indian kings in the past have performed a ceremony in which they weighed local princes approaching adulthood and then donated to the temple an equivalent weight in gold. It is believed that these riches were still hidden in the basement, uncounted and unguarded.
In 2011, following a supreme court order, the six temple vaults were opened. In these ancient chambers lay treasures collected over various periods of history, some as early as 12th century A.D. The most coveted of these treasures is a golden idol of Mahavishnu and a golden 'anki' weighing close to 30 kilograms.
The golden idol of Mahavishnu is believed to be a replica of the 'utsava vigraham,' or the idol form used during festivals and special occasions. It is about one-foot high. Amongst the other treasures discovered within the temple walls was another idol made from pure gold, and two golden coconut shells studded with dazzling rubies, emeralds and other precious stones. A golden 'anki,' traditionally used to ornament the presiding deity was found in 16 parts
Numerous coins issued by different governments and golden ornaments, believed to have been used to adorn the main deity, were found. The dates of these ornaments and coins range over two millennia - ranging from ancient times to as recently as 1914.
The former Controller-and-Auditor-General of India, Vinod Rai, claimed that vault A held an 800-kilogram hoard of gold coins, that date back to around 200 B.C., with each coin priced over INR 2.70 crore (USD 0.5 million).
There are still vaults in Shree Padmanabhaswamy temple that remain unopened and others that may still be waiting to be discovered. The temple will, however, remain timelessly priceless.