How gold glittered at Durga Puja celebrations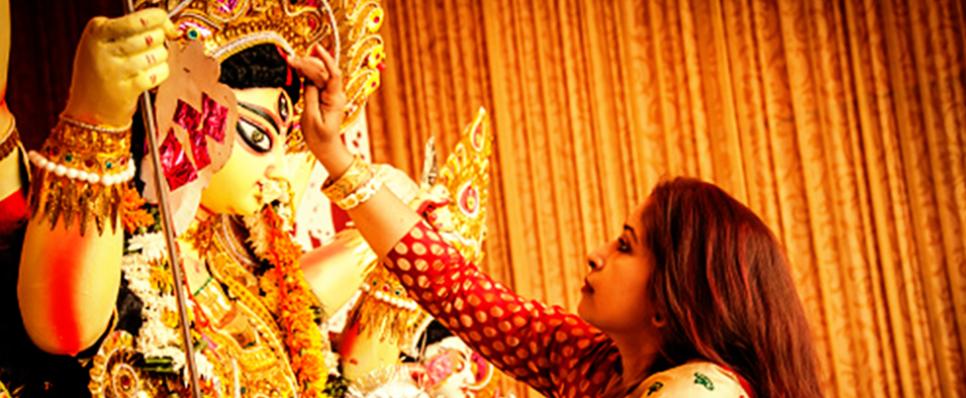 With thousands of processions and lakhs of devotees, Durga Puja is that time of the year when the streets of Eastern and North Eastern India reverberate with the synchronised beating of hearts and drums.
During this nine-day festival, innovative theme-based pandals are set up in almost every neighbourhood in the state. Being one of the most treasured and precious metals, gold has been a popular choice of adornment for idols of gods and goddesses for years now. While many pandals have used gold to adorn the Durga idols, some of them have stood out and have made the headlines.
Here's a look at how gold glittered at some of the numerous Durga Puja celebrations in the past:
Santosh Mitra Square pandal-2017, Kolkata

Last year, a London-themed pandal was hosted by the Santosh Mitra Square puja committee in North Kolkata. It featured Goddess Durga's idol draped in a beautiful saree made with 22 kg of 22-karat gold. Worth more than Rs 6.5 crore, the saree was designed by celebrated fashion designer Amrita Paul. It's astonishing that it took about two-and-a-half months and a team of 50 artisans to bring Amrita's vision to life.

The saree that the Durga idol was adorned with also boasted of intricate gold zari work that was used to embroider it with flowers, birds, and animals.

Sreebhumi Sporting club pandal- 2017, Kolkata

In the same year, Sreebhumi Sporting Club in Kolkata adorned idols with gold crowns and heavy jewellery. Made in filigree, the crowns and jewellery resembled those of warriors and were in line with the famous movie - Bahubali theme chosen for the pandal that year. It took more than two months for the craftsmen to design the beautiful gold crowns.

Chatra Bandhu club pandal- 2016, Agartala

Sculpted by Indrajit Poddar- an artist from West Bengal, this Durga idol was known to be the world's most expensive Dura idol made of gold in the year. The mesmerising Durga idol made up of glass fibre and adorned in real gold was 10.5 feet tall.

As pandals get ready to celebrate Durga Puja this year, they are bringing in more innovative and creative ideas to decorate the deities in glittering gold.

So, here's looking forward to witnessing the golden magic at Durga Puja celebrations this year!