Importance of Gold in Traditional Gujurati Jewellery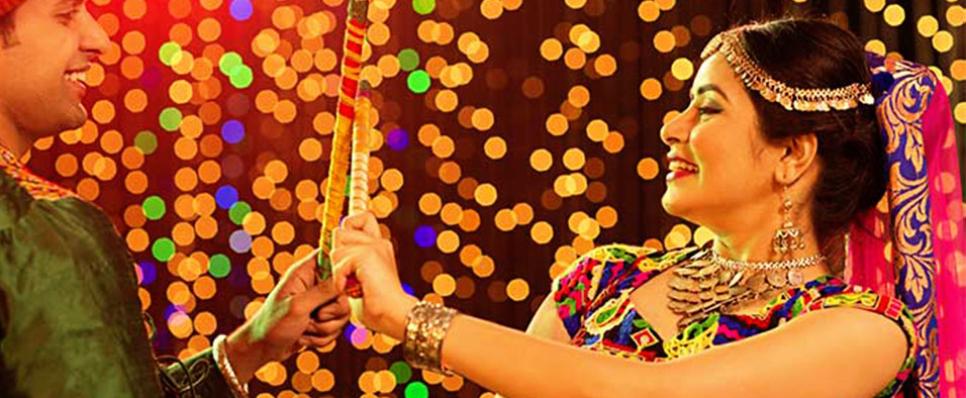 Did you know that 'chatthi', the Gujarati naming ceremony, sees relatives showering the new parents and child with all sorts of gold- from accessories to jewellery to coins to idols?
The birth of a child is one of the many important Gujarati occasions where gold plays a large role, but Gujarati weddings are unimaginable without the glitter of gold.
Gold is an integral part of Gujarati weddings and brings a natural radiance to the person adorning it. A traditional Gujarati bride is covered in gold from head to toe weighing an average 180 gm! Here are some variations of gold that you will see in every Gujarati wedding.
Traditional Panetar Sarees:

Panetar style of sarees are characterised by a white body and a red border with some gorgeous zari work. Making a striped or a checkered pattern on the red border, the zari or the embroidery is made from fine gold threads. The gold embroidery gives the saree a very uplifting vibe. These are usually a gift for a bride by her maternal uncle. It is woven in silk and is very similar to a Chaniya choli.

Traditional Gharchola Sarees:
Credits: Utsav Fashion
It is a common Gujarati custom where the bride receives a Garchola saree from her in-laws. Gold threaded zari work is common in these sarees. The zari is woven first and later integrated with bandhani work. The characteristic zari grid pattern is made in such a way that it appears in a set of 9, 12, or 52, as shown below: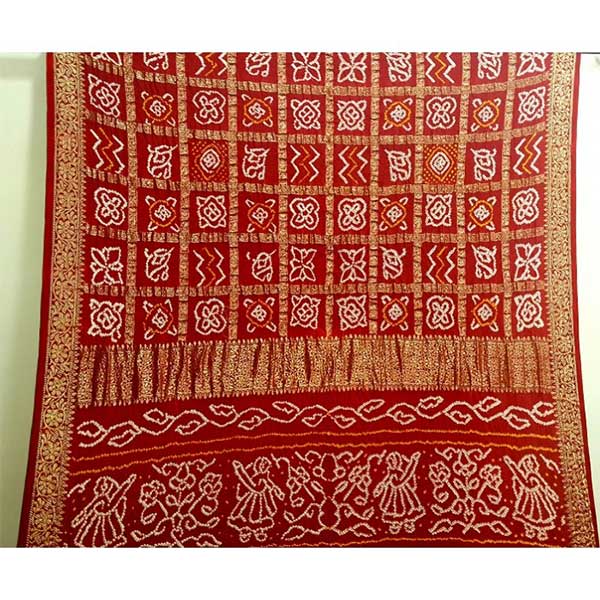 The border of each grid is made of zari and so is the pallu. In ancient times, only threads of real gold were used for weaving the zari. Even today you can adorn these sarees and embody Gujarati grace!
Traditional Gurjarati Gold Jewellery:
There are some gold accessories that are quintessentially Gujarati, and are worn with pride during special occasions, especially weddings. The next time you're in Gujarat, make sure to add these to your treasure trove of jewels.
Shinka

It is a unique piece of traditional Gujarati jewellery that is worn on the hair. Similar to a Maang tikka, a shinka has multiple gold chains. Depending on the design, the ornament may have little golden jhumkas covering the forehead of the one who wears it.

Chandan haar

A heavy set golden necklace that can be the hero of an outfit. This goes well with large gold earrings; both danglers and hoops are popular.

Pocha

This is another popular design, which is a piece of jewellery where one end hangs freely and sweeps the skin of the wearer, as shown below.

Gold Poncho

Gujarati jewellery designs are unique, regal and quintessential to Gujarati attire. A gold poncho is a bracelet with 5 additional gold chains which extend to become a ring for each finger.

Nathni: Gold Nose Ring

Another delicate addition to celebratory Gujarati garb is the Nathni, or nose ring.
When in Gujarat, do as the Gujaratis do: Dress in gold from head to toe and enjoy the unparalleled grace it provides with the accessories mentioned above.