Mesmerising Meenakari jewellery and its different styles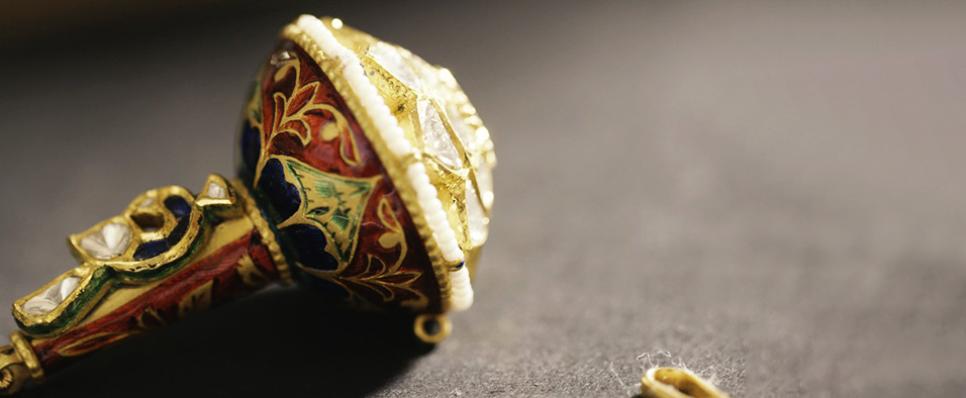 Meenakari is a form of handcrafted gold jewellery like no other. From royal classic to chic contemporary, Meenakari ornaments have bedazzled queens, celebrities, and brides alike for centuries. Sometimes boho and loud, sometimes understated and chic, the colours of Meenakari are believed to reflect a woman's inner emotions and sentiments. Each Meenakari ornament is a unique showcase of an Indian artisan's talent, creativity and skill.
What makes the style unique is the intricate artwork that features – and is inspired by – flora and fauna. The Meenakari artform is a kaleidoscope of colours set against a frame of gold. This creates a stained-glass look that is both distinctive and dazzling. Meenakari gets its name from 'Minoo', which means heaven or paradise in Persian, and 'Meena' is the azure blue colour of paradise.
Styles of Meenakari jewellery
Various types of Meenakari jewellery have evolved over time, and it is the combination of the colours with gold that define and differentiate each.
Khula Meena
This style of Meenakari jewellery beautifully combines four naturally occurring colours- red, blue, green and white. Khula or 'open' meena is created by applying a thin layer of coloured enamel on a yellow gold base to create a wide variety of designs and motifs. The enamel used is translucent, which is why the sheen of the gold base shines through.
Band Meena
In contrast to Khula Meena, the Band or 'closed' Meena style is created by applying a thick layer of opaque enamel on a yellow gold base. This enamel covers the gold base but highlights the gold frames in which the colours are set to create an alluring, delicate finish. This style of Meenakari jewellery artfully combines colours that are created by mixing other colours, like parrot green, pink and turquoise.
Panchranga Meena
An artful palette of colours, Panchranga is handcrafted using a combination of five colours, two of which are shades of blue, along with white, red and green. The amalgamation of five distinct colours lends Panchranga Meena an unmistakable appearance. Outlines of pure gold in this Meenakari style of jewellery only adds to the charm and gives all the other five colours a sharp definition. The brightness of Panchranga Meena pieces can light up any attire, event or occasion.
Gulabi or Banarasi Meena
Gulabi Meena is the signature style of Meenakari jewellery from Varanasi (Banaras) and is the touch of blush your jewellery box needs. While the pink enamel in Gulabi Meena is the hero of the design, a hint of other complementary colours are used to complete the patterns around the subject. The makers of this exclusive style of Meenakari jewellery take a lot of pride in their craft and this style has even been granted a Geographical Index (GI) tag.
Each style of Meenakari jewellery is unique and mesmerising, and every ornament is proof that the gold jewellery handcrafted in India can't be found anywhere else in the world.