Traditional Bengali gold jewellery designs from west Bengal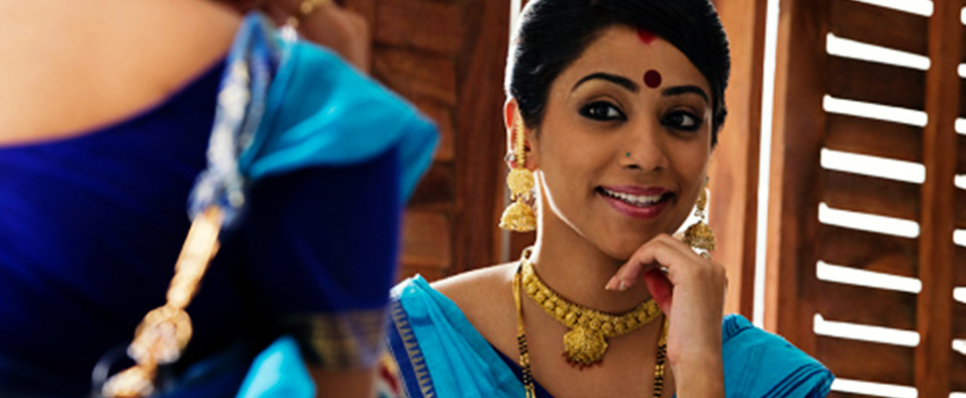 Gold holds tremendous importance in Bengali traditions and the practice of wearing gold jewellery on special occasions – including weddings, religious ceremonies, and important festivals such as Durga Puja and Kali Puja – dates back centuries.
Let's take a look at some traditional Bengali gold jewellery designs that are popular even today:
Gold tikli

An intricately carved gold ornament for the forehead, tikli resembles a maang tikka and is worn by every traditional Bengali bride.

Gold chik jewellery

More commonly known as a choker, chik is a tight-fitting elaborate gold necklace worn by every Bengali bride. It is also worn by Bengali women on special occasions such as Durga Puja.

Courtesy : JKS Jewels

Gold kaan

The word 'kaan' translates to 'ear'. Kaan is a type of earring worn by Bengali women and is shaped like a human ear. Also known as 'kaan bala', these are made of thin layers of gold.

Courtesy : Malabar gold

Courtesy : DK Basak Jewellers

Gold chur

A broad bracelet that usually comes in pairs, chur is made of gold. It is claimed that 40-50 grams of gold is used to make one pair.

Courtesy : Sujoy jewellers

Courtesy : Senco gold

Gold ratanchur

Introduced to India by the Mughals, ratanchur is a delicate piece of jewellery for the hand. It consists of a gold ring attached to a centrepiece, which dangles around the back of the wearer's hands and finally to an armlet or bracelet.

Courtesy : Senco gold

Gold bauti

A half-cut bangle ideal for everyday use, bauti is made of gold and is a favourite of married women.

Courtesy : Senco gold

Beloyari churi-bengali gold bangles

This is a type of gold bangle made from a special cut design known as 'beloyari' and hence the bangles are called beloyari churi.

Courtesy : Senco gold

Shona badhano shakha pola

Commonly seen in Bengali weddings, these are bangles made of conch shells and gold.

Courtesy : Senco gold

Bokul mala- Bengali gold necklace

The design of this particular gold chain is inspired by a flower called 'bokul'. Bengali married women wear bokul mala on an everyday basis.

Gaala bhora bala- Bengali gold bangles

This is a gold bangle filled with wax to increase its strength and durability. It is another daily wear ornament loved by Bengali women.
Gold jewellery of West Bengal is a reflection of the state's magnificent cultural heritage. Therefore, it has a huge role to play in most Bengali traditional functions.