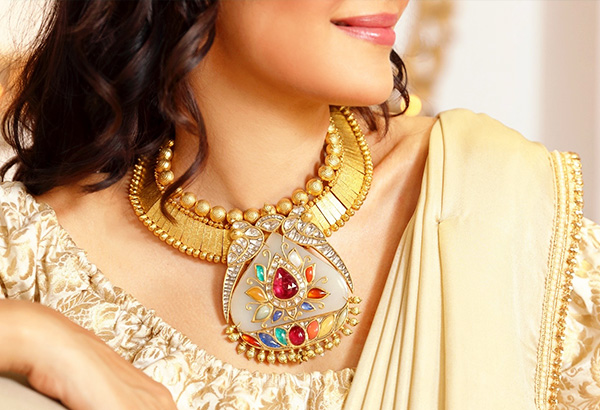 Indian weddings are all about going big and bold. From the colours to the jewellery pieces to the décor, it's all about making a splash on your life's most special day. But if you are a renegade bride who doesn't conform to the traditional Indian wedding look, here are some offbeat styling ideas to help you step out of the box and straight into the history books as the bride with the best jewellery.
Choosing a hero
Your saree or lehenga is not the hero of your bridal look. Your jewellery is.
Red, pink, and orange are the most widely chosen wedding colours for a bride on her wedding day. But very often these colours overwhelm traditional jewellery designs to the point that the jewellery gets lost in the mix.
Let your gold jewellery take the lead on your wedding day. Go big, bold, and beautiful with a statement piece set against a light-coloured outfit that simply cannot steal focus. Move beyond the traditional colours that dominate Indian weddings and explore unconventional colours such as ivory, grey, lilac or mint green.
Designed by jewellery designer Poonam Soni, this is a classic matte gold necklace embellished with ivory and coloured stones and vilandis. It drapes perfectly around the neckline and accentuates it in an unconventional and sophisticated manner that's sure to be the envy of your wedding guests and Instagram followers alike.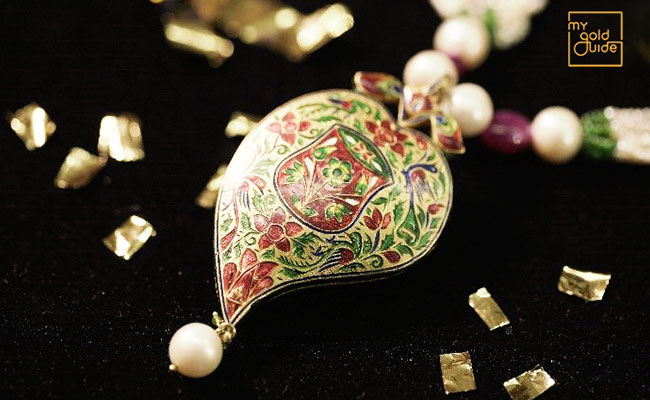 Gold/Ivory Necklace(Curated by the Brand Poonam Soni)
This magnificent Meenakari necklace features Khula Meena in a dark blue colour and is 100% handmade by the artisans of Jaipur, Rajasthan. Hanging low and heavy on a string of white beads, this intricately designed piece took over 8 months to design and can carry any outfit, light or dark.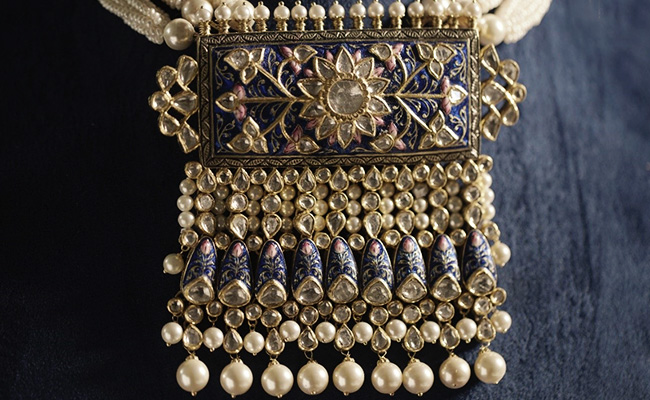 Jewellery credits:S.D Gems and Jewellery
Related: [Watch] The process of making Meenakari gold jewellery | English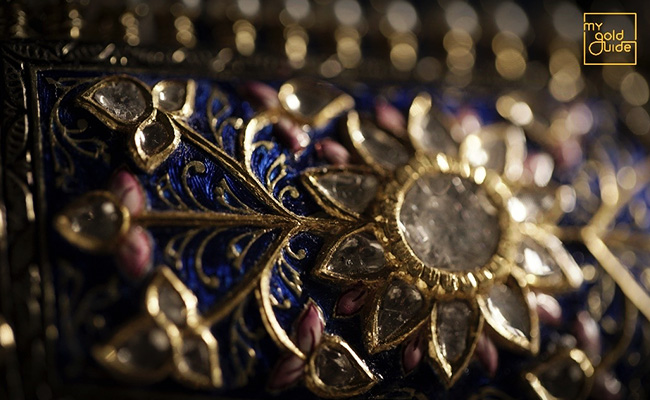 Jewellery credits:S.D Gems and Jewellery
Here we have a handcrafted, heavily layered gold-patti necklace designed by India's leading jewellery designer Poonam Soni. The gold pattis are strung together by small, white pearls. Even if you aren't wearing any other piece of jewellery, this piece will make you look both ramp and phera-ready.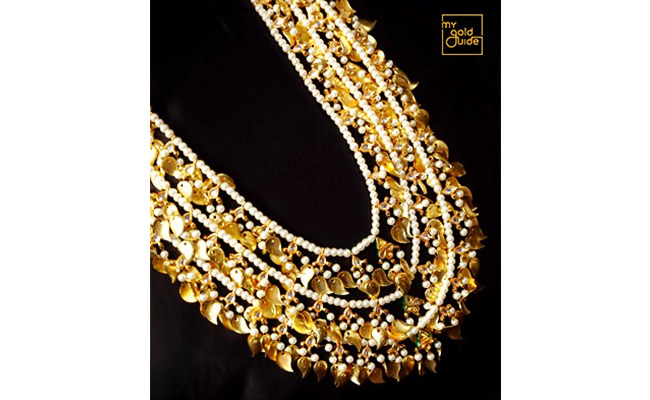 Gold leaf necklace (Curated by the Brand Poonam Soni)
Choosing your skin
While silk, satin and lace are popular options for wedding dresses and gowns, there are a host of other fabrics worth exploring. And of course, the more sequin, the better. But if you believe fashion doesn't need sacrifice, why not choose a light and flowy material that is much more comfortable for outdoor ceremonies? After all, every Indian wedding goes on for hours and even days at a time. What you need to look royal when experimenting with materials is a perfect match of textures.
Tulle, Mikado, organza, and crepe are definite showstopping materials; imagine a wedding getup that feels comfortable but looks exquisite with these statement pieces.
Here we have an exquisite 22-karat yellow gold necklace, featuring artful floral partaaj work and delicate traces of green Meenakari, topped with a hint of diamonds. Imagine this 100% handmade masterpiece set against a lime green organza lehenga, or a yellow crepe saree that shares its matte texture- no jarring shine or sequins, just a walking, talking piece of art.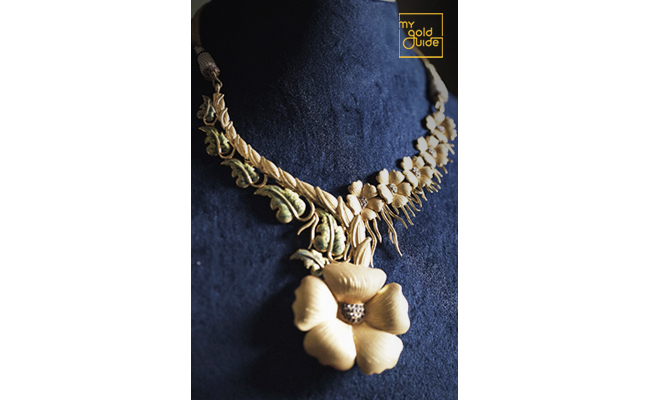 Jewellery credits: DC Karel sons (Jaipur)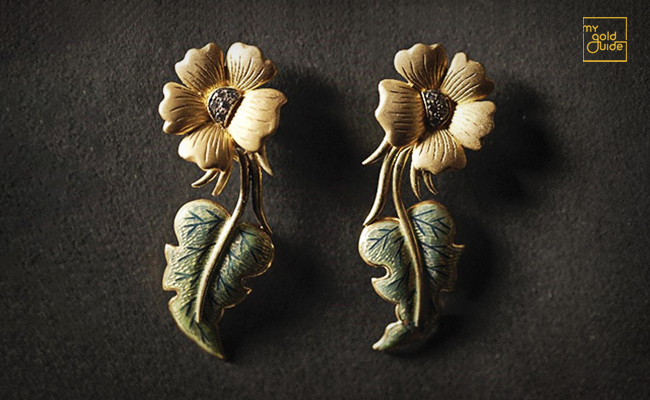 Jewellery credits: DC Karel sons (Jaipur)
A stunning 22-karat gold temple jewellery pendant featuring a Ganesh motif and outlined with white-enamel Meenakari work. A 100% handmade piece that looks airy and breezy because of the white, translucent beads that hold it up. Pair this with intense dark colours like indigo blue, deep pink or even magenta, and shine in contrast.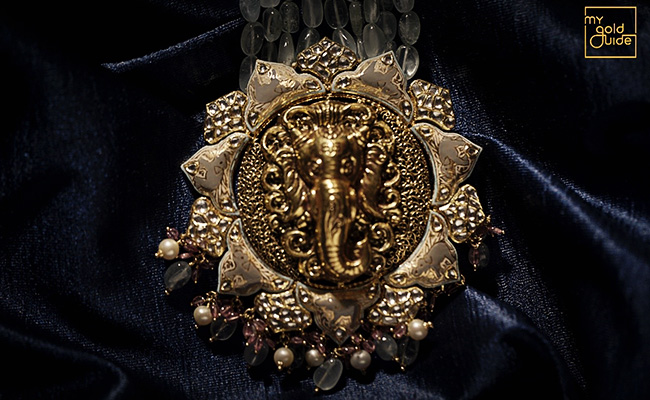 Jewellery credits: Nemichand Soni Manufacturers, Jaipur
Contact No. 1412573760 1412310120
Choosing your hue
Mixing and matching colours is one of the great joys of styling any look; it's a thrill every fashionista chases after. It requires an extremely evolved sense of style to be able to sync the colour of your lehenga with your jewellery and create an ethereal look that doesn't look underdressed. But how many colours can you imagine your gold jewellery bringing to life?
Red, green, white and two shades of blue- those are the natural hues of Khula Meena for you.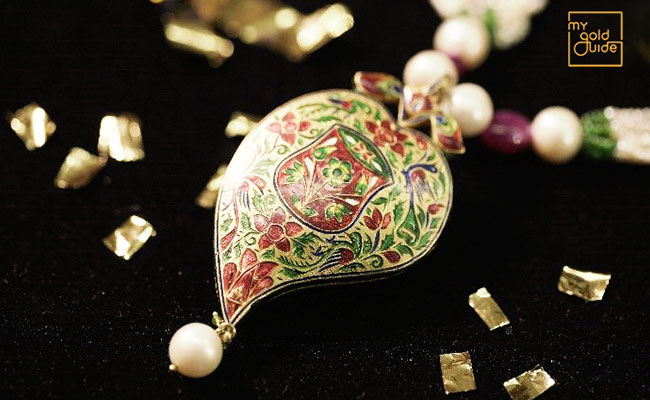 Jewellery credits:S.D Gems and Jewellery
The decadent, monochromatic blush of Gulabi Meena is the perfect addition to your bridal trousseau.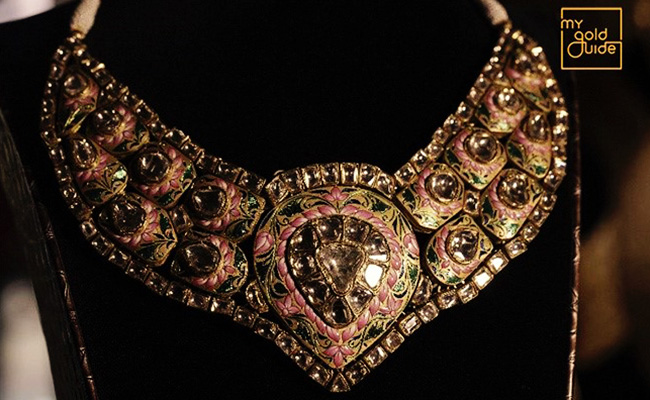 Jewellery credits:Geet Jewels, Jaipur
Related :[Watch] The process of making Kundan Jadau jewellery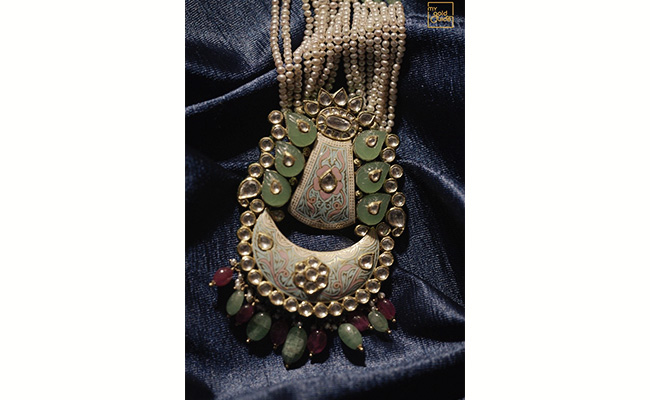 Jewellery credits:Nemichand Soni Manufacturers, Jaipur
Contact No. 1412573760 1412310120
Meenakari with white enamelling- called Toile de Jouy in French – is pristine and pretty against all skin tones.
Related :Mesmerising Meenakari jewellery and its different styles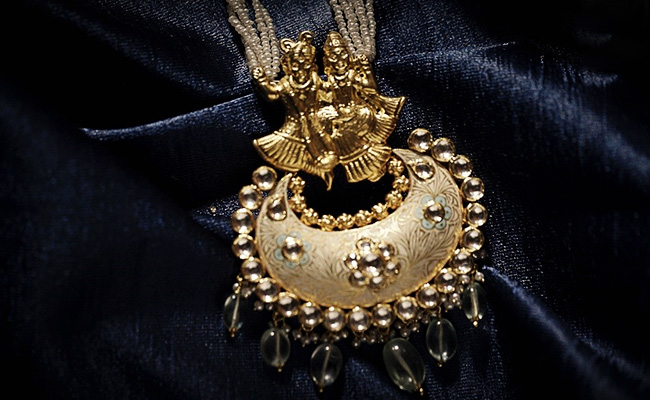 Jewellery credits:Nemichand Soni Manufacturers, Jaipur
Contact No. 1412573760 1412310120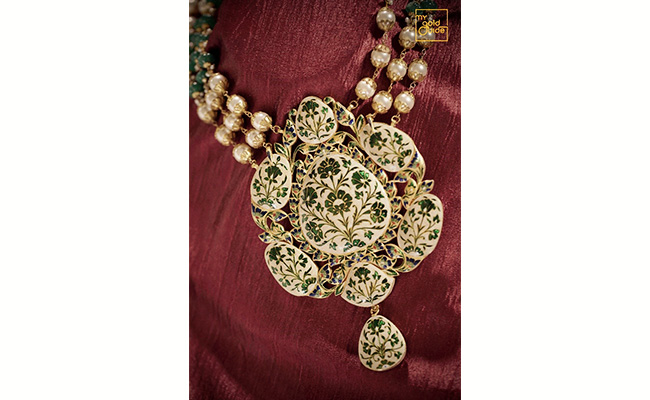 Jewellery credits: Geet Jewels, Jaipur
When you start your search for the perfect bridal jewellery, you will fast realise that every piece of handmade gold jewellery is unique, in the truest sense of the word, and worthy of building an entire outfit around. The pieces above are the kind you have to see to believe, so give your wedding guests the show of a lifetime and flaunt the kind of bride you want to be.