What is a gold spot exchange?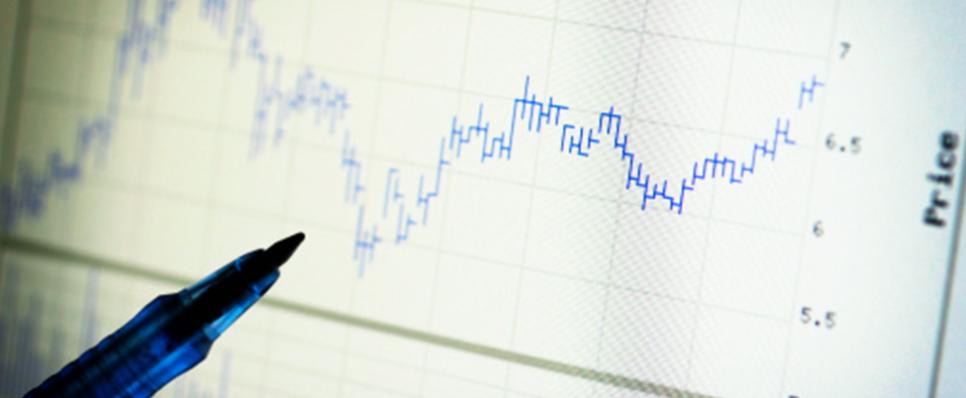 The launch of a gold spot exchange in India and how it is expected to bring about price transparency and ease of recycling has generated quite a lot of buzz among gold enthusiasts in the country. In case you are wondering how it would impact you, here is what you need to know.
What is a gold spot exchange?
A gold spot exchange enables sale and purchase of physical gold with immediate (two days from date of transaction) settlement, i.e. delivery of gold and cash to the buyer and seller. It focuses on price discovery and provide the entire ecosystem around physical deliveries. So, India's gold spot exchange will be different from the futures exchanges, which are primarily used to hedge against gold price risk and make trading gains from gold price movement.
Structure of the gold spot exchange
The exchange could follow a standard tiered membership structure – clearing members will be the direct participants and their clients the indirect participants. The participants will comprise importers, refiners, nominated agencies, banks, traders, manufacturers, jewellers/retailers, consumers, other financial institutions.
The spot exchange would be an ecosystem providing a central venue for trading, a well-connected network of delivery locations serviced by one or more vault operators and a central counterparty to clear and settle trades. Functioning as a self-regulating organisation, the exchange would provide oversight laying down norms for acceptable delivery standards and infrastructure providers.
Components of the proposed spot exchange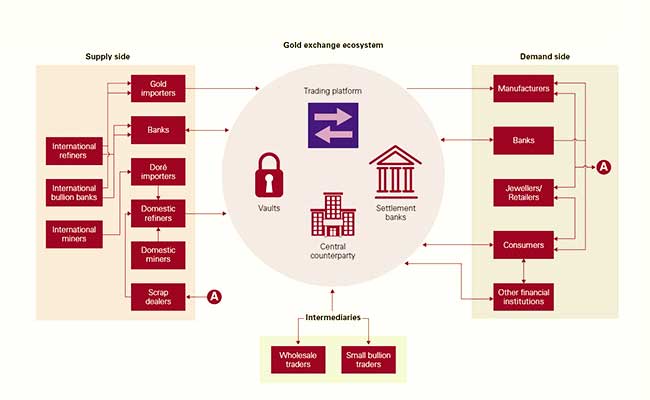 How this impacts you as a trader
The exchange platform will be a venue for the buyers and sellers to trade gold at a fair market price. Additionally, information on latest realised price (or bids and offers) will be displayed real-time on the websites of the exchange, data providers and news agencies.
Benefits of the exchange
The gold spot exchange will drive standardisation of gold circulating in the Indian market by institutionalising Good Delivery Standards. Following are the other benefits:
It would assure buyers like you of the quality of the gold you buy
It would provide a platform for a transparent price discovery mechanism for market participants and buyers like you
It would facilitate an organised market comprising authorised and formal players across the gold value chain. It will help get rid of the unorganised jewellers and traders and perhaps encourage them to integrate with the formal sector
It will enable the institutional launch of gold-backed products such as gold ETFs which allowing buyers alternative options to invest in gold besides physically owing it.
Rationale for the gold spot exchange
These benefits could address the following issues affecting you:
Lack of quality assurance

Lack of good delivery standards for gold
Lack of quality assurance in bullion and jewellery
Limited international demand for Indian jewellery

Weak price transparency

Lack of transparency in pricing and price distortions across the value chain

Wide variation in gold prices across the country
Here's a look at how different things will look before and after India gets its gold spot exchange.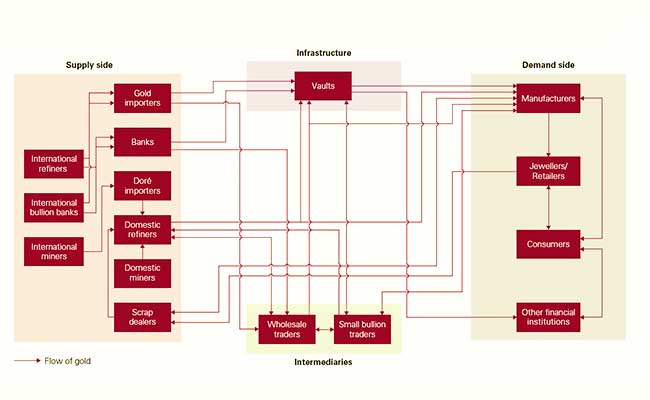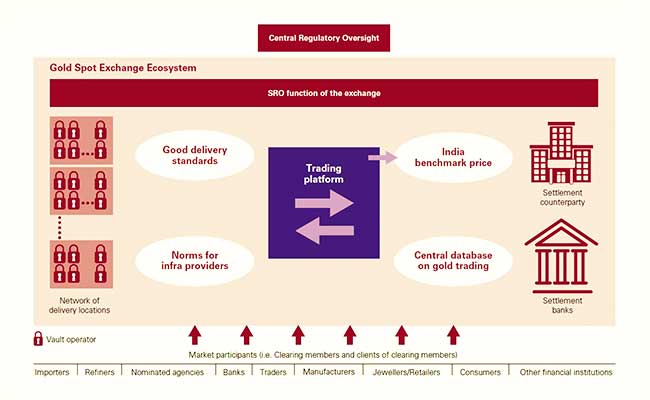 Ultimately, a gold spot exchange would provide a ready market for both purchase and sale of standardised gold at prevailing market prices. Indirectly, though, the exchange would enhance quality, effect transparent pricing, and facilitate innovative gold-backed products for you as a consumer and investor.