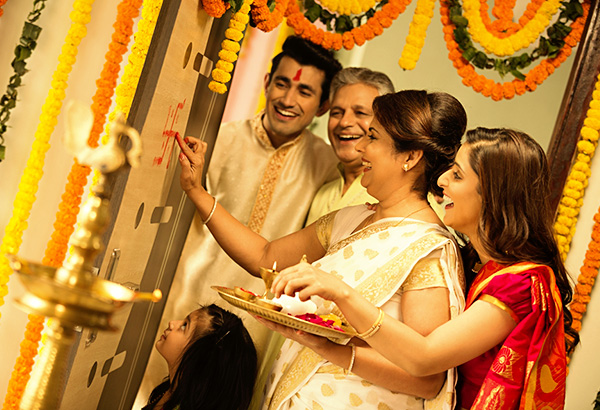 Gold is always a valuable addition to your life: be it as jewellery, a decorative item for your home, or as an investment for your future. But there are some days when buying gold is considered even more auspicious than others.
Dhanteras: Friday, 13th November 2020

The festival of gold falls on the first day of five-day long Diwali festivities. Devotees worship both Goddess Lakshmi and Lord Kuber on this day. The legend of King Hima too is attached to this occasion. King Hima's son was cursed to die on the fourth day of his marriage. To save him, his wife kept a lot of gold around him. When the God of Death-Yamraja arrived, he was left dazzled by the glitter and did not kill Hima's son. Hence, people believe that buying gold on Dhanteras wards off evil.

Akshaya Tritiya: Sunday, 26th April 2020

Akshaya Tritiya is an extremely auspicious day for Hindus and Jains. On this day, Lord Vishnu is said to have given the Pandavas a bowl called Akshaya Patra, which had an unlimited supply of food. Thus, purchasing gold on Akshaya Tritiya is believed to bring endless fortune.

Navratri: Begins on Saturday, 17th October 2020 and will end on Sunday, 25th October 2020

The nine days of Navratri are celebrated to acknowledge the nine divine forms of the Goddess Durga who is believed to protect her devotees from all evils. It is one of the most popular festivals in India when people go for gold jewellery shopping.

Dussehra: Sunday, 25th October 2020

This auspicious day marks the victory of good over evil. On this day, Lord Rama killed Ravana and Goddess Durga triumphed over Mahishasura . Celebrated with full fervour, this day is also considered very auspicious to buy the yellow metal.

Balipratipada: Sunday, 15th November 2020

The festival of Balipratipada falls on the third day of Diwali. Legend says that on this day, Lord Vishnu gave King Bali a boon to come to Earth for a day. People buy gold jewellery on this day as it signifies prosperity under King Bali.

Gudi Padwa: Wednesday, 25th March 2020

This spring-time festival celebrated in Maharashtra, is considered the New Year as per the lunar Hindu calendar. People believe it's auspicious to buy gold on Gudi Padwa on the onset of a new year.

Ugadi: Wednesday, 25th March 2020

The South Indian New Year (same as Gudi Padwa in Maharashtra), is one of the biggest festivals of Karnataka, Telangana, Andhra Pradesh, Tamil Nadu and Kerala. It is known to be an auspicious occasion and hence is considered as a good time to buy gold jewellery. Also, it is believed that purchasing gold on this day can bring good luck, prosperity and wealth in the coming year.

Onam: Begins on Saturday, 22nd August and ends on Wednesday, 2nd September 2020

Onam, the harvest festival, is celebrated for over ten days with vigour and zeal in Kerala. A lucky day to buy gold jewellery, Onam is believed to bring prosperity and mark a new beginning of one's life.

Pongal: Begins on Wednesday, 15th January 2020 and ends on Saturday, 18th January 2020

The Tamilian harvest festival, celebrated for four days,is considered to be an auspicious time to buy gold jewellery as it brings prosperity and a bright future.

Baisakhi: Monday 13th April 2020

A harvest festival observed in several parts of North India, especially in Punjab is also the Sikh New Year. In Punjab, a woman bejeweled with gold symbolises happiness and prosperity of the family. Hence, on Baisakhi, people prefer to buy gold jewellery for women in their families.

Karwa Chauth: Wednesday, 4th November 2020

Karwachauth originated during the times of the epic—Mahabharata, is a one-day festival observed by married women mainly in the states of Haryana, Himachal Pradesh, Madhya Pradesh, Punjab, Rajasthan and parts of Uttar Pradesh. On this day, husbands generally gift gold jewellery to their wives as an eternal symbol of their love.
Gold can easily account for around 1/3rd of the total wedding expense, whether you're on the bride's family or the groom's. As parents and grandparents, gifting gold in a wedding to your children is a way of showering them with the blessings of Goddess Lakshmi. As a friend or relative, gold gifted during a wedding can build a safety net for the future of the couple.
List of best days to buy Gold Jewellery in India in 2020
Day/Festival
Date
Dhanteras
Friday, 13th November 2020
Akshaya Tritiya
Sunday, 26th April 2020
Navratri
Saturday, 17th October 2020 - Sunday, 25th October 2020
Dussehra
Sunday 25th October 2020
Balipratipada
Sunday 15th November 2020
Gudi Padwa
Wednesday 25th March 2020
Ugadi
Wednesday 25th March 2020
Onam
Saturday, 22nd August 2020 - Wednesday, 2nd September 2020
Pongal
Wednesday, 15th January 2020 - Saturday, 18th January 2020
Baisakhi
Monday, 13th April 2020
Karwachauth
Wednesday 4th November 2020
Here's hoping your next celebration is full of love, happiness, and all the good fortune gold promises.