Gold jewellery designs inspired by animals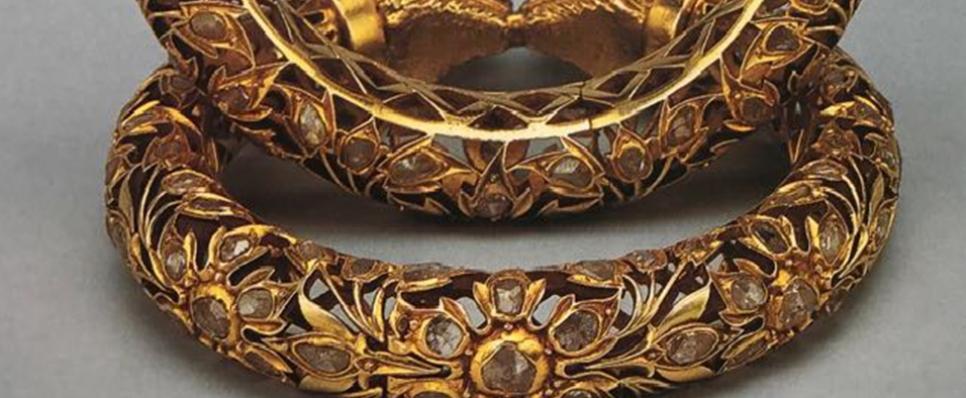 The animal kingdom has always been a rich source of inspiration for jewellery designers. Throughout the history, animals such as leopards, tigers or lions are inscribed on some unique pieces of jewellery. Let's look at some of the pieces that include a touch of animal magic.
Gunus: One of ancient India's popular jewellery pieces is Gunus, from the hilly state of Himachal Pradesh. Gunus is a thick bangle of solid gold with a snake or lion head at the two ends. This art form is a beautiful creation wherein a variety of animals is carved on the bangle.
Loka Paro is the famous ancient jewellery of Assam inspired by pigeons. It is a pendant wherein two pigeons face different directions and are attached to gold beads. This ornament is also known as "Pat Sun". In come designs, the pigeons hang off a thick necklace formed of multiple strings of coloured beads, interspersed with large gold beads.
Black Lion necklace has gained tremendous popularity in the recent past. This is a rare example of necklace work unique as this is designed usually under the category of men jewellery. The depiction of a black lion on a gold necklace shows a true example of creativity.
Gold hinge bracelets usually come in 20k gold and feature the face of an elephant at either end. This form of jewellery is very popular in the state of Orissa.
Intricately designed Gold Kada often feature animals. This can take the form of intertwined elephant trunks, crocodiles or peacocks to name a few.
Modern designers have also embraced animals in their designs. Black Lava stones with golden lion bracelet have recently become fashionable. The ornament is constructed using 10mm high-quality Lava stones with a different grain in each stone.
Antique gold Lion cufflinks for men is a brilliant example of the intricate craftsmanship and are in vogue even today.
World-renowned Indian jewellery Amrapali makes beautiful gold bangles that feature fierce double lion heads in mid-roar. The nakashi-work bangles are highly sought-after and a favourite of celebrities around the globe.
The desire to emulate the beauty of the natural world has inspired jewellery designs right from the earliest civilisations, and has a timeless appeal that continues to influence designers now.