Bangles – the sound of gold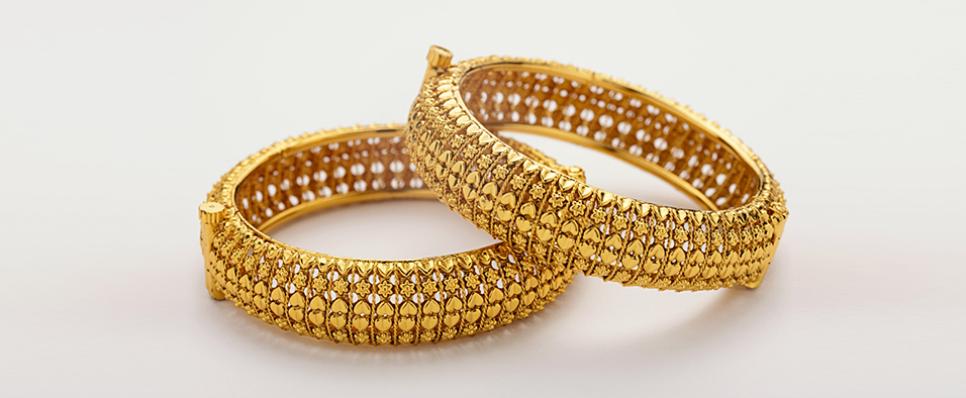 One of the oldest and most well-known forms of gold jewellery, bangles are a significant part of Indian culture and traditions. Bangles are made with a range of materials including gold, glass, ivory and lac among others. They adorn the wrist and are one of the symbols of married women in a number of different castes and communities. They are considered to be one of the important parts of the sixteen adornments of a bride called "Solah-Shringar".
Traditionally, Indian women never left their arm completely bare, even while changing the bangles. They always covered their hands with a sacred thread or a string of their saree till the new set is worn.
In ancient India, the bangle seller was the only male (other than the father, brother and husband) who was allowed to touch or hold the hand of women. The traditional system rarely allowed women to step out of the house, as a result, the bangle sellers visited their house with his wares. In this article, we will look at traditional golden bangles which are crafted for weddings or other special occasions -
Pichodi: These thin golden bangles are usually constructed with 24 karat gold with a copper base for sturdiness. These bangles are adorned with floral or animal figures or religious motifs. Maharashtrian brides or married women wear a set of Pichodi with their green-coloured glass bangles.
Another popular form of bangle from Maharashtra is Toda. These are thick bangles made of gold and embossed with different designs. A bride or rich Maharashtrian woman would wear at least two Todas.
Pacheli: Pacheli bangles, also known as Gokhru, are one of the most significant pieces of Rajasthani jewellery. These bangles, which go up to 10cms in outer width, have a series of small projections often embellished with clusters of seed pearls or diamonds. Adorned with meenakari work on the metal, these bangles are magnificent pieces of jewellery by themselves, but usually are worn as a pair with a series of bangles or bracelets between them. Similar to Pichodi, these bangles are worn with other glass, lac or ivory bangles.
Havalla Kattu: Entwined with the coral beads from the shore of Malabar Coast and golden flowers, the Havalla Kattu are known as Coral Bangles. These bangles are a part of Mangalorean culture and considered to have originated from Indo-Russian trade wherein the coral beads were procured from the coasts of Ceylon and the Mediterranean Sea.
The various Bangles and bracelets from North India include Churi, Bangdi, Naugari, Kangan, Pahunchi, Gaira, Patri, Bartana and Dastband.
 
Kadas: These are worn by men as well as women. The Kadas are either solid gold, or hollow and filled with lac. The Kada's end is adorned with designs / forms such as peacocks, elephants, serpents and crocodiles. Indian women combine the Kadas with other wrist ornaments such as bangles, while men wear a single Kada.
In Sikhism, a steel or iron Kada is worn which constantly reminds them to perform the God's mission on Earth.
In addition to bangles, the women adorn their arms with armlets which are known as Bazu, Bazu-Band, Vanki and are worn by brides.
This kind of accessory is enormously popular in India and often loaded with spiritual and cultural significance. Glittering gold bangles can be seen – and heard – adorning the arms of women, and are worn to celebrate special festivals and auspicious occasions across the country.