Gold in traditional Indian sarees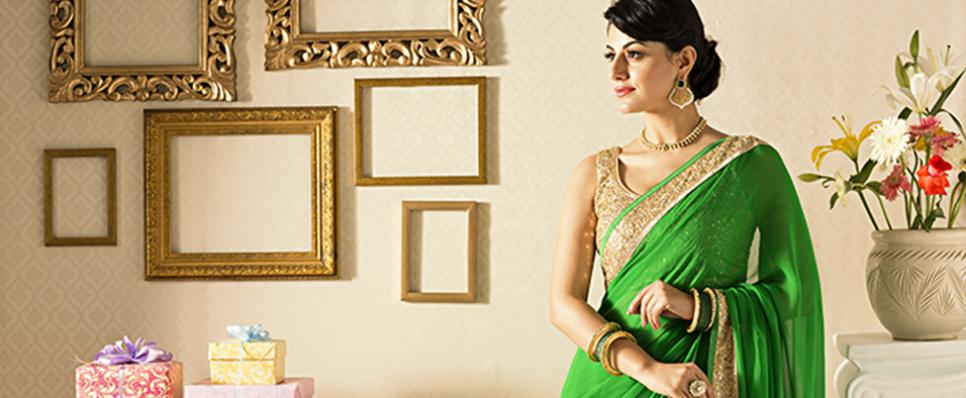 Did you know that sarees have existed since 2800 BC1?
Today, many Indian states and cultures have their own type of saree, and there is archaeological evidence to prove that there are 84 ways to wear a saree!2. These sarees are made of various materials including cotton, silk, chiffon, etc.
But here's the best part: many sarees are even made from gold.3
Here we look at the many types of sarees made from precious gold in different parts of the country.
Banarasi silk sarees from Uttar Pradesh

These sarees are made in Varanasi (previously called Benaras or Banaras). These exquisite sarees are famous for their gold zari and splendid embroidery. The sarees are usually made from silk and often feature intricate designs, making it a popular choice among brides. They have extensive gold work, metallic effects, net patters, and meenakari work.

Banarasi sarees usually feature Mughal inspired designs such as floral motifs, upright leaves and small, detailed figures.

Kanchipuram silk saree from Tamil Nadu

Also called Kanjivaram sarees, these sarees come from the city of Kanchi or Kanchipuram. The sarees are made from pure mulberry silk thread. The zari, meanwhile, is made using gold thread, which is the key feature of kanjivaram sarees. It usually has a wide contrast border and features traditional designs, such as checks, stripes, floral motifs, birds, animals or temple borders. It can have images of South Indian temples, paintings from epics like Ramayana or Mahabharata, and paintings by Raja Ravi Verma. Sometimes, these motifs can also be weaved using gold thread.

Fun Fact:

The most expensive saree in the world was acknowledged by Guinness Book of World Records and last worn by Mrs. Nita Ambani, weighs 8kgs and features 11 celebrated paintings by Raja Ravi Verma. It is valued for around Rs. 40 lakh.

Kavasu from Kerala

Called Mundum Neriyathum, this is considered the most ancient form of saree. In Mahabharata, Shakunthala is said to have worn this saree in 'Nivi' style! It's also famous for its depictions in artist Raja Ravi Verma's paintings. The kavasu saree is made from cotton and is woven by hand. It has a broad zari border made of pure gold. It usually features simple geometrical designs, but may sometimes have peacock or temple designs too.

Paithani from Maharashtra

Made from very fine silk and pure gold zari in Paithan, Aurangabad, this saree is said to be the richest saree in the country. It has a square, spotted or plain border with a peacock or parrot design on the pallu — the loose end of the saree draped over the shoulder.

These sarees are influenced by Buddhist paintings and feature symbols that are popular in Buddhist culture. Sometimes, flower pots with a flowering plant, floral motifs, ladders or geometrical designs may be featured on the pallu.

Fun Fact:

The gold threads used in these sarees are of the finest quality. This makes it extremely reflective to the extent that it can sometimes mimic a mirror!

Muga from Assam

This saree is made from muga, which is known as 'the golden fibre'. It is usually plain, but can sometimes feature buta or paisley patterns. It can also have intrinsic and exquisite embroidered flowers, leaves, sprigs, geometrical patterns or elephant designs. This shimmery saree has a glossy texture, which shines more with every wash!

Fun Fact:

Muga sarees were reserved for royalty in the olden days.

Baluchari from Bengal

Baluchari sarees are made from silk and depict mythological scenes on the pallu of the saree. They depict scenes from Mahabharata and Ramayana. During the Mughal era, it had square designs, paisley/buta motifs, and displayed the lives of the Nawab of Bengal. During the British era, even pictures of European officers of the East India Company were often weaved in it!

Historically, upper class women in zamindar households wore it. There is a category of Baluchari sarees called as Swarnachari, which is woven with gold threads. The gold illuminates the patterns on the saree, enhancing the beauty.

Fun Fact:

The President of India bestowed the National Awards in 2009 and 2010 for weaving this kind of saree.
Sources :