The golden dussehra of Mysore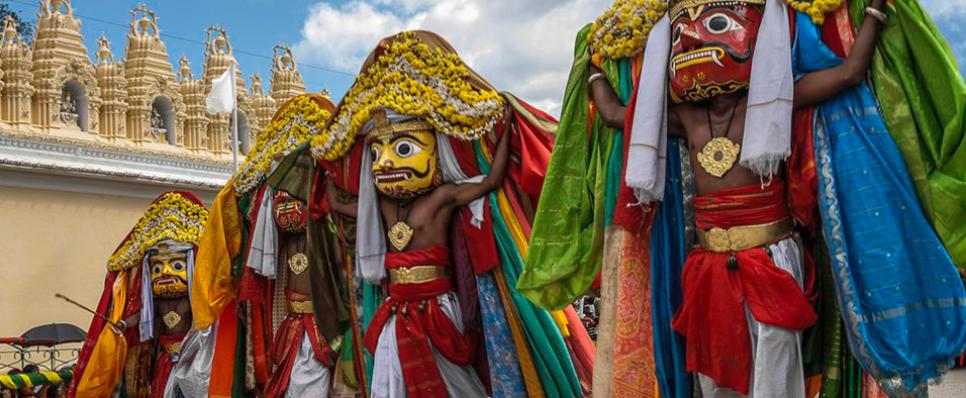 The triumph of good over evil is what is celebrated at the festival of Dussehra (Dasara), which is also known as Vijayadashami. Dussehra marks the end of "Navaratri" (nine-night) festival which is widely celebrated in the Indian subcontinent.
During the same time, the Eastern and North-Eastern states of India celebrate Durga Puja, dedicated to Goddess Durga. According to mythology, the goddess slayed the demon Mahishasura, and the day of her victory is celebrated as Vijayadashami. While the day of Rama's victory over the demon Ravana who had abducted his wife Sita is the Dussehra festival in the Northern, Western and Southern India. The nine-night festival of Navaratri is dedicated to the Goddess Durga or Goddess Saraswati which ends on the eve of Dussehra.
Dussehra is one of the most auspicious and sacred festivals and involves grand celebrations across India. However, Dussehra celebration in Mysore, city of the state ofKarnataka are regarded as the most magnificent of all, attracting spectators from the length and breadth of the country. In fact, the state of Karnataka has accorded Dussehra as its "Nadahabba" (the state-festival). This regal town's Dussehra commemorates the victory of Goddess Chamundeshwari (a form of the Goddess Durga) over the demon Mahishasura.
The lavish procession, known as Jumboo Savari, commences from the famous Mysore Palace and concludes at Bannimantap where the devotees worship the banni tree (Prosopis Spicigera). The procession is dedicated to the Goddess Chamundeshwari; her idol is carried in a huge golden howdah which weighs around 750 kgs and is carried by an exquisitely adorned elephant. Similar to the other festival processions of South India, the decorated elephants are an important part of the Jumboo Savaari. The elephants are adorned with colourful patterns and ornamented with golden caparisons. The procession culminates with Panjina Kavayatthu, a torch-light parade in the Bannimantap ground.
The Mysore Palace has its own special celebrations for the Dussehra festival. For the whole of Navaratri and Dussehra the palace is bathed in the glow of close to 100,000 light bulbs, and members of the public are able to come to see the Chinnada Simhasana (also known as Ratna Simahasana - the 'Golden Throne' in Kannada language), the throne belonging to the Wodeyar (the royal family of Mysore), which is only put on display for this festival. The Dussehra festival of Mysore exhibits the majestic and traditional side of India at its best, which makes this grand and auspicious event a "must-visit" festival.