Golden elephants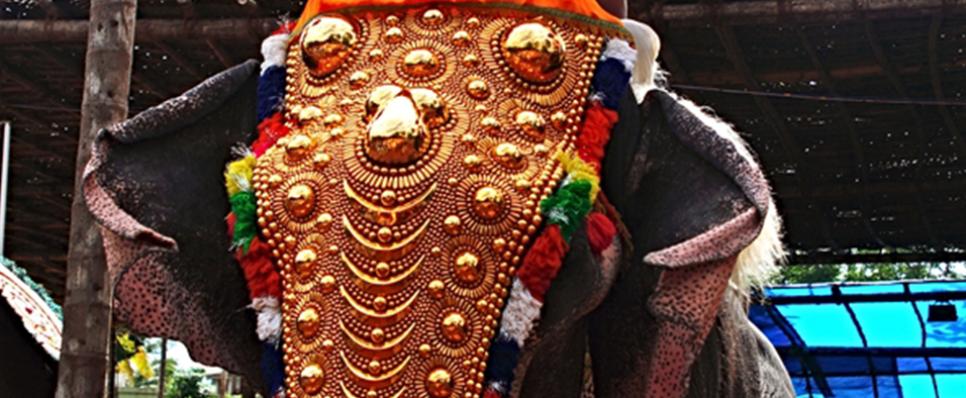 Animals are an integral part of Indian mythology and tradition. Of all the animals, cows, bullocks, elephants and horses are considered auspicious in India, and images of animals are seen in Hindu temples and at other religious places. It is believed that Gods and Goddesses travelled on these animals, which are called their 'Vahanas' (meaning vehicles).
The Indian temples and other sacred places worship these animals, and they are decorated with golden ornaments during festivals and other religious events. Elephants, in particular are extensively adorned with gold and other colourful jewellery and they are prominent in the various processions of several temples from South India. In fact, most of the Hindu temples in Kerala own elephants.
The temples from God's own country, Kerala features elephants in almost every local festival, often adorned with gold jewellery. One of the most spectacular events is the Thrissur Pooram festival in Kerala when the bejewelled elephants look their best.
The elephant jewellery and adornments include -
Nettipattam: These are gold caparisons that cover the wide domed forehead of the elephant. The Nettipattam is adorned with designs and patterns that enhance the royal look of this auspicious mammal. The edge of the caparisons are decorated with colourful tassels.
The miniature replica of Nettipattam is used as a wall hanging as well as a decorative item.
Bells: Entwined with a colourful rope, the bells are made of gold. The rope is tied around the neck of the elephant.
Necklace: The elephants are adorned with chain-necklaces which are covered with gold.
Umbrellas: The gold-laced velvet umbrellas emphasise the grand and majestic look of the elephant.
One major supplier of these kinds of ornaments are the Venkitadri family. The last three generations of the family have been engaged in creating ornaments for the auspicious animal, and their creations are showcased in the renowned Thrissur pooram festival, where they decorate one hundred and fifty elephants. The Venkitadris' ornaments are also seen in the Nenmara Vallangi Vela festival festivals. In addition to Venkitadri, the Paramekkavu Devosom, Maramittathu Balachandran (Balan Mashu) are the most prominent chamayam (adornment) vendors.