Golden hair accessories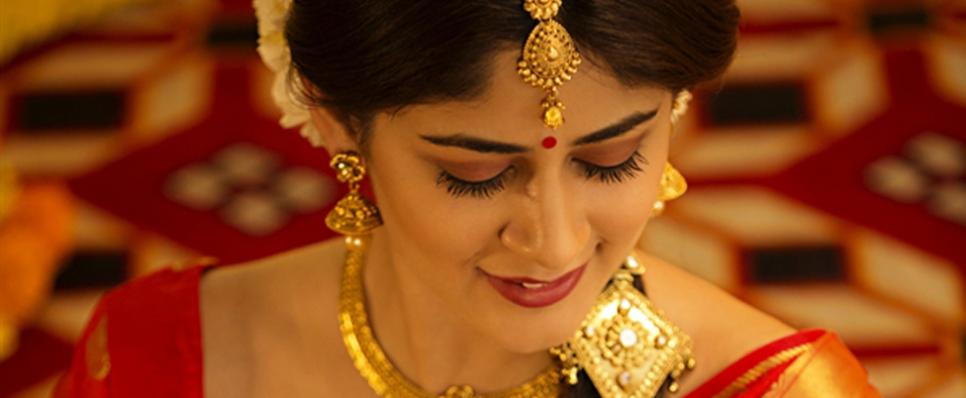 Indian women are renowned for their long and lustrous hair, which is said to be due to Ayurveda. Since ancient times, women in India have been using various accessories made of gold, flowers and leaves to adorn their locks. Hair accessories are the crowning glory of every Indian woman whether they are fashioned with the modern designs, or are the more traditional ones which continue to dominate the market.
A variety of hair accessories complement different hairstyles and are often seen on special occasions such as marriage, festivals and other ceremonies.
Here are some tips for stylish gold hair accessories:
Mattha Patti – popularly known as Thalaisaamaan in South India, Mattha Patti is a traditional hairband usually crafted with gold. it is placed above the forehead with the centre aligned to the centred hair partition.It is believed to harness the energies from the sirasachakra, the topmost chakra located in the crown of the human body. This is an ornament from the bridal jewellery box that showcases the traditional touch with an extravagant majestic look.
Maang Tikka – This is a composite chain ornament that has a hook on one end and an intricate pendant adorned with gems on the other. Maang Tikka sits on the centre of the forehead which houses the Ajna Chakra, a centre of energy.
In Rajasthan, "Borla", is a form of Maang Tikka is worn by married women. Like Maang Tikka, a Borla is a chain ornament with a spherical (cone-shaped) pendant instead of the usual flat pendant.
Jhoomar – This is a fan-shaped hair accessory which resembles chandeliers and placed on the left side of the head. This accessory is usually made of gold and is mostly adorned with Maang Tikka in the centre.
Jhoomar is also called Passa and considered an apt accessory for Shararas and lehengas.
Choti – This is a braid tassel that covers the length of plait from top to bottom. Choti is decorated with gold and other gems, and is popular among South Indian brides.
Another accessory for a plait is a Billai which consists of nine round clips that descend along with the size of braid from top to bottom.
Juda pin and clips – with this accessory, a bun hairstyle is adorned with a golden circle-shaped pin or chains entangled alongside Juda (hair bun). The Juda clips are semi-circular and are worn on either side of the head.
Rakodi – Another popular accessory for bun hairstyle is Rakodi, a circular pin placed in the centre of the bun. This is prominently worn in South Indian weddings.
Paranda – A commonly-used hair accessory in the northern part of India, a Paranda is a bunch of black and other decorative threads tied along with the braid. The golden or other decorative threads dangle at the end of the plait. This accessory is usually seen in Punjabi weddings.
A beautiful addition to an outfit for special occasions, every jewellery box should have a gold hair accessory.