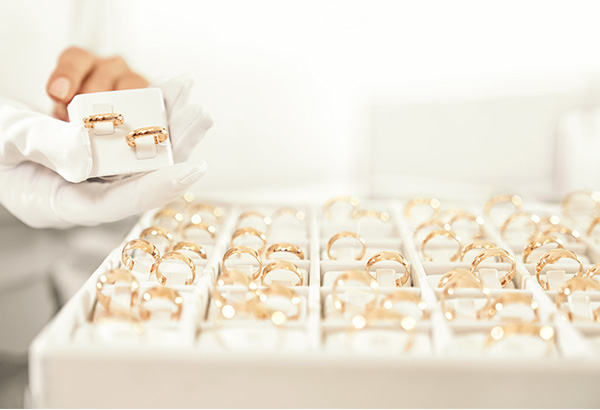 After months of staying indoors due to strict regulations, people are slowly beginning to step out for work or even leisure. As the nationwide 'unlock' gets underway, retail shops are opening up. From installing sanitisation stalls to making virtual shopping a reality, let's look at how top jewellery brands in the country are attempting to make the gold buying experience safe and secure.
In-store safety

Jewellery stores across the country have adopted various measures to make it safe for you to visit your favourite jewellery stores.

To maintain the sanctity of the gold jewellery buying process, Tanishq, a popular jewellery store from the Tata group, has introduced certain 'Gold Standard' safety measures:

You can call and book an appointment before visiting any of the flagship stores. You will have to fill a form and clarify whether you would like to visit the store or buy gold jewellery through a video call. Once the appointment has been booked, the respective store manager will call and confirm the appointment. At the store, based on your preferences, a carefully curated jewellery selection will be presented to you.
When you arrive at the store, the guard also opens the door for you, the handle of which is sanitised hourly. The main door is equipped with a foot disinfectant for sanitising your footwear before you enter the store.
In case you have a vehicle, the valet either shows you the way or offers to park your car for you. Your car keys will then be sanitised.
To safeguard you as well as store employees, all staff members wear gloves and masks, and all stores are disinfected multiple times during the day. They also carry their own hand sanitisers. Before customers enter the store premises, a security guard offers them sanitisers, masks, and gloves as well.
Once inside, a Retail Sales Officer will offer you a seat according to a pre-decided seating plan that adheres to social distancing norms. Individual service trays are used to keep jewellery pieces after each customer trial. The officers will also sanitise the jewellery before and after each use, as well as counters and display cases, using UVC chambers and other measures.
To ensure social distancing, certain sections within the stores are blocked off. Fewer salespersons are present in the store, and there would usually be only one salesperson attending to you at a time.
During billing, the cash counter will have marked areas to ensure you do not stand too close to other customers.

Related: 7 Reasons rose gold jewellery is so in-trend

Malabar Gold and Diamonds has put strict safety measures in place to ensure the safety and well-being of everyone in the store.

Across the country, all flagship stores are being fumigated. All seating arrangements comply with the prescribed social distancing regulations.
All surfaces are periodically sanitised. Routine temperature checks and customer screening are mandated and precisely conducted.
Once you have made your purchase, it is handed to you inside a sanitised bag and placed on the billing counter for you to pick up on your way out.
Many stores are also offering contactless billing.

Multan Jewellers has a different method of sanitisation for different styles of gold jewellery.

Multi-surface ethanol spray is used to disinfect all gold jewellery.
Kundan and Polki jewellery are sanitised using UV disinfectant boxes.

Amrapali Jewels has taken a unique approach to bring your favourite jewellery pieces to you.

Using the WhatsApp video calling service, you can browse through their collections. After you shortlist your selection, Amrapali will send their representative to your house with 4 pieces of selected jewellery. All social distancing protocols and precautions will be maintained during the delivery.

Senco Gold's initiative 'Safe Hygienic Atmosphere at Stores' includes maintaining hygiene at its stores after getting the proper business approvals from the concerned government authorities.

All the stores are being regularly sanitised, including the elevators. You will be screened at the entrance for a temperature check. Employees are undergoing temperature checks at standard intervals. Employees must also wear masks, gloves, and face shields when they are assisting you. A virtual jewellery trial room has been introduced across several outlets. You can choose from several options and try on the jewellery virtually. Digital payments are being encouraged. Cards will be sanitised after transactions with your approval.

As an industry, gold jewellers are taking the utmost precautions to ensure you have easy access to gold jewellery, albeit virtually! Standard precautions such as sanitisation of the stores, availability of sanitisers and UV sanitisation boxes for cleaning gold jewellery, compliance with temperature checks and proper social distancing will be maintained across all stores.

Virtual gold buying

To make jewellery shopping safer, jewellers across India have revamped the jewellery buying experience. But this has also created a lot of opportunities for jewellery buying to become more interesting.

Many jewellers have an online edition available, while others have added new and innovative facilities within their physical stores. Using new-age technologies like Virtual Reality (VR) and Augmented Reality (AR), jewellers have made the online shopping experience as personal and intimate as it would be in a physical store.
Related : How to verify hallmark signs on your gold jewellery
Gold shopping during the pandemic must adhere to stringent health policies and store rules, ensuring that all social distancing norms are being implemented. With the festive season right around the corner, technological advancements will make virtual gold shopping more riveting and exciting, without compromising on your safety. You can choose to go to the retail store, assured of your safety, or you can simply pick your favourite gold jewellery from the comfort of your homes.