Importance of Gold in Indian Wedding Jewellery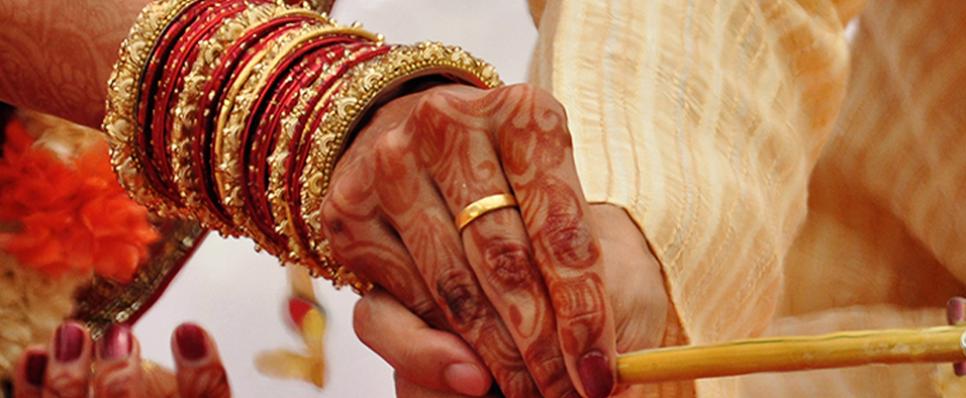 Colourfully dressed people, sparkling gold jewellery, music and great food, yes, we are talking about a classic Indian wedding. Can you imagine an Indian marriage without gold? The answer is an obvious no. Over centuries, gold has become the most integral and inevitable part of Indian marriages.

Gold jewellery takes center stage at most weddings, be it for the bride, the groom or the other family members.

Significance of gold in Indian marriages

✔ Gold brings blessings of goddess Lakshmi through the Gruha Lakshmi – the bride
✔ Gold helps parents secure the future of their girl when she goes to a new home
✔ Women look astonishingly beautiful in gold jewellery
✔ Parents-in-law consider a bride entering a new home wearing gold a lucky omen
✔ It becomes a big long-term investment for children's marriage and retirement

Gold has a serious significance in Indian marriages. People of all ages, whether they are from the girl's side or the boy's side wear attractive gold jewellery. The star of the wedding – the bride has gold ornaments from her head (maangtikka) to her feet (paayal). Gold is an auspicious precious metal, which many people believe, brings wealth and prosperity along with the blessings of goddess Lakshmi. Moreover, if the bride – Gruha Lakshmi, brings gold into her new home, parents-in-law consider it a highly lucky omen.

In some weddings, the presence of gold represents the presence of Gods at the ceremony.

Planning for gold investment for your children's marriage well in advance can be a very effective strategy since it will save valuable time and money during the marriage in future. Given that gold prices always tend to grow, slow, steady, and planned accumulation of gold for your children's marriage will stand you in good stead.

Some points you should consider while investing in gold:

✔ Investment in gold is always a long-term option.
✔ Gold's longevity in terms of value will benefit you during your children's marriage.
✔ Moreover, your gold investment could prove very useful during tough days after your retirement.
✔ How can you ignore the universal value of gold as an investment option?

If it is wedding time in India, it is time to go yellow. In simple words, gold was, is, and always will be a highly significant yellow metal during a marriage. Thus, it becomes extremely important for everyone to start investing in gold now in order to enjoy the benefits of the investment on a future date.