Know about recycling of gold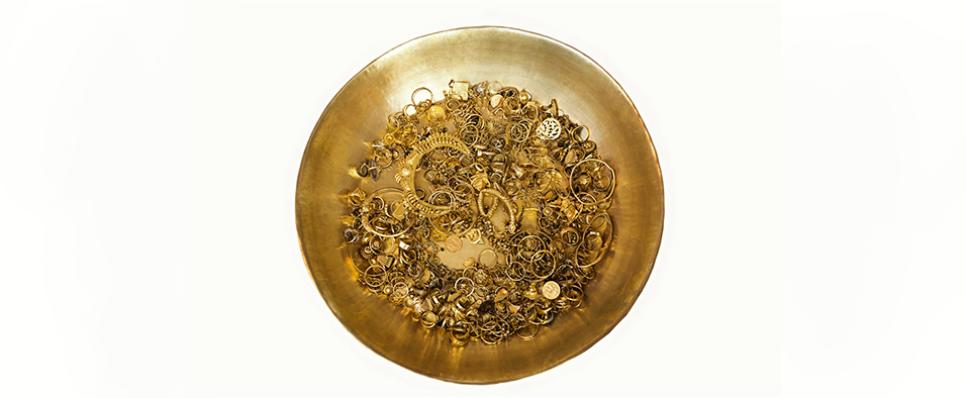 The World Gold Council estimates of the amount of gold in India – excluding that held by the Reserve Bank of India (RBI) as official gold reserves - put it at approximately 23,000 tons. India remains the largest gold consumer in the world, accounting for well over a quarter of annual gold consumption. The 23,000 tons is held by households and individuals, in their homes or in bank vaults, and by Indian temples, which have historically received gold bars, coins and even jewellery as donations from patrons.
Annual gold demand, however, exceeds production significantly. Of the over 4,300 tons annually consumed in the world, about 25 per cent comes from recycling (mostly of old jewellery). Since gold does not tarnish or decay, all the gold ever mined on Earth still exists in some form. Owing to its exceptional properties, including corrosion-resistance, gold lends itself to recycling. In fact, one-third of the total supply of gold from 1995 through 2014 was from recycled gold, according to a research study by the World Gold Council and the Boston Consulting Group.
The research study also identified regional differences in gold recycling. Take North America and Europe as an example, whose contribution to total recycling grew from 27 percent in 2004 to 43 percent in 2011, largely driven by the global financial crisis. Within Asia, as China's stock of gold has continued to grow, so has its level of recycling. India's level of recycling, however, has remained rather stable and makes up only a small proportion of the total gold stock - less than 0.5 percent of the estimated 23,000 metric tons in India.
In India, recycled gold plays an important role in our nation's gold supply, fulfilling around 15% of Indian jewellery fabrication needs since 1990. For consumers who want to recycle their gold – better payment deals are in the near future. Developments in hallmarking and GST will provide consumers with greater transparency and certainty over the caratage of their jewellery.
According to the World Gold Council, there are three sources of gold recycling: jewellery, manufacturing scrap, and end-of-life industrial products. Jewellery scrap is the largest segment, accounting for 90%–95% of all recycled gold. This is sourced from individuals (either selling gold for cash or exchanging it for new gold), or pawn brokers and gold loan companies selling gold used as collateral for defaulted loans.
Many Refineries, as well as the gold loan company, have set up recycling collection centres in major towns in India, sometimes in conjunction with jewellers. In future, recycling collection may become more organised, efficient and higher profile. This makes the precious metal environmentally friendly and green, not just yellow.