Thewa jewellery – the pride of Rajasthan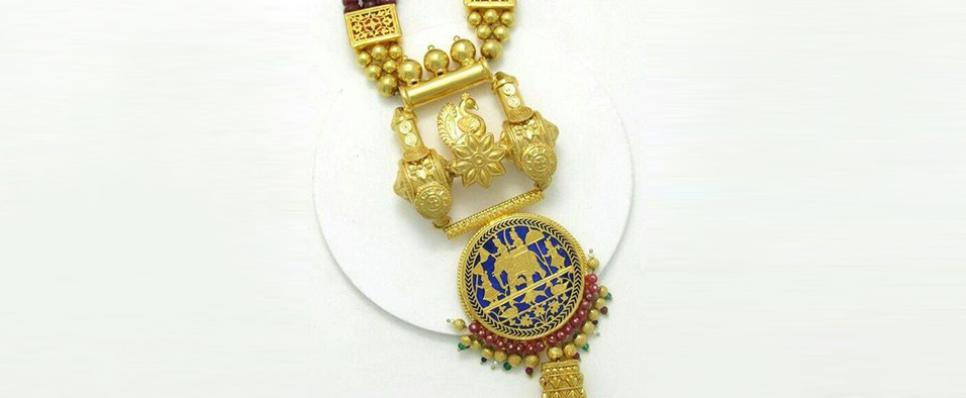 The Mughals are known for their magnificence and affluence in the land of the Golden Bird, India. The intricate artworks created during their reign are loved by Indians even today. These designs and artworks are an integral part of rich Indian culture and tradition, which are proudly showcased all over the world.
The Thewa is one such artwork that originated during the Mughal period, in the Pratapgarh district of the royal state of Rajasthan in India. The word Thewa means "setting" in the local Rajasthani language. To create a Thewa masterpiece, the craftsman creates a thin 23 Karat gold sheet which is called "Thewa ki Patti" (Thewa's sheet). This sheet is intricately embossed onto molten-glass which undergoes a special process to gain the glittering effect that shows-up the gold work. A skilled artist can take over a month to complete a single Thewa piece. Popular themes for Thewa pieces include Hindu Mythology, Mughal court scenes, other historical events or flora and fauna.
In 1707, a craftsman named Nathu ji Soni from Pratapgarh invented the process to create Thewa, which is of one of the most expensive art forms. These skills were passed on to the next generation of his family who call themselves "Raj-Sonis". The craftsmen from this family have been honoured with various UNESCO, National and State Government awards.
In 2011, the Raj-Sonis of Rajasthan made their way into the Limca Book of Records; the only family with nine national awards. In 2015, Mahesh Raj Soni was bestowed with Padma Shree, the fourth highest civilian award in India, for his excellent Thewa handicraft.
Thewa artworks have also been celebrated in a stamp depicting Thewa released by the Government of India in 2004, and a Thewa artwork was presented as a gift to Prince Charles on the occasion of his marriage.
Thewa jewellery continues to be popular among a young, fashionable crowd that includes some of the top stars in Bollywood. The Thewa accessories such as pendant sets, bangles, earrings, cufflinks etc., can be worn on religious occasions, festivals, marriage or even parties. The rare and intricate beauty of Thewa accessories add a touch of glamour to your look whatever the occasion.