Who wears most gold on their wedding day?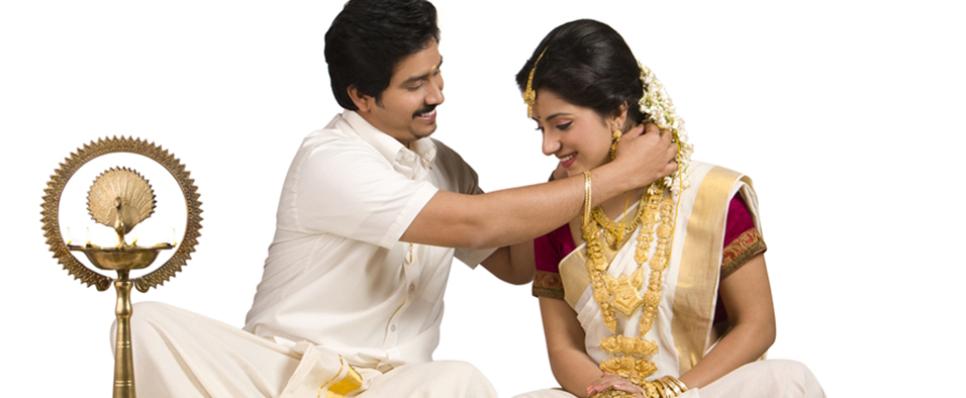 Well, according to the World Gold Council report 'India's gold market: evolution and innovation", Kerala brides wear the most gold on their wedding day. In fact, the brides were found on average wearing up to 40 sovereigns or 320 grams of gold.
Brides from Tamil Nadu and Andhra Pradesh are not far behind, with both states sporting 300 grams of gold on average at their weddings. In fact, in an interview with the Financial Express Somasundaram PR, Managing Director (India), World Gold Council said "… jewellery consumption of brides from the four southern Indian states ranges from 280 grams to 320 grams — much ahead of any other region. No wonder the southern region accounts for 40% of the Indian gold jewellery market".
Gold given to an Indian bride is called 'streedhan', which is basically wealth given to a woman at the time of her marriage. The gold presented to her is not only seen as auspicious but also a sign of wealth and security. The ritual goes back to ancient times, the principle was based on giving a daughter a share of her parent's property which she could spend as she deemed fit.
This is a practice which is seen across India. According to the report India's gold market: evolution and innovation, "Around 40%–50% of gold jewellery and bars and coins bought in India is for weddings. Although there are no official figures for the number of weddings, it is likely to be between 8million and 10million per annum." And this is only likely to rise with a young population that still has traditional values.
But the bride is not the only one with gold on her special day as the report adds "An additional, albeit much smaller, element of wedding-related gold jewellery demand comes from jewellery gifted to the immediate family of the bride and groom, as well as jewellery that wedding guests may buy to wear for themselves to the wedding."
Weddings are auspicious days and when one sees the choices the average Kerala bride gets to choose from– Mulla Mottu Mala (worn as a long gold chain, containing long jasmine buds or petals), Lakshmi Mala accompanied with goin coin earrings, Palakkal Necklace (a combination of emerald and ruby), Nagapada Thali, Manga Mala, Kasu Mala, Poothali Mala, Karimani Mala and many more… can you really blame her?