Zaveri Bazaar gold market – best place to buy gold in Mumbai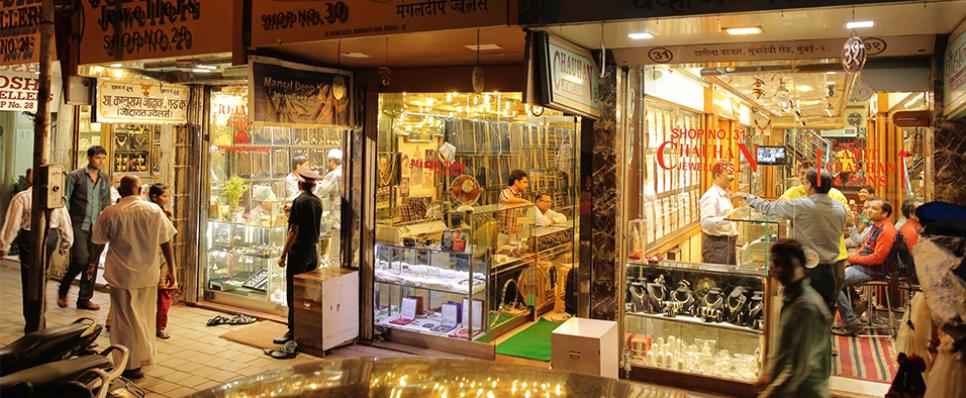 India, often referred to as "Sone ki Chidiya" (golden bird), is renowned for its gold jewellery with its intricate and exquisite traditional art-forms. The "gold-loving" jewellery markets in India see buyers from the length and breadth of the country. Of all the jewellery markets in India, the Zaveri Bazar from the wealthy city of Mumbai is regarded as a jewellery shoppers' paradise.
The word "Zaveri" means jewellery and "Bazar" is a market. This 150-year old jewellery market is situated in Bhuleshwar, between the Crawford Market and Mumbadevi area of Mumbai. Zaveri Bazar is a vast market of over 7,000 small and big shops in the narrow lanes; some of these shops are over 300 years old. The smaller of these shops can be as tiny as 150 square feet, however, their turnover crosses crores in most cases. The narrow lanes make it difficult to trace the shops; visiting a particular shop is a tricky task for buyers, even if they have an address. The shops can only be identified by their numbers.
Zaveri Bazar is the largest hub for the jewellery industry. Some of the shops sell second-hand jewellery and gems as well.
In addition to the jewellery shops, another prominent landmark of Zaveri Bazar is the Dharam Kaanta. This is an old-fashioned shop, created around 70-80 years ago, to protect the interest of customers by identifying the purity of gold. In this shop, the goldsmith sits on an elevated mattress and monitors his staff who check the purity of the items brought in, they are known particularly for checking jewellery which has not been hallmarked. Charging a small fee of INR 150-200, their gold purity certificate is a final word which is accepted by all jewellers in India. Dharam Kaanta is often over-crowded during the festivals such as Akshaya Trithya, Dhanteras and Gudi Padwa.
The Zaveri Bazar is a "must-visit" attraction of India's commercial capital city of Mumbai. We would you recommend people visiting Mumbai who want to buy gold to go there.