5 beautiful spiritual destinations in India made out of metal gold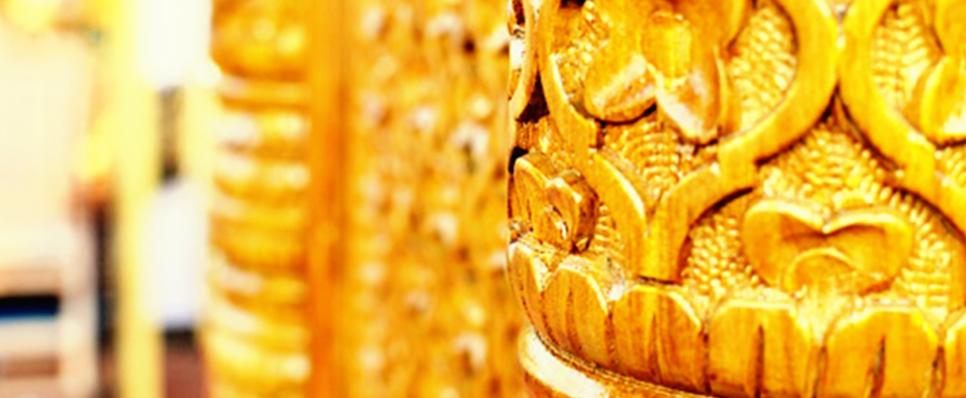 Gold is used in architecture for its aesthetic appeal, as well as for its temperature regulating properties. In a world of glazed facades and concrete, a golden statue or structure can be a treat to the eyes. Gold leaf has been used in Indian interiors and edifices for centuries, and we bring you five beautiful temples that feature golden elements.
| | |
| --- | --- |
| Monument | City |
| Golden Temple | Amritsar |
| Padmanabhaswamy Temple | Thiruvananthapuram |
| Golden Temple | Sripuram |
| Kashi Vishwanath Temple | Varanasi |
| Venkateshwara Temple | Tirumala |
Golden Temple, Amritsar

This temple was coated with 24 layers of 24-karat gold paint by artisans from different parts of the country.

Padmanabhaswamy Temple, Thiruvananthapuram

It features 28 gold-covered granite columns, with the ones in the four corners producing musical notes when tapped. Its underground vaults hold gold and treasures worth $22 billion!

Golden Temple, Sripuram

Gilded with 1500 kg of pure gold, it features the intricate works of artisans who specialise in the use of gold in interiors. Each copper plate consists of 10 layers of gold foil that were manually made from gold bars.

Kashi Vishwanath Temple, Varanasi

This famous Shiva temple consists of three domes made of pure gold and a 155-metre tall gold spire above the idol.

Venkateshwara Temple, Tirumala

The golden entrance leading to the garbhagriha is made of wooden doors and depict the ten avatars of Vishnu on gold-gilded plates. The main gopuram also features a golden vase at the apex.