Different forms of mangalsutra across the country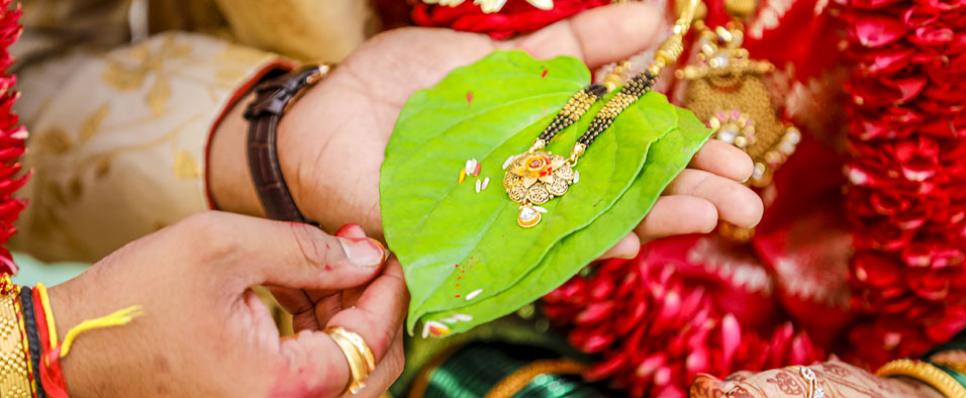 Mangalsutra: A tale of the sacred thread that binds the brides of India
Mangalsutra, literally meaning a 'sacred thread', is an important element of Indian bridal jewellery and wedding rituals. Almost every community and region of the country has its own version of mangalsutra, perhaps with a different name, shape, or design. Uniting these myriad forms of mangalsutras is the extensive use of gold, a tradition that is considered auspicious across regional borders. The sanctity of mangalsutra transcends all boundaries of language, culture, and even religion in India.
Let's look at some of the forms of mangalsutra in India across states and traditions: 
Southern states 
It is widely believed that mangalsutra had its origins in the southern states of India and was gradually adopted by other regions. This sacred thread is called by a variety of names in the South depending on community and caste. One of the most popular ones is the thaali or the thirumangalyam, a long yellow thread and a gold pendant to represent the supreme goddess.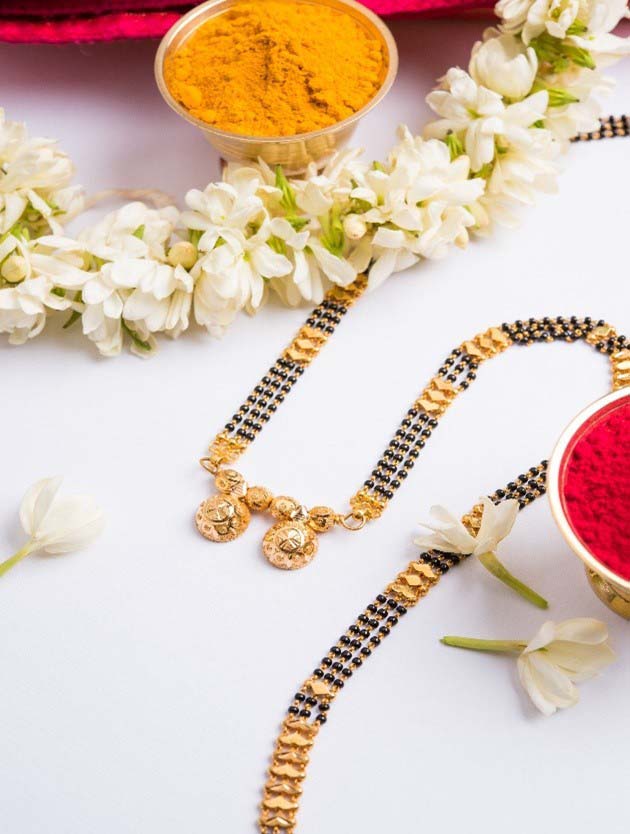 Tamil Nadu  
The thaali symbolises love, respect, dignity, and the ever-lasting bond of marriage. In Tamil Nadu, thaali designs can vary based on the communities. Iyer mangalsutras have motifs such as Tulsi tree, Lord Shiva while Iyengar thalis may have those of Lord Vishnu.  
Kerala 

Gold is deeply rooted in the cultural and historical traditions of Kerala, with bridal gold jewellery being the highlight of the nuptials. Many communities have a delicate thaali whose shape resembles a leaf. It is sometimes referred to as the ela thaali. Many communities in Kerala have a delicate thaali, made from a long gold chain with a pure gold leaf pendant. It is sometimes referred to as the Ela thaali. Many contemporary thaali designs often customise it further by embedding the golden thaali with diamonds, rubies or initials of the groom. 
It is also in Kerala that one can witness the Minnu – the traditional mangalsutra for Syrian Christian weddings. Gold ornaments are an important part of the Syrian Christians wedding right from the rings exchanged to the manthrakodi – a silk saree embroidered with gold and silver threads.  The Minnu is a small pendant with 13 golden beads forming a cross shape on a heart-shaped medallion.  The pendant is tied with threads taken from the manthrakodi gifted by the groom's family. Muslim brides in southern parts of Kerala (Travancore) also wear a Thaali. 
Andhra Pradesh  
Brides from Andhra Pradesh, Telangana, and some parts of Karnataka have a similar-looking thaali designs(often called pustelu, ramar thaali, or bottu in Telugu). It comprises a circular disc to represent Goddess Shakti and Lord Shiva. These thaalis are typically added to a gold chain or the black and gold beads chains similar to the North Indian mangalsutra. Interestingly, in many Telugu communities, one disc is given by each side of the wedding party. 
Karnataka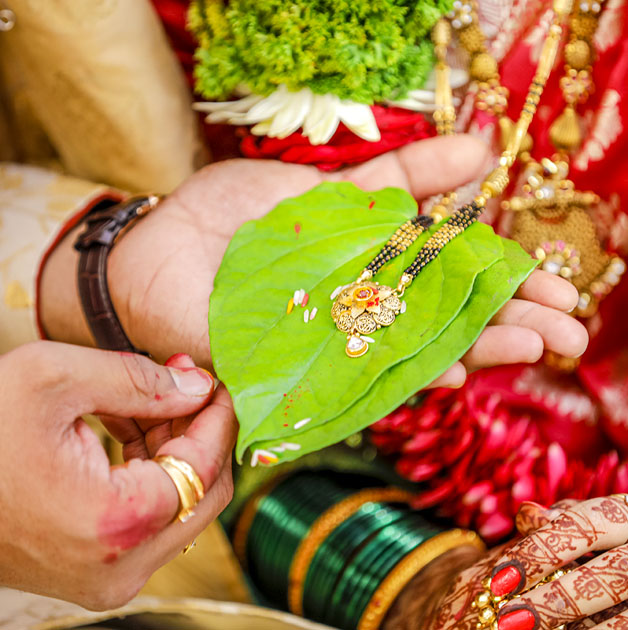 Coorgi weddings are a fun-filled, vibrant affair with some fascinating customs and traditions. Gold features as an important motif, be it the wedding theme, colours or jewellery.  Coorgi brides wear a gold ornament called Karthamani Pathak as the symbol of marriage which is equivalent to the mangalsutra. It is one of the most important pieces of jewellery for a Kodava bride. Both the Karthamani and the Pathak are two separate pieces of jewellery, where the Pathak is a gold pendant with a large gold coin with Goddess Lakshmi or Queen Victoria engraving and small rubies encircling the coin. The coin pendant is surmounted by a cobra motif, which denotes fertility. 
The Karthamani is a necklace made of corals and gold beads passed over a thread. Often the thread is replaced by a gold chain. What's fascinating about Karthamani Pathak is that the mother of the bride ties this to her a day before the wedding, unlike all other mangalsutra rituals. 
Maharashtra & Gujarat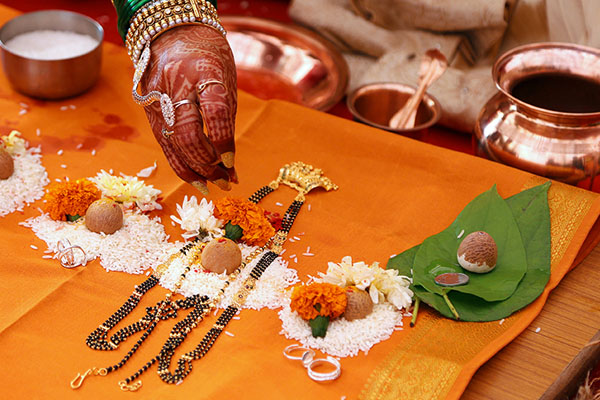 The Maharashtrian mangalsutra is quite well-known for its black and gold beads strung together in a double line with the central pendant of two gold vatis or cups. This vati motif denotes Shiva and Shakti and two strands of gold beads fused together symbolise the holy union. The black beads in the mangalsutra strand are believed to ward off evil and infuse happiness in the matrimony. Newer brides often wear the mangalsutra pendant flipped to the front for one whole year of marriage to show their newly married status.  
 
Traditionally, Gujarati brides used to wear a diamond nose stud to signify their married status. They also wear the traditional mangalsutra with black beads and intricate gold pendants. Modern mangalsutra designs feature a shorter chain with a contemporary gold or diamond pendant for enhanced wearability.
 
Mangalsutra is an essential aspect of a Sindhi wedding. Like the Gujarati mangalsutra it is a black and gold beaded chain with a pendant, and the design depends on the individual tastes of the bride and the groom.  
Bihar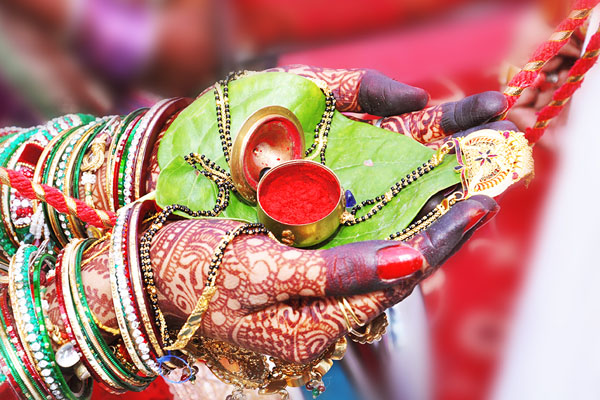 In Bihari culture, the bichua or a toe-ring is one of the most important symbols of bridal jewellery. Bihari brides also wear a mangalsutra known as 'Taagpaag'. This is a unique piece of jewellery that has double strands and a gold pendant. 
Kashmir 
Kashmir has unique bridal jewellery called Dijhor or Dehjoor, where numerous gold earrings are organised in a plain red thread. Soon after the wedding ceremony, the groom's family offers a gold chain in place of the thread. This chain is known as the aath, which literally translates to a small golden ornament.  
 
Indian wedding traditions showcase a heavy use of gold jewellery, and the same stands true for mangalsutra. Gold denotes security, prosperity, longevity and sustainability, and a gold mangalsutra is an indispensable part of the Indian bride's trousseau. Nowadays, brides are customising it to their liking, often giving it a modern twist. The shape, form, and rituals around it vary among communities, but the significance stays strong as a symbol of love and holy union across borders and languages.