Gold crowns of India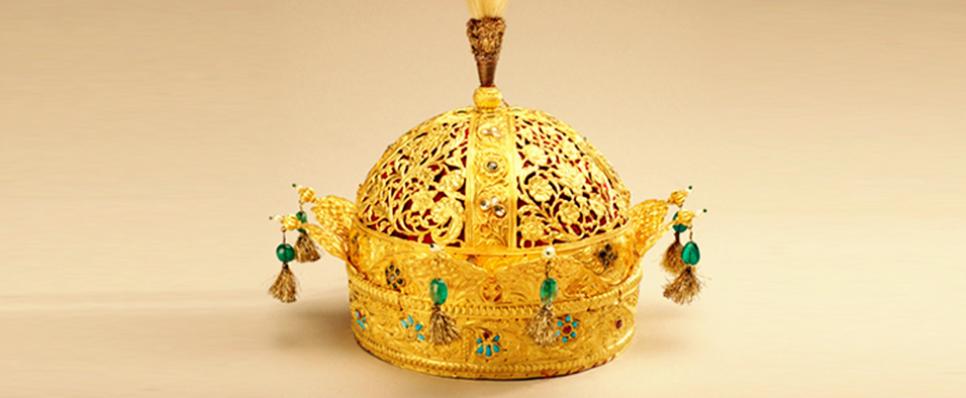 The land of golden bird, India was known for the Maharajas (Royals) and their wealth, especially gold. The Royal families lived in opulence and showcased their wealth in various forms including thrones, ornaments, weapons, attires and luxury items. They used gold to signify their power and status to their own and other kingdoms. The crowns that these powerful men and women wore were always made of gold.
Although, most of these crowns have been lost, through this article, we bring you two examples from those that still exist today:
The Crown of Emperor Bahadur Shah II
After the Indian war of 1857, Bahadur Shah, who was the last Mughal emperor and King of Delhi, was exiled to Burma by the East India Company and the government of India was taken over by the British. Towards the official end of India's ruling government, his golden Crown was sent to Britain and was purchased by Queen Victoria for £500. This crown is now on public display in the Royal Collection of the British Library in the United Kingdom.
The Tiara of Mughals
Another crown from the magnificent Mughal era was the Crown of Awadh, popularly known as the 'The Tiara of Mughals'. This crown of Awadh belonged to the Northern region of India and was one of the most famous crowns of the Mughal reign, worn by the Mughal emperors in the 18th century. It was constructed using pure gold and foils of gold. The yellow metal glittered even from the gems placed on the crown. The intricate designs and the patterns showcased the finest craftsmanship of the ancient era. This tiara was later presented to the Edward VII by the Taluqdars of Awadh.
In addition to the gold crowns, the Royals of India adorned their head or turban with different ornaments. These ornaments resembled necklaces or golden chains suspended from a single strand which covered the turban down to the forehead. The feathers and velvety texture enhanced the majestic look of the royal turbans.
The crowns and other ornaments of the Kings and their families show the luxurious life they led in the ancient era.
The golden crowns of the legendary Indian kings were a symbol of India's wealth, prosperity and opulence. Uncover two of the historic stories.
Revisit the wealthy, prosperous and opulent times of the ancient era through two rare Indian gold crowns.
A hallmark of Indian opulence then, and a window to our country's rich history now. Revisit the olden times through rare golden crowns.