Gold designs for women in their 50s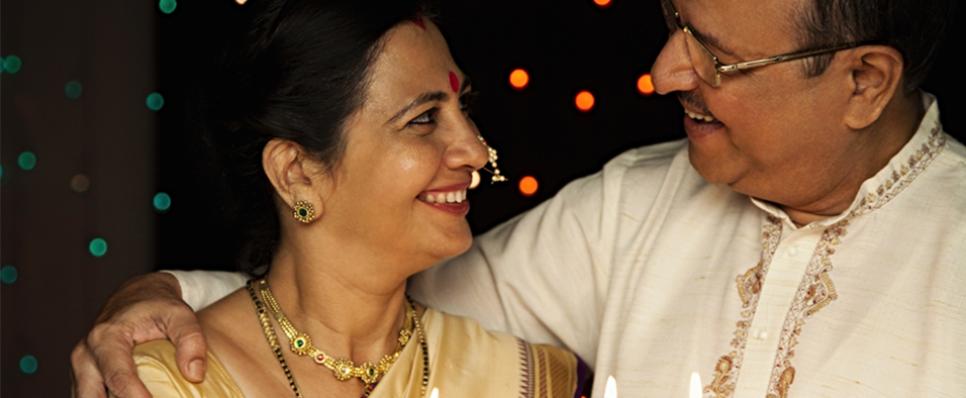 Our 50s is the decade of sophistication, when we reach an unprecedented level of comfort with ourselves. We are set in our ways, sure of our fashion sense, and eager to find the easiest ways to accessories
HERE ARE SOME GOLD JEWELLERY DESIGNS TO HELP CELEBRATE YOUR HALF CENTURY AND USHER IN THE NEXT ONE WITH GRACE
Whether you are going to work a few days a week, heading a neighbourhood committee, or simply enjoying an early, well-earned retirement, a little bit of gold can keep you stylish and satisfied. Rule number 1 of accessorising in your 50s is to keep it understated and effortless. Bring back the basics: the plain gold band, the tiny gold earrings that add just a touch of gold to a crisp saree, or the delicate gold necklace that becomes your companion for years at a time.
New beginnings are likely at this stage; you may become a grandmother soon. The birth of your grandchild, the day he/she enters college or the day he/she graduates. These are all special occasions you have the honour of presiding over, as the head of the family. Gold is a symbol of the respect you have earned. You need something that tells the story of everything you've experienced. Something beautiful, bold, and brimming with gold.
If you're meeting your friends after years and years for a birthday or retirement party, and want to look your youngest, you can always dig into your jewellery box for pieces you haven't had a chance to flaunt in a while. Open work gold is a great way to add some volume to your jewellery without making it look over-the-top. Wearing longer chains could lengthen your neck visually. You can try pairing basic gold studs with a gorgeous heavy neck piece. Add an elegant gold band and a fine bracelet and there you have it – jewellery that is you! You can also go for a pair of gold chandbalis or ear cuffs.
It's also a time in your life when you can adorn your heirloom gold jewellery with elegance and grace, At the next event or family function, you can pair your outfit with bold, beautiful, intricate and finely crafted designs that have been the pride of your family for ages.
Our 50s present a lot of opportunities for gifting and dressing up, but more than anything else, they provide us the luxury of resting on our laurels, and enjoying the fruit of years of hard work. Reward yourself with some beautiful gold jewellery as you usher in your 50s- because you deserve nothing less.