A guide to buying gold rings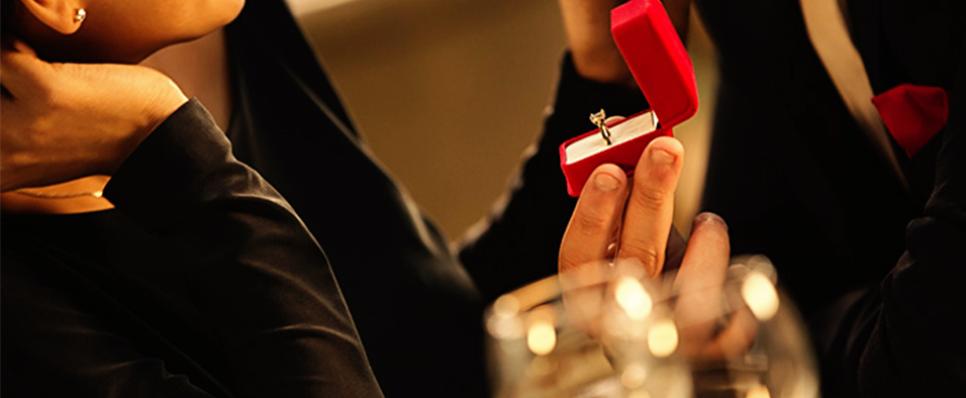 Gold rings have made their way into jewellery boxes the world over as they are emblematic of sophistication and elegance. They are the primary choice to ask your fiancé for their hand in marriage, and can be a valuable and meaningful gift for your friends and family. Why? Not only is the colour gold a symbol of love and affection, gold rings are also considered auspicious and are thus adorned for astrological and spiritual purposes.
Here's a guide to finding a gold ring that you and your loved ones would be happy and proud to wear.
Step 1: Determining size

If you're purchasing a ring for yourself, make sure you choose a ring that fits just right- not too loose, not too tight

If you're planning to gift a gold ring to someone, you may not have their exact ring size. Your safest bet would be to borrow a ring from them to use as a reference. If that is not possible, you could compare your own ring with theirs or ask someone close to them to measure their ring and give you an idea.

In case you've bought the ring and it turned out to be loose or tight, you can get it resized by your jeweller. But, to do so, make sure you keep these things in mind:

Make sure you pick a jeweller who is well prepared for the possibility of these challenges. He must be skilled and experienced enough to resize your ring and this is a question you should ask before purchasing one.
For simple ring designs or gold bands, resizing is fairly simple while it is complicated for ones that have intricate patterns or designs. So, it's wiser to pick a simple ring if you know there's a high chance of getting it resized later.
Always check the thickness of your ring after it has been resized. Often the jewellers tend to change the shape and thickness due to improper resizing. Thinner bands are tougher to resize.

Step 2: Choosing a colour

Gold rings are available in a variety of colours, each with its own appeal and unique connotation.

TYPES
DESCRIPTION
Yellow gold
The most commonly worn gold colour, yellow gold consists of only gold metal.
White gold
A combination of gold and nickel which gives an elegant and classy look.
Pink gold
A blend of gold and copper, it is vibrant, radiant and absolutely enchanting.
Green gold
A unique amalgamation of gold and silver that is nothing short of royalty and grace.

Step 3: Selecting a band

Selecting a band is completely up to your lifestyle and preferences. A matte or serrated gold band is perfect for every workwear; a brightly polished gold band can embellish a casual outfit for daywear; a glass blast or ice gold band is ideal for fancier occasions that requires a bit of dress up.

TYPES
DESCRIPTION
Brightly polished gold band
The classic, glittering golden band that adds the perfect charm to your look.

Serrated/Brushed gold band
These are smooth, durable and can be easily customised and adjusted.
Matte gold band
A subtle, sophisticated option for the ones who like it simple.
Glass Blast gold band
A glass like finish, which is glossy and radiant.
Ice gold band
A rough texture for ones who dislike plain and simple designs.

Step 4: Choosing a design

Choose a ring design that combines comfort and style. That's the formula to everlasting fashion! Another consider is the occasion you're buying it for. For daily wear, a ring with sharp edges or protruding design elements may hamper movement. A ring that is too intricate or even playfully flashy may violate a strict dress code. Once you know what you want, choose from these designs.

TYPE
DESCRIPTION
Plain gold band
A unisex ring style that is elegant and sophisticated, and not too loud or fancy. It's classy, poised and very convenient for every day wear, be it western or Indian attire. Comes in variations in edges and angles.
Gold ring with a little motif
Intricately designed and carved motif rings that offer a great opportunity for customisation - add your initials, the date you met, or just a heart.
Matte gold band
A stylish and subtle ring with minimalistic shine or glitter. Comes in satin finish combined with bevelled edges in accented form.
Gold rings with floral designs
A gold ring with a floral design or pattern, is a classic visually appealing option. Neither too gaudy, nor too plain. Goes well with all kinds of looks and is convenient to wear daily.
Hand chain bracelets
A great option for women who love jewellery. A combination of ring and bracelet connected by a chain that drapes across the back of the hand. These are trendy, fashionable and look extremely gorgeous.
Follow the 4 simple steps above to find the right ring for gifting or owning alike!