The Indian bride's pocket guide to buying gold jewellery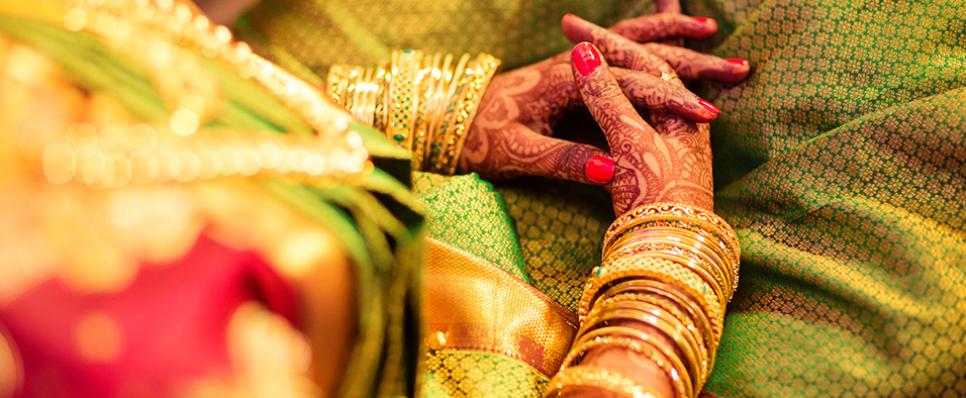 The gold you don on your wedding day will forever be a reminder of your special day as a bride. No Indian marriage ceremony is complete without gold, especially the handmade gold jewellery you can only find in our country. This is what makes Indian weddings the envy of the rest of the world!
Why should every Indian bride read this pocket guide?
As a nation of gold lovers, we believe we have mastered the art of buying gold jewellery. But there are a number of things you must know about before making what is probably the biggest gold purchase in your life.
As a bride-to-be, you will likely have some concerns about the gold jewellery you are planning to buy. This handy guide will answer all your questions related to the following:
Purity and fineness
Advantages as a profitable investment
Potential for upcycling
Potential to be repurposed or redesigned
Value for money
Why should you buy hallmarked gold jewellery?
Gold hallmarking has been made mandatory by law in India on 15th January 2020. The government has announced that all gold jewellery of 14, 18, and 22 karat (above 2 grams) sold from 1st June 2021 onwards must be hallmarked.
The BIS is the body responsible for setting standards of purity and quality that jewellers and AHCs (Assaying and Hallmarking Centres) need to adhere to. It is based on these standards that the purity (karatage) of gold is measured.
What is gold hallmarking?
Gold hallmarking is a process that involves assessing and verifying the purity and amount of gold in a jewellery item as per BIS standards and branding it with the four symbols that form a 'Gold Hallmark'. There are a series of steps to ascertain the purity and fineness of gold. This applies to the gold present in the jewellery. But for hallmarking to protect your purchase, you, as a buyer, must know how to identify a genuine gold hallmark.
What does a Gold Hallmark look like?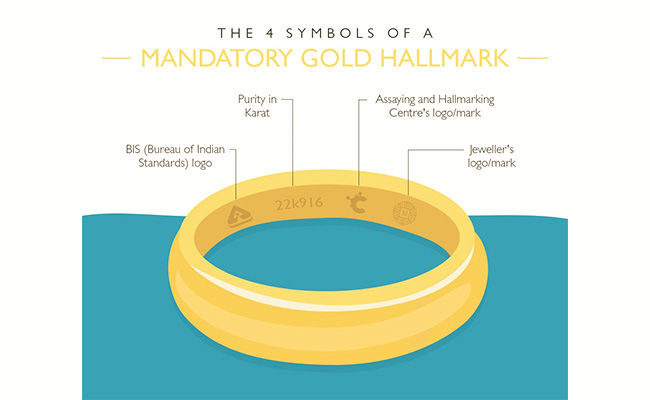 Any hallmarked gold jewellery carries four signs prescribed by the Bureau of Indian Standards. These include:
BIS logo – The BIS hallmark certifies the purity of any gold ornament. If the gold article has been hallmarked with the triangular BIS logo, it means that the piece conforms to the standards set by the Bureau of Indian Standards. In India, the BIS is the national standards organisation.
Gold purity in karat and fineness – In India, hallmarking is done only on 14, 18, and 22karat gold jewellery. The symbol of purity has two parts: the first 3 digits denote the karat and the last 3 digits denote the fineness. In a gold hallmark, 18K750 means 18 karat gold and 750 in fineness. This means that out of 1000 parts of the metal, 750 is gold. Similarly, 22K916 means 22 karat and 916 fineness and 14K585 meant 14 karat gold and 585 fineness. The finer the gold, the purer it is.
Jeweller's identification mark The jewellery store from where you are buying your gold jewellery will also cast its identification mark. You can find a list of BIS-licensed jewellers.
AHC's identification mark – The process of hallmarking requires very skilled technicians and advanced machinery. The logo of the AHC where the testing and certification of your gold was carried out must be a part of the BIS hallmark signs.
Some important questions to ask before you buy hallmarked gold jewellery
What are my rights as a consumer when getting my gold tested and hallmarked?
The BIS is proactive when it comes to protecting the consumer's rights. You can get your jewellery tested for purity from any BIS-recognised AHC. The jewellery item's purity and fineness should be mentioned in the invoice of the purchase, which is then verified by the BIS through their test. After the test, an assay report is issued by the AHC that validates the identification marks made on the gold item. If, upon testing your hallmarked jewellery, you find that it is of lesser purity than what is marked on it, the jeweller you bought it from is required to replace your jewellery. The AHC that put that hallmark would also have to refund the testing charges to you and may face licence suspension by the BIS.
What is the per-gram price of gold I should be paying?
You must always check the per-gram price of gold ahead of your purchase. The price of gold can change multiple times a day and varies from city to city – and sometime even from jeweller to jeweller. You can confirm the per-gram price of gold for your location on the Price Page of MyGoldGuide, which is updated in real time. Another way is to check with more than one well-known jewellery showroom. The current price of gold can also be found on numerous news sites. To find out how gold price is determined, watch this video.
What is the price break-up of the gold I am buying?
The cost of the gold you buy includes the per-gram price of your gold and the custom duty on imported gold at 10%. There two more charges which are added to the price of gold jewellery you purchase and are usually mentioned in the purchase invoice. These are the applicable GST (3%) and making charges towards the cost of manufacturing
To summarise, the invoice has
Gold price (inclusive of 10% import duty)
Making charges (includes any wastage)
GST (3%) (both for coins and jewellery its 3%)
Indian jewellery is famous around the world because the level of intricacy and the expert craftsmanship it features cannot be found anywhere else. Do you know why? It's because most of the gold jewellery produced in India is handmade.
There are different styles of Indian jewellery, each unique and distinct, such as Kundan, Meenakari, Thewa, Jadau, Filigree, Temple etc. Indian artisans make these jewellery styles what they are. Even in this age of machines, the most beautiful styles of jewellery in the world are made by hand, by craftsman and karigars in different parts of the country, using techniques that have been passed down through generations.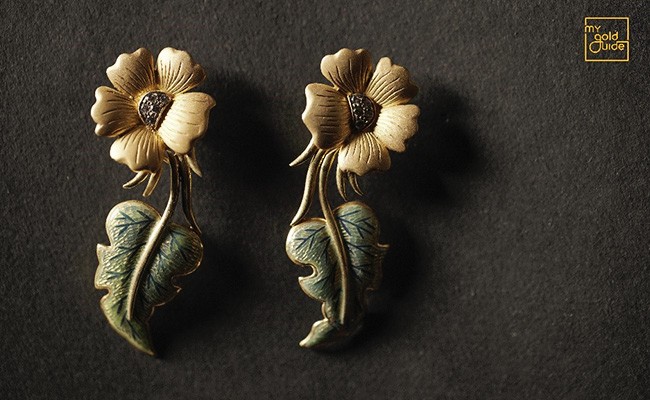 Jewellery Credits: DC Karel sons,(Jaipur)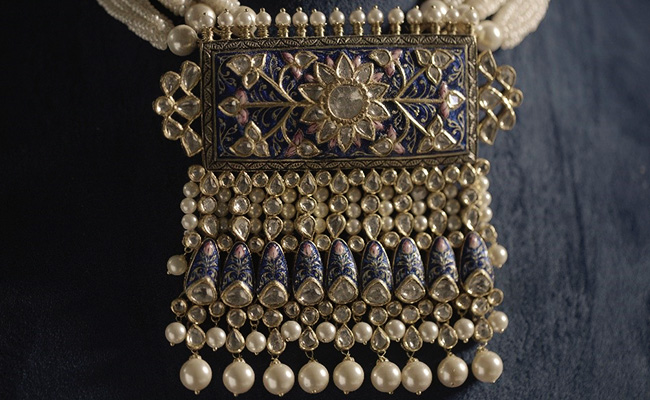 Jewellery Credits: S.D Gems and Jewellery (Jaipur)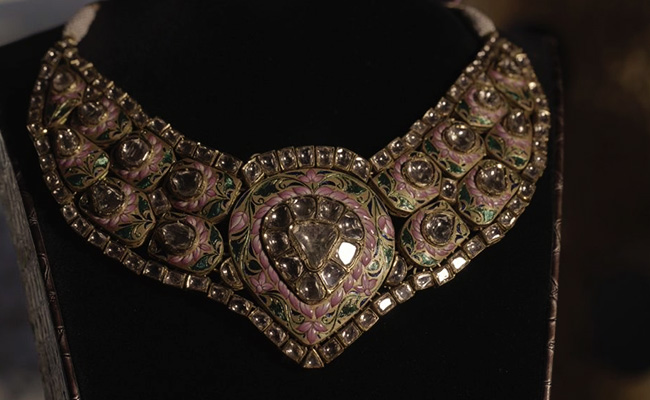 Jewellery Credits: Geet Jewels(Jaipur)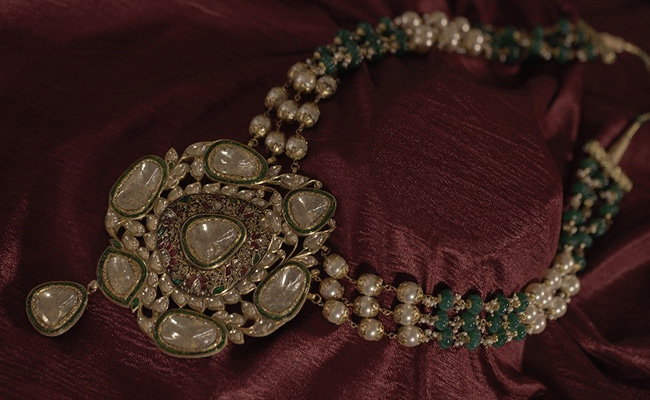 Jewellery Credits: Geet Jewels(Jaipur)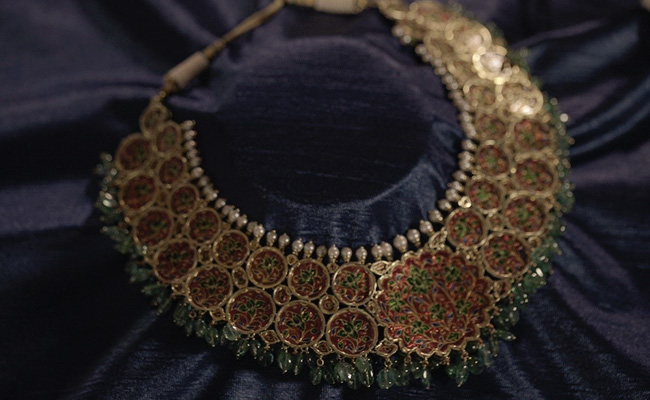 Jewellery Credits: Geet Jewels(Jaipur)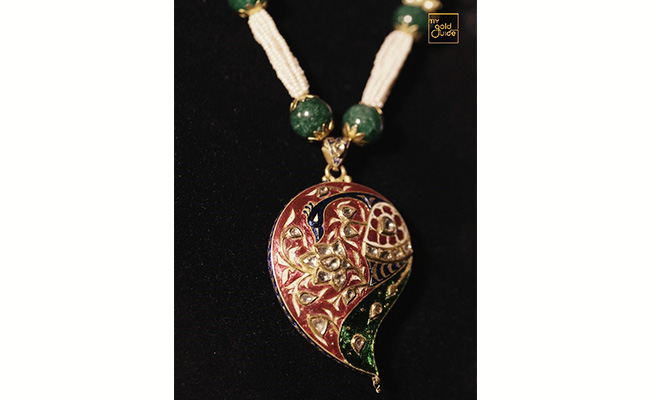 Jewellery Credits: Geet Jewels (Jaipur)
What are making charges?
Given the amount of effort and expertise that goes into crafting gold jewellery, making charges are applicable. This is the cost of producing and designing the gold jewellery. Making charges for mass-market machine-made jewellery range between 6% and 14%. However, the intricately designed jewellery you would want to wear on your wedding day can come with making charges of up to 25% or even higher.
What are wastage charges?
In addition to the per-gram price, you may also have to pay for wastage which is usually included in the making charges. This is because the process of making gold jewellery includes melting, cutting, filing, engraving and shaping the base metal. In this whole process, a significant amount of gold is lost, which is difficult to collect and reuse. The cost of this loss of gold is called wastage charges. Wastage charges can range between 5% and 7% .
What is the purchase bill supposed to include?
In all these years, you may have never asked for a bill when purchasing gold. But it's important you make this a habit. Think of it this way: is there anything else you would even consider buying without asking for a bill? Then why make an exception for such a valuable purchase?
While insisting that the jewellery shop provide you a bill, you may have to share your PAN details with the gold jeweller if your purchase cost exceeds INR 50,000 . However, an invoice usually contains every minute detail of the gold purchase, including the per-gram price of gold, making charges, wastage charges, date of purchase, quantity of gold, purity of gold, and taxes. A bill is important because it acts as a record of the following aspects of your gold jewellery:
Legitimacy
Cost
Purity
Proof of purchase
A bill makes it easier to exchange or sell your gold jewellery if ever you want to. What's more, years from now, if you want to upgrade to a more contemporary piece of jewellery, a bill can help you get the true value of the gold you own, no matter who the buyer is.
How to afford the wedding jewellery of your dreams
Savings schemes from jewellers
Your wedding day is the one time in your life when you can confidently flaunt all the jewellery you want, with no qualms of overdoing it! But given how expensive gold jewellery can be, it may be hard to arrange for the money you need, especially if you are in the market for some truly unique jewellery pieces that are not off the rack.
This is where gold savings schemes can come to your aid. Rather than digging into your savings, borrowing funds, or taking a loan, applying for a gold savings scheme is a great way to buy jewellery by planning your purchases in advance.
These schemes ensure that you don't have to spend a lot in one go to buy gold jewellery. Much like SIPs, gold saving schemes allow you to invest small amounts, regularly, to build savings for a large purchase. Many jewellers have offers on gold savings schemes. For example, for a 12-month plan, you pay only for 11 months, or you get some extra benefits. In simple terms, they resemble the recurring deposit schemes offered by banks.
Upon maturity of your gold savings scheme, you can redeem your investment in the form of jewellery or coins from the jeweller. Before you subscribe for the scheme, it is important to find out precisely what jewellery pieces are available under this scheme, as different jewellers may have different terms.
If your wedding is some time away, investing in a gold savings scheme is a practical choice. Most jewellers offer rebates on making and wastage charges. Others may offer you 'fixed weight' schemes. You can decide at the beginning of the scheme how much gold you want to add to your account every month and keep aside just that bit of money.
Another great option some jewellers offer is 'buy now pay later'. However, this may be available only for jewellery pieces up to a certain value, so do check.
Things to keep in mind while exchanging/ upcycling old gold jewellery
As a millennial bride, you are no doubt individualistic when it comes to tastes and preferences, and the same applies to jewellery. You respect the heritage and traditions of your culture. The jewellery passed down to us by our mothers and grandmothers might not be our style, but we may still want to make it a part of our wedding trousseau.
If you want to upgrade or 'upcycle' your old jewellery, you will have to go to a BIS-recognised jeweller. It's always good to get your gold jewellery hallmarked first. Some jewellers also offer these services within their store premises. But it is better to visit a BIS-licensed AHC to get your jewellery tested, because the jeweller can quote incorrect prices for your jewellery by claiming false weight and karatage of gold . Or they may not have the right equipment to test the purity and fineness of the gold
Without evidence to the contrary, you may not be able to prove the purity of your gold. Having a bill while exchanging or upcycling your gold jewellery is a good idea. However, in case you do not have the original receipt, the hallmark will come to your rescue. Assess the gold rates one week before you wish to exchange or upcycle jewellery items. This way, you can make sure that you visit the jewellery store when the gold rate is at its peak and get the optimum amount from your exchange.
When upcycling gold jewellery embellished with gemstones, you can usually get a better value for the precious and semi-precious stones if you visit the same jeweller from whom you purchased the original ornament. If you want to get your upcycled or custom-made jewellery piece hallmarked, follow the same process as with any other jewellery – visit your nearest BIS-licensed jeweller and request them to get it hallmarked at the nearest AHC on your behalf, for a nominal fee.
Things to keep in mind for custom jewellery
Customising one's jewellery is the trend these days. If you have a unique style or want a piece of jewellery that holds a special significance for you, custom jewellery is the ideal bet. Bear in mind that not every jewellery store has the expertise to design and create custom jewellery. Custom jewellery is something that reflects your personal style and individuality.
Here's a list of things you should consider while opting for custom jewellery:
Design:The design you have in your mind regarding customisation should be well understood by the jeweller.
Manufacture:Ask the jeweller to provide you with a detailed manufacturing guide so that you can ensure the jeweller is following safe practices of hallmarking.
Pre-polishing: It is an important aspect of manufacturing customised gold jewellery, where the purity of gold can be easily assessed.
Setting:The stones or pearls should be set firmly to avoid any flaws in the manufacturing process.
Polishing: This step helps to bring out the shine of the ornament.
Hallmarking:The best way to safeguard your interests is to get all your non-hallmarked jewellery hallmarked before customisation. Your BIS-licensed jeweller will do this for a small fee.
It's important to remember that the gold jewellery you buy should be hallmarked, so that you can benefit from all the growth in value that gold promises over time. What's more, you need not worry that you may have spent more than you should have. So, in the run-up to your big day, when you make one of the most significant and fulfilling purchases of your life, don't forget to ask: #MarkKidharHai?