Kashmiri Jewellery- Traditional Gold Jewellery Designs from Jammu & Kashmir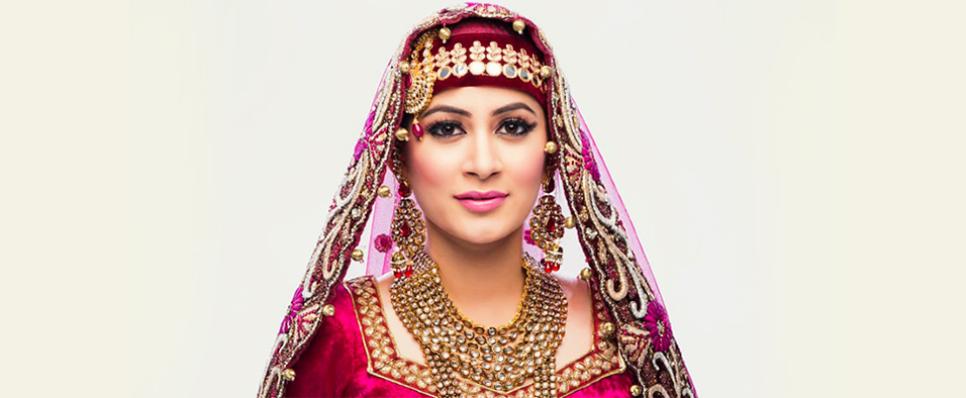 Tradition and culture are the essence of Jammu and Kashmir- from its poetry to its cuisine to its distinctive fashion.
The state's rich heritage is reflected in the enchanting Kashmiri gold jewellery that is known for its intricate, well-crafted designs, and unique and minute detailing. And their names are derived from Persian and Sanskrit languages. In fact, the Mughal Queen - Noor Jehan is credited for introducing and influencing the intricate variety of jewellery in Kashmir.
The native artisans of Kashmir are exceptionally talented in the art of jewellery-making. Their techniques are old and traditional, and considered impossible to recreate.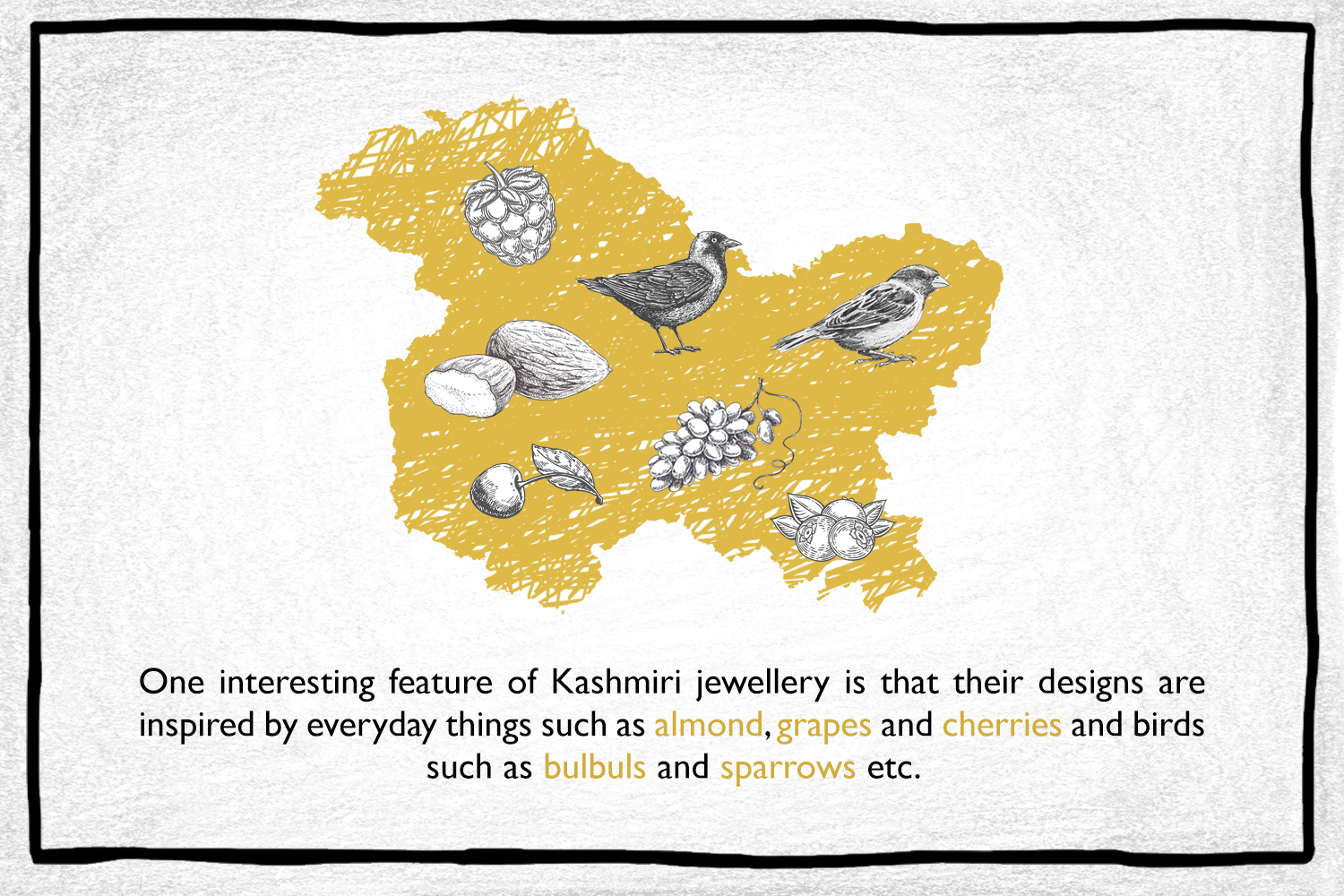 Let's look at some of the types of gold jewellery unique to Jammu and Kashmir:
Jiggni-Kashmiri Jewellery:
This ornament is worn on the forehead. It is made of gold and is fringed with hanging pearls and gold leaves. It is usually triangular, semi-circular or circular in shape.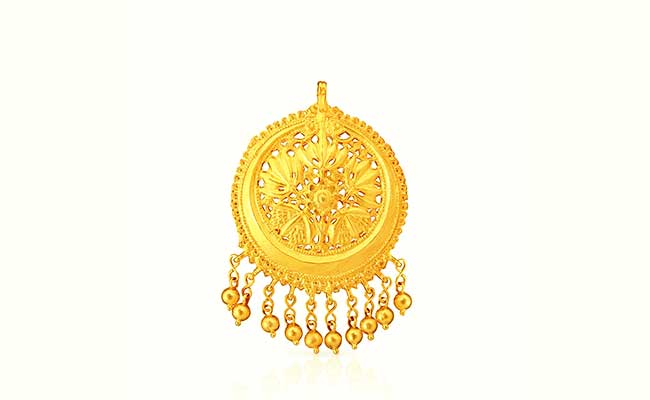 Courtesy: Pinterest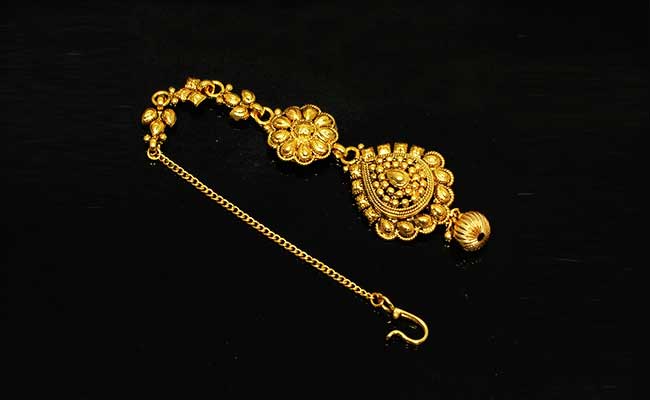 Courtesy: mirraw.com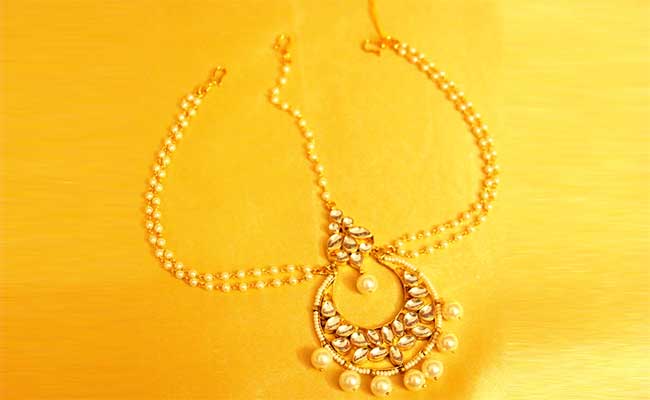 Courtesy: mirraw.com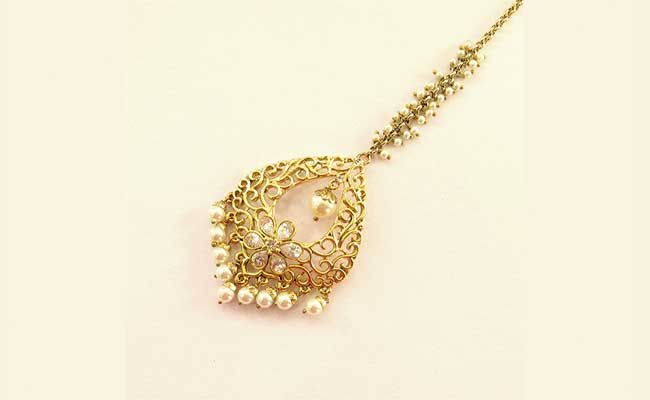 Courtesy: Pinterest
Halqaband-Kashmiri Gold Jewellery:
A traditional tight choker, the halqaband is worn around the neck. It is usually made of gold and has interlocking sections joined together with thread.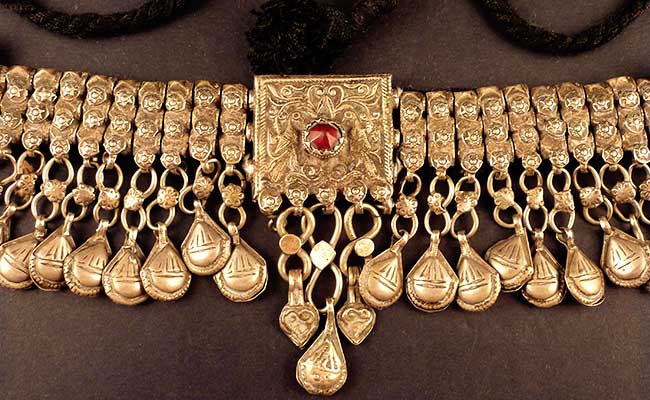 Courtesy: Pinterest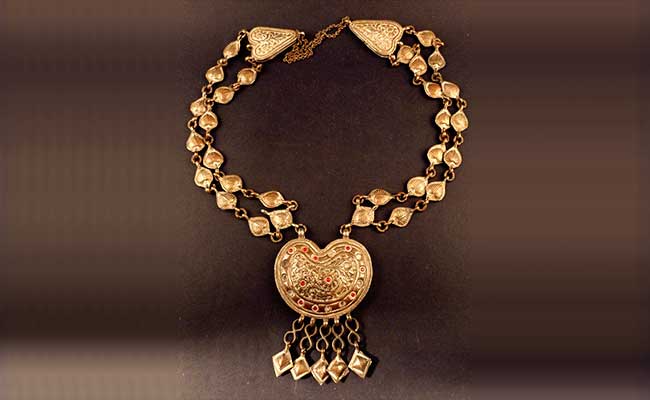 Courtesy: Pinterest
Dejihor-Gold Kashmiri Earrings:
Worn by every Pandit woman as a symbol of her marriage, the dejihor is a dangler earring that hangs from the upper portion of the ear. It is believed to have been designed by the great Kashmiri acharyas to infuse divine strength in married women.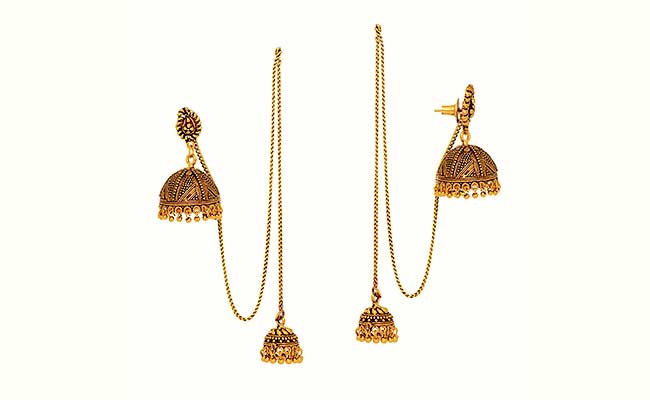 Courtesy: amazon.com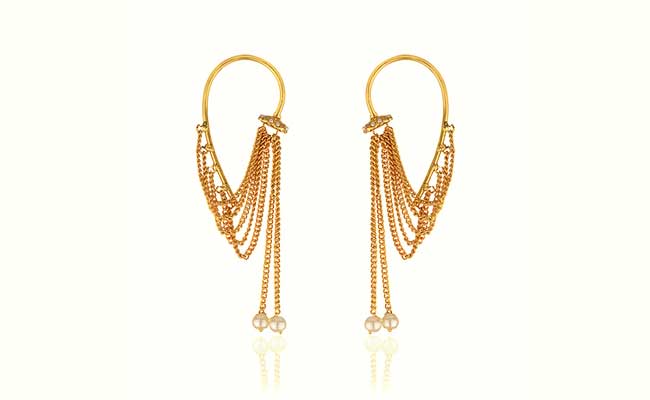 Atta-hor-Gold Kashmiri Jewellery:
Another ornament worn by married Kashmiri Pandit women, atta-hor hangs over both ears and is connected by a gold chain over the head.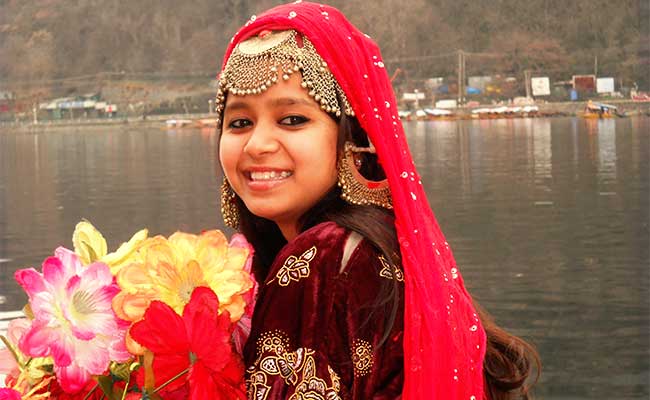 Kana-Door-Traditional Kashmiri Earrings:
More popular among younger women, kana-door is also a piece of jewellery for the ear. Made of gold and studded with red or green pearls, kana-door also refers to 'beloved' in Kashmiri poetry.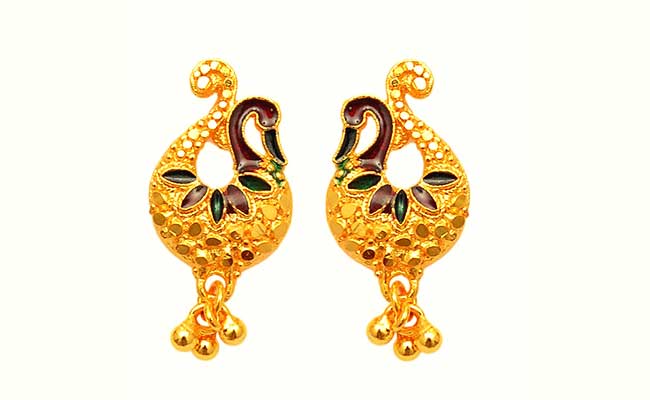 Courtesy: rediff.com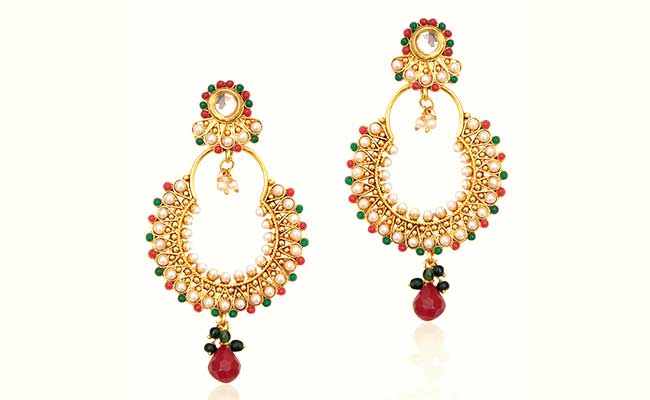 Courtesy: mirraw.com
Gunus- Gold Kashmiri Bangles:
An ornament for the wrist, gunus is a thick gold bangle and has the head of a snake or a lion at both ends. This design is one of many gold designs inspired by wildlife.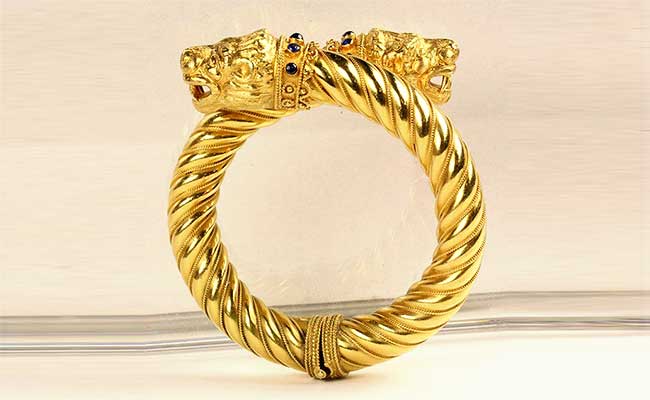 Courtesy: Pinterest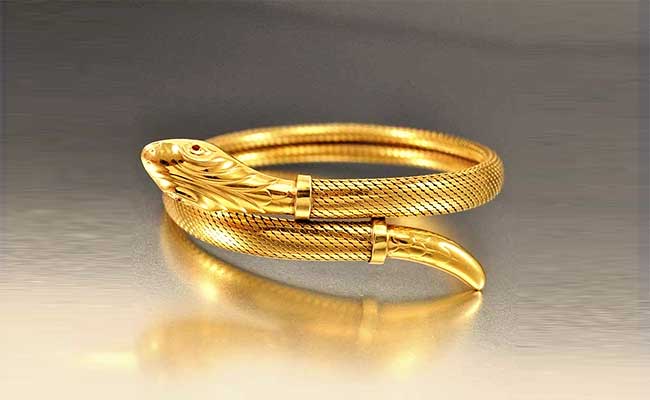 Courtesy- Shopify
Sondus or Branshil:
This is another ornament that symbolises marriage. Mostly worn by Ladakhi women, Sondus or Branshil is an ornament a mother passes on to her daughter at the time of marriage. This piece of jewellery is fixed on the left shoulder. The ornament also has long silver strands that link a few gold discs.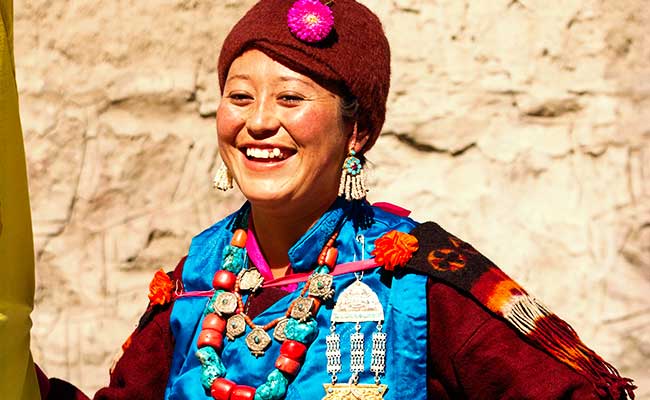 Kashmiri Gold Maang tika:
When it comes to bridal jewellery, a gold maang-tika (or just tika) is another ornament that's worn on the forehead. Brides also wear a kada or bangle, made of fine gold filigree work, on their wrists.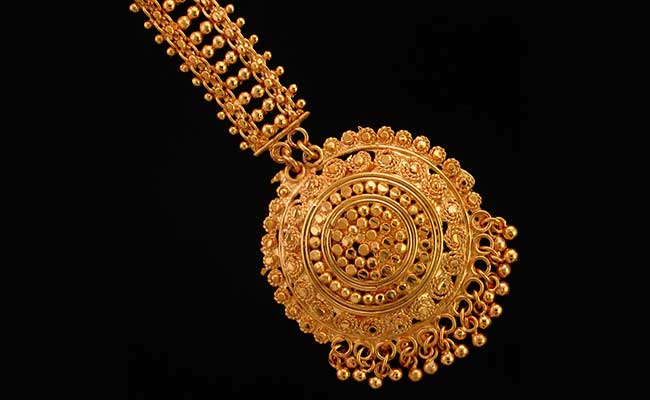 Courtesy: Fashionmantra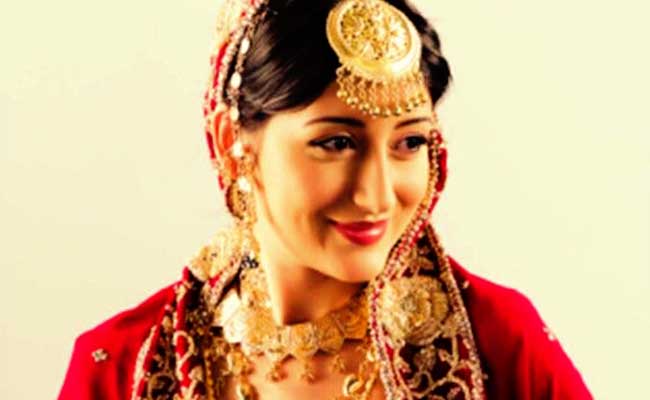 Courtesy: Pinterest
Gold jewellery is truly embedded in the culture of Jammu and Kashmir and has been an irreplaceable part of the state's ornamentation for centuries. The quirky styles and designs of their gold jewellery are a major inspiration for modern-day craftsmen and designers.
Related article
Traditional Indian gold jewellery of different states