Temple Jewellery – Gold through the eyes of tradition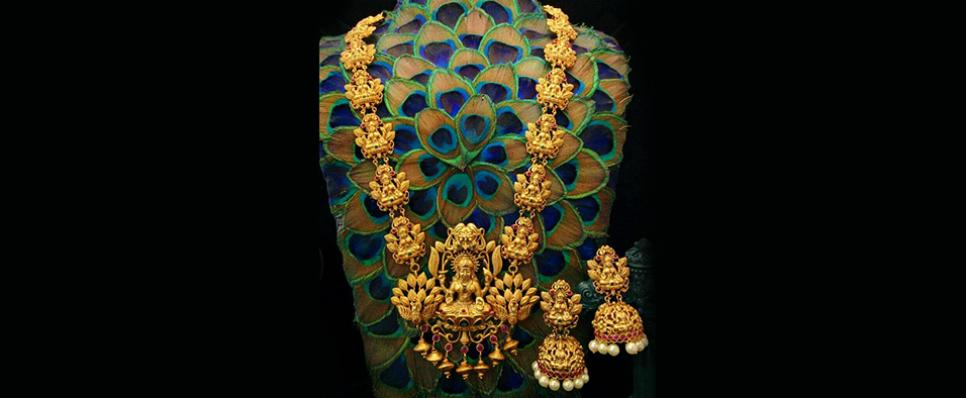 The southern part of India is home to different temples dedicated to several deities. In these temples, the idols have been adorned with gold and other precious gems since ancient times. Their jewellery has been treasured over centuries and is popularly known as Temple jewellery.
Temple jewellery is made of pure gold and includes crowns or other head ornaments, earrings, nose ornaments, necklaces, bangles, waist-belt, anklets among other items. These ornaments are either prepared exclusively for the deity or are crafted from unfitting gold jewellery or gold bars which are received as donations to the temple. In addition to the idols, the temple or theatrical artists also wear temple jewellery for their mythological performances. This jewellery can also be known as dance jewellery.
Today, traditional temple jewellery is no longer confined to the deities and artists. This form of jewellery is in vogue among young Indians who love its intricate designs that represent the fusion of Indian tradition with modern designs. Jewellery of this kind is used by women to add a touch of glamour and creativity whether it's part of their day to day look or something more special.
The most common types of temple-inspired jewellery are earrings, bangles, chains, bracelets, necklaces, chokers, rings and toe rings. Of all the designs, bell-shaped designs are the most loved designs of earrings in temple jewellery. These earrings are usually crafted with plain gold, which exemplifies traditional style. Similarly, hanging bells fastened to bangles have also captivated the attention of women across India.
Another eminent ornament in Temple jewellery is the gold chain, which has gold strings adorned with Hindu deity figurines, gold coins, flowers, small paisleys and rudraksha stones on the edge. Besides chains, women adore Temple necklaces that mainly feature the figurine of Shri Lakshmi, the Goddess of wealth –.
Classical dancers and brides frequently adorn their long and wavy hair with temple accessories that enhance their traditional attire. One of these is a belt around their waist which is plated with gold and decorated with the bells.
Temple jewellery tells the tale of India's divine and regal spiritual heritage which has evolved over the centuries. The jewellery handcrafted by the ancient family clans from South India is said to be the most original form of design which is extensively bought in India and abroad. Considering its significance and the current demand, we think temple jewellery will remain one of the most favored jewellery designs for years to come.