Types of Indian gold necklace designs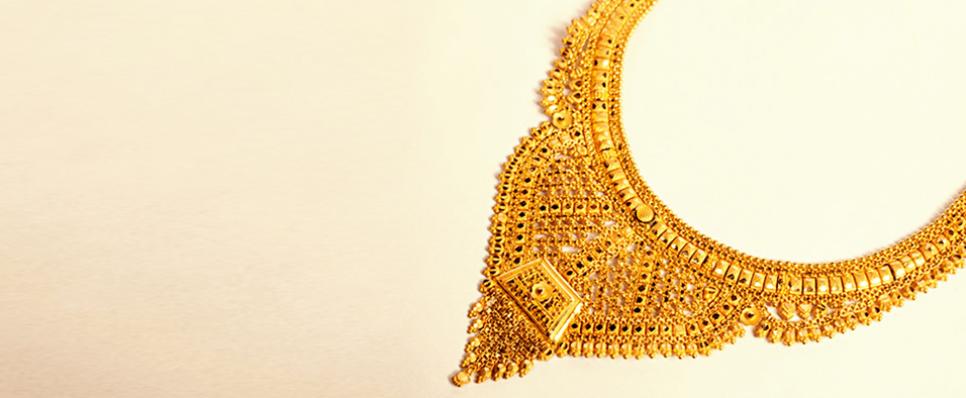 Throughout its existence, India has been a land of golden treasures that has always attracted visitors and buyers from all over the world. The jewellery box of this diverse nation showcases a great variety of marvellous intricate designs that differ from region to region. Indians have expended enormous energy on inventing and creating intricate designs that celebrate the human body.
One such ornament that comes in myriad shapes and sizes is the gold necklace ('Haar' in Hindi). This jewellery differs across states and even communities. We bring you a few such classical and elegant neckpieces from the traditional prism of India.
From India's Golden Land –the southern tip of India has always been honoured for its rich and traditional gold ornaments.
Kasumali necklace:

This gold necklace design from the state of Tamil Nadu is crafted using gold coins and it extends down to the waist.

Gowrishankaram necklace:

In this necklace design the holy prayer beads of rudraksha are replaced with gold beads and a golden pendant that showcases the upright tandava posture of Nataraja, a depiction of Lord Shiva.

Manga malai:

This is another classical gold necklace adorned with mango-shaped designs (called paisley) embellished on the edge of its heavy gold strings.

Kokke thathi:

Karnataka's Kokke Thathi is the crescent moon shaped gold pendant set.

Jo mala:

Jo Mala is the hollow lac-filled gold beads strung on a black cord with a gold-capped tassel (kuchi). These neckpieces are the significant part of the Coorgi Bridal jewellery.

Valaippinal:

Similar to other states, Kerala is renowned for its intricate craftsmanship and designs. The Valaippinal showcases filigree artwork; constructed from a gold wire with florets to complement the lacework.

Pu-Tali:

The floral necklace is known as Pu-Tali. This carcanet (a jewelled collar-style necklace) is crafted from the light sheet of gold with identical floral motifs.

Kuzhi minna malai:

This gold necklace design is the combination of stamped gold units and filigree artwork. The name for this necklace is derived from the cups (kuzhi) that shine (minna).

Pavan sara:

This necklace design is similar to Kasumali; a necklace made from twenty-seven gold coins bearing the image of Queen Victoria, collected over a span of 50 years. They depict Queen as a young girl to older age while the centre coin shows her as Empress of India.

Champakali gold necklace:

Maharashtra's Champakali necklace is inspired by the golden bud, Michelia Champaca. The elements of this necklace are worked in the thin sheet of gold.

Kolhapuri saj:

This is the gold necklace design from the city of Kolhapur; a gold necklace comprising of series of stamped emblems symbolizing the ten incarnations of Lord Vishnu. The necklace is worn for luck, happiness, success and wealth.

Gold kanti necklace:

Kanti is made of seven rows of gold faceted beads. It's possible that the kantha-tuda and kanthika mentioned in ancient inscriptions are the predecessors of this elegantly simple necklace.

Thushi gold necklace:

Another necklace from Kolhapur is Thushi. The thick chains of closely-placed golden balls are entwined by a leather strand or a rope. Thushi is worn at the base of the neck.

Gold satlada:

A gold necklace design from Gujarat is a seven strand carcanet. In India, the number seven is considered auspicious.

Javali mala:

Javali Mala from the Bhatia community of Kutch showcases the significance of gold in every auspicious occasion. The design is inspired by gold grains (Javali) symbolizing fertility and abundance, which are strung on a gold chain. This neckpiece is usually given to a new mother.

Gold hasli necklace:

Hasli (rigid necklace) is from the state of Rajasthan. The gold wire is wrapped and braid around a rigid gold ring.

Baleora:

This necklace design belongs to the 'pink city' of Jaipur. This neckpiece is constructed with seven chains interspersed with gem-set spacers and a pendant. Baleora is commonly worn by men of the merchant community in Rajasthan.
These gold necklaces are age-old, but still very much a part of Indian traditions, and are now considered part of the mainstream. However, these are only a few types of gold necklaces that are available; there are many more.
Read more about: