6 Ways a bride can add gold to her wedding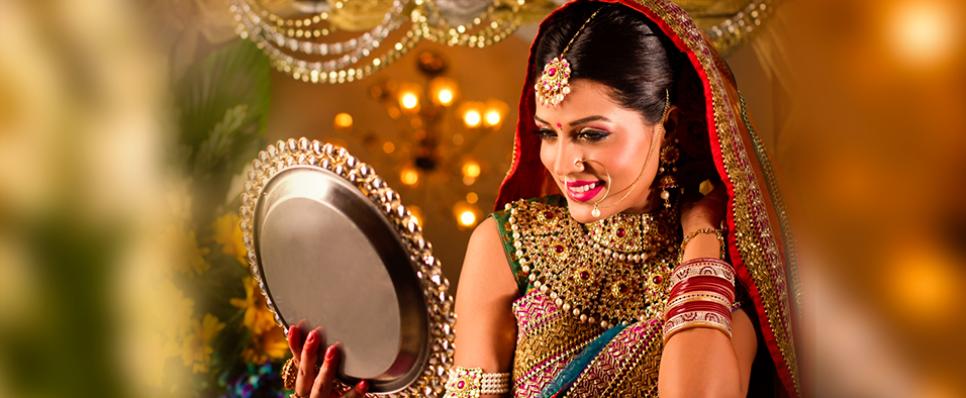 Gold plays a huge role in the 10 million plus weddings that take place in India every year. While gold is most commonly included in weddings in the form of ornaments, it can also be used for thread-work in bridal attire, or in the form of kalire and other accessories. Here are some interesting ways of making gold a part of your special day in a tasteful, elegant, and memorable way.
Gold in classic jewellery

A heavy gold necklace, maang tika, nath or rose ring,kamarband ,toe ring or bichiya, bangles or baajubandh, wedding rings, hathphool or hand adornments, or other such pieces, can enhance the look of a bride.

Gold kalire

Bridal attire with gold threads need matching accessories to cast its magic. The gold kalira is a traditional bangle worn by the bride gold tassels from it. Kalire are an important part of the attire of a Hindu bride, especially a Punjabi one. A golden kalire with rounded embellishments, coloured tassels, or even ghungroos at the bottom can make for a wonderful sight.

Fun fact: There's an interesting ritual associated with kalire. The bride shakes her hands over heads of all the unmarried girls and if a leaf or a part of kalira falls on anybody's head, she will be the next one to get married.

Gold accessories

Gold accessories are a perfect way to bring out the best of your bridal lehenga or saree. You could choose among many modern and traditional accessorising options available to add the final glitter.

could go for a small, gold clutch. A gold-plated watch with a designer gold band will also be a fantastic way to ace the art of adornment.

Hair styling with gold

You may want to add gold hairclips to your hairdo to add that final glitter to your look. Designer hairdos for weddings use gold hairpins, gold jewels, gold clutches, golden tints, gold sparkle and other gold accessories to brighten the overall bridal appeal.

Bridal mehndi with gold touch

Why stick to the traditional henna for your mehndi when you can use gold? Break all stereotypes and add a beautiful golden touch to your hands with the gorgeous gold henna.

Gold henna is essentially a mixture of henna and gold gilded powder- which can be used as a temporary tattoo. Expert mehndi stylists use these gold body tattoos or adorn designs on the bride's hands, feet, arms, and back. Broader and less intricate designs work better with gold mehndi. Another way to add a modern, glamorous touch to your most special day.

Gold in cosmetics and skin care products

The role of gold in a wedding isn't just limited to jewellery or clothes - did you know that gold nanoparticles are used as raw materials by cosmetic brands in creams and lotions? This is because nanogold vitalises the fibre tissues under the skin, reduces fine lines and improves firmness . From gold face packs to gold-coloured nail paint, gold eye-makeup, gold base foundation and everything in between, the sheen of this shade would complement all kinds of bridal look. Cosmetic items with a gold touch or base would add brightness to the face and exposed parts of your body. They go well with your gold thread work and gold ornaments as well.

Most of weddings today are being designed with brides opting for a gold accent throughout. Along with your gold jewellery, you can also include gold in different ways to get a showstopper of a wedding.
Sources: