5 unique personalized gold gifting ideas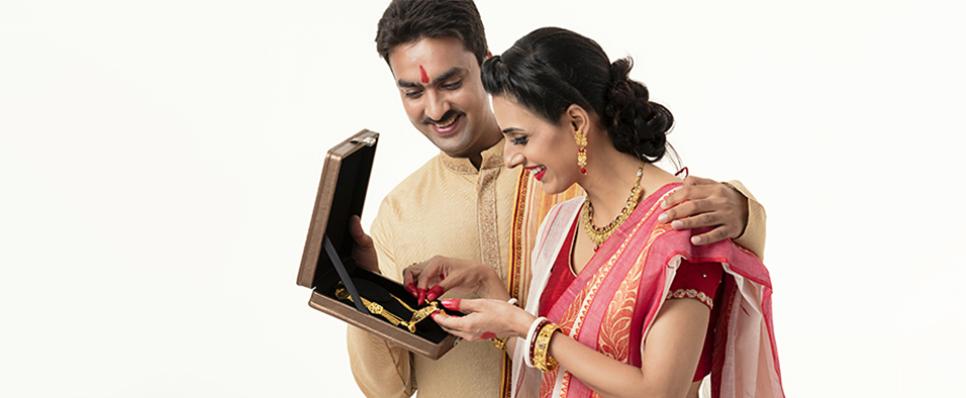 Is an anniversary coming up? Are you looking for a special gift for your parent's golden anniversary? For such a special occasion, why not gift your loved ones something that is just as personal as it is beautiful? Today, jewellers, jewellery stores, and online stores, let you personalized your jewellery so that you can own and gift something truly unique.
Personalized gold jewellery for men

For your father, husband, brother or boyfriend, minimal gold jewellery can work well. personalized gold bands and rings with your loved one's initials, gold bracelets with an engraved message, necklaces with motifs or family insignias- are something that can be cherished forever. Cuff links, collar pins, tie pins, pendants, and other gold pieces, can also be designed according to what you feel they would like

Personalized gold jewellery for women

For your mother, wife, sister or girlfriend, consider gifting specially crafted gold jewellery with emotional messages, motifs, hidden inscriptions, etc. A necklace with an important date and message scripted at the back, pendants with photos of the two of you, wedding or engagement rings, mini bar bracelets in gold, etc. never fail to impress. Family heirlooms and antique gold jewellery can also be redesigned to create contemporary jewellery that young women may enjoy.

Gifts in gold for new-borns

A gift of gold is an auspicious way to shower new parents with good blessings. And who doesn't love a tiny gold bracelet with their baby's name on it? Not only is a beautiful piece of gold jewellery a thoughtful way to bless a new born, but it also serves as an investment for the child's future. Personalized gold coins with blessings and messages may be gifted on occasions such as the naming ceremony, first birthday, and baby showers.

Personalized gold accessories for peers

Whether it's for a close friend, a respected colleague, or a mentor, gold is a great way to create an impression. Gold plated pens and business cards with the recipient's signature, name or initials embossed on it, monogramed gold watches, gold pens, personalised class rings, graduation gold jewellery, and gold keychains with an illustration of hidden meaning are some wonderful ways to show you care.

Custom-crafted gold collectibles and jewellery

It can be challenging to find gifts for special occasions such as weddings, anniversaries, religious events, festivals, family gatherings and other social events. A great way to keep your gifting fresh and meaningful is to personalise. Try personalising gold jewellery and gold-plated collectibles such as bars, coins, vases, paintings, picture frames, or even intricate gold idols to add to your loved one's pride and joy.

Gifts for enthusiasts

For your traveller friend, your car fanatic sibling, or even your food innovative co-worker, a personalized ornament can help show them you care about what matters to them. Consider gold plated collectibles such as miniature models of cars, gold embossed paintings of their favourite destinations, or even a small gold shoe keychain for a football fan.
Personalizing your gold jewellery adds sentimental value to an already precious gift and can help you show someone just how much they mean to you.