Gold gifting ideas for a new-born baby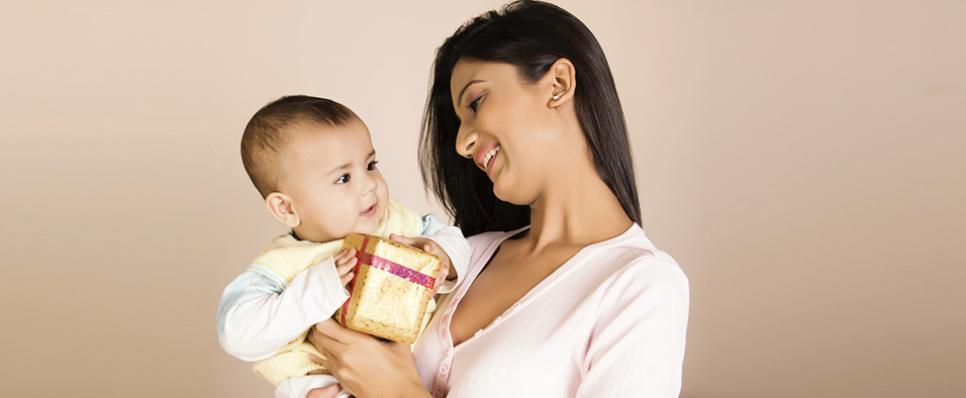 When your best friend has a baby, or your niece or nephew enters the world, you start the search for a gift that showers blessings on the new parents. A gift of gold is not only considered auspicious on this occasion but is also a precious investment for the baby's future. Gold also makes for a valuable heirloom that can be passed on and cherished through generations. Here are some wonderful gold gifts that can add to your loved ones' joy and shower them with blessings.:
Gold idols

New parents are often gifted gold idols of God, or other religious symbols, as per the religion to which they belong. This is a great way to shower divine blessings on your loved ones.

Lord Ganesha is called the 'God of beginnings' , making a gold Ganesha idol the perfect gift for new parents to celebrate the beginning of their baby's life. You can also gift a gold Lakshmi idol to usher in a prosperous life ahead for the family.

Gold chains

A gold chain is a great gift for a new baby for a variety of reasons. First, gold is considered to be lucky and a strong deterrent against any bad energy. Second, gold is a very skin-friendly metal and hence, gold jewellery won't harm the baby's skin. Thirdly, a gold chain can be very light and won't come in the way of the baby's movements.

Gold pendants

You can also gift the new parents some gold pendants in several shapes and designs - animals, teddy-bears, cars, shoes etc. Such a gift celebrates the joy and playfulness the child brings into the household, and makes for some great photographs!

Gold bangles and bracelets

Sleek gold bangles or bracelets with expandable hooks are good gifting options that come with a small hanging charm. If you wish to personalise your gift, you can get the baby's name, birth date or time of birth engraved.

Gold earrings

Hoops, studs or little tinkle gold earrings would complement the special occasion. You can choose playful figurines of butterflies, stars, hearts or flowers. These will be a great gift that the child can wear even as he or she grows up.

Gold coins

A gold coin is a symbol of prosperity and is a great start down the investment path for new parents. You can gift gold coins engraved with pictures of Goddess Lakshmi and Lord Ganesha to add a religious or spiritual touch. You can also buy the Indian Gold Coin, a symbol of national pride that combines the economic and emotional value of gold.

A new-born's arrival in the family deserves a very special celebration replete with the glitter of gold. Here's wishing the new parents good luck and prosperity!