Golden tale of Venkateshwara temple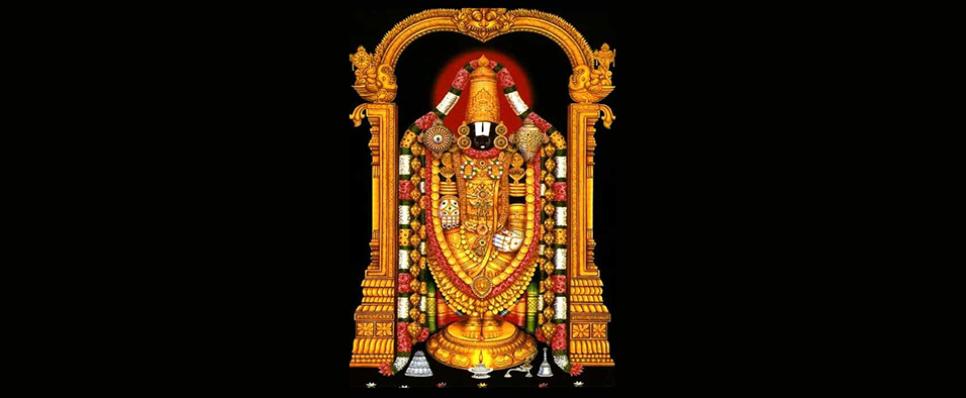 Indian weddings have always been an extravagant and expensive affair, even mythological stories echo this. According to myth, Lord Venkateswara had sought a loan of 1 crore and 14 lakhs gold coins from Kubera, the treasurer of the riches, to commemorate his marriage with Princess Padmavathi. With this loan, Lord Venkateswara entrusted the divine architect Vishwakarma to embellish the Seshadri hills with blissful surroundings. The Lord Venkateswara, a form of Lord Vishnu, resides in the temple with his wife Padmavathi, while Goddess Lakshmi stays in his heart.
The Lord Venkateswara, however, is yet to repay the loan to Kubera. Thus, to help repay the loan, devotees donate cash and gold in the "Hundi" (donation pot). The collections from this hundi have made the Venkateswara Temple the world's second richest temple with daily donations mounting to INR 22.5 million. In April 2016, the temple trust deposited 1,311 kg of gold bars (0.995-fineness) with the state-owned Punjab National Bank. This demonstrates the devotional and dutiful feeling of the devotees for their beloved Lord Venkateswara.
The prosperous temple is located on the seventh peak of the Seshadri hills in the hill-town of Tirumala, in the Chittoor district of Andhra Pradesh in India. The majestic temple is believed to be constructed over a period, commencing from 300 AD and is built in Dravidian architecture. The temple has three entrances of which the third entrance is Bangaruvakili; the wooden door is adorned with gold and exemplifies the Dasavathaaram (ten avatars) of Lord Vishnu. The three-storied gopuram's (tower) roof is adorned with gold with the sole Kalasam (dome) placed at the temple-top. This Kalasam is covered with gold and can be seen from a distance. The golden Dwajastambam (Flagstaff) is erected between Maha dwaram and Vendi vakili.
Besides the hundi offerings, thulabharam is a well-known prevailing ritual, performed since ancient times. Devotees offer gold or other materials in excess of their own weight, to Lord Venkateswara.
In this magnificent temple, the Lord Venkateswara bathes in the opulence of the yellow metal. From head to toe, the idol is adorned with each day. The gold crown is exquisitely chiselled for Lord Venkateswara weighing over 10kgs and with gold earrings that exude mysticism and grace. The deity is dressed in yellow clothing which is tied with a gold string and is supported by a golden belt that has gold bells at the end. This enhances the texture of his attire and showcases the touch of tradition. Furthermore, golden frames cover the idol's feet which are adorned with gold anklets that reminisce the devotees' donations to their beloved deity. These jewels exhibit the unmatched wealth of Lord Venkateswara.
In the light of this background, it has become the favoured destination of many devotes from across India.